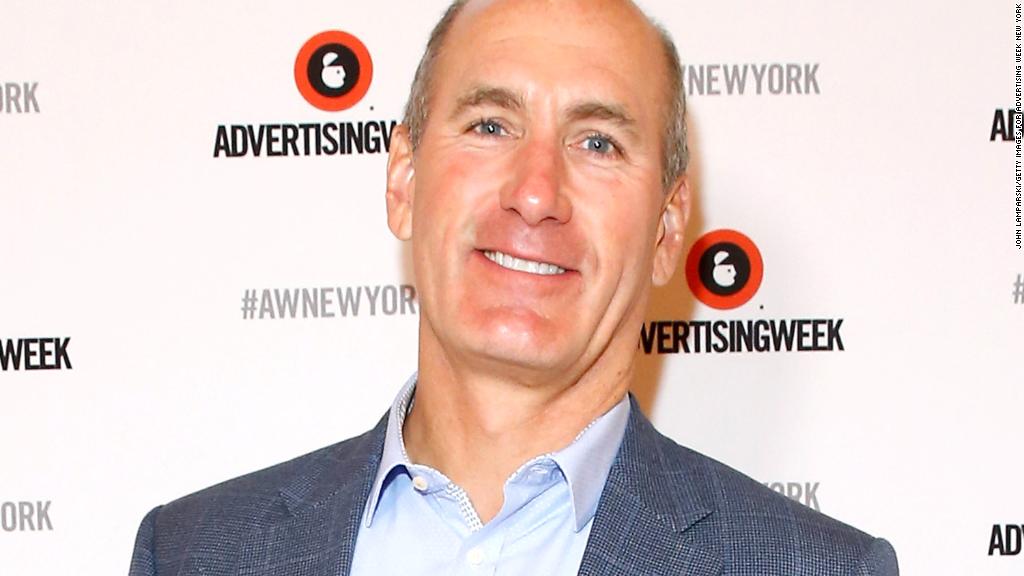 The new head of Time Warner, John Stankey, said Friday that he recognizes CNN has a "special social responsibility" to democracy, and he will lead the company accordingly.
In an interview with CNN -- his first since taking charge -- Stankey struck a firm tone when asked for his response to President Trump's ongoing attacks on CNN and the news media, saying he disagrees with the rhetoric.
"I think anyone who attacks a free press and questions whether its motivation is not pure runs the risk of creating a degree of skepticism within people to listen to it, and I get concerned about it," Stankey said.
"I think our job, those of us who have major media assets, is to do our job responsibly. And over time, if we do that, it will ultimately carry the day. I think there are good checks and balances in the system."
Stankey is taking charge of one of the biggest media businesses in the world, spanning everything from "The Situation Room" to "Game of Thrones." He said he has been preparing by watching a lot of CNN and other programming.
He indicated that his role will be to plan five and ten years out -- not picking actors for productions or participating in the editorial process -- but guiding the company's approach in a rapidly-changing digital world.
Related: What the AT&T-Time Warner decision means for you
There have been rumors of layoffs in the corporate layers of Time Warner as AT&T takes over. But Stankey said front-line employees in news and entertainment should not expect any major changes.
Those employees are "going to keep doing exactly what they were doing the day before the transaction closed," he said.
Stankey confirmed that Jeff Zucker will remain in his role as CNN president. While the deal was in the works and the president was routinely attacking CNN, there was speculation in media circles that AT&T might appoint someone new to run CNN.
Zucker recently renewed his contract through 2020, according to a source with knowledge of the deal. Stankey said Friday that he is looking forward to a "longstanding relationship with Jeff."
More broadly, with regard to CNN's leadership and its editorial processes, he said, "I don't see any of that changing."
When asked about CNN's independence, Stankey brought up the role of the news media more broadly, saying "the only way democracy functions well is with a very well-informed and educated electorate."
He said he sees his role as "taking what you do and getting it in front of more people" to better inform the electorate.
And he said CNN has a "tremendous opportunity" to develop more mobile-friendly content for AT&T wireless customers.
CNN is a part of Turner, one of three divisions of Time Warner. The other two are HBO and Warner Bros.
Next week Stankey, who is succeeding Time Warner CEO Jeff Bewkes, will hold town halls with employees at each division.
In the interview, he acknowledged that some employees have concerns about a culture clash. There are differences between the telecom world and Hollywood, he said, but "my job is to ensure that the differences don't become a problem, but become a benefit."
He said, "We don't want to get in the way of what these companies do really well already."
Stankey's boss, AT&T CEO Randall Stephenson, said something similar in his note to all employees when the deal closed on Thursday night.
"We're big fans of your talent and creativity," he told Time Warner. "And you have my word that you will continue to have the creative freedom and resources to keep doing what you do best."
AT&T will be retiring the Time Warner name, but Stankey wasn't quite ready to reveal the new brand yet. He said AT&T spent time testing the new name through market research, surveys and focus groups.
In one way, this the end of a media era. The Time in Time Warner stands for Time Inc., founded in 1922, and Warner stands for Warner Brothers, the studio that was incorporated by four brothers in 1923.
And in another way, this is the start of brand new era. A wireless company has never owned a giant movie studio or a TV news network before.
Stankey said he is particularly excited about "what we can do to invest into the HBO product at a heavier clip."
This means more HBO shows and a greater distribution effort to help the network compete with Netflix and other streaming services.
Stankey also talked up possibilities for making existing mobile products more customized. He predicted that this will "drive engagement up" and open up more opportunities for advertisers.
That was a big part of the pitch when the deal was struck more than 18 months ago. The deal closed on Thursday night, so Friday is the first day the company can execute on its plan.
Stankey, who attended every day of the six-week antitrust trial the government brought to unsuccessfully stop the deal, said the company is now ready to move on.
"At some point there will be a case study written about how [AT&T's attorneys] went about executing this because it was phenomenally done," he said. "We got a great outcome, and now it's time to put it behind us."