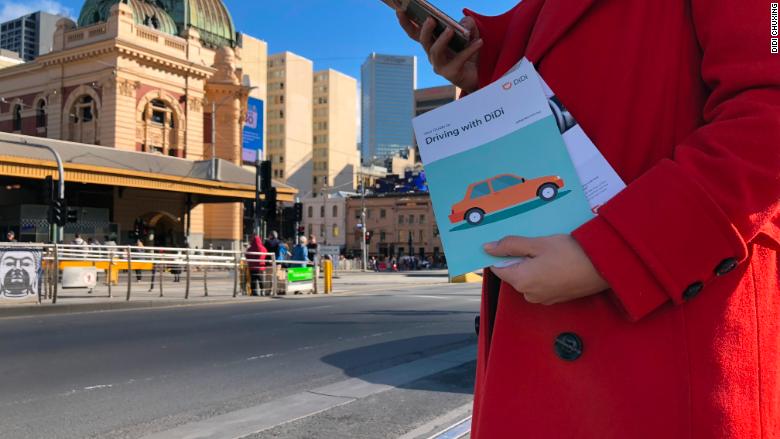 Didi Chuxing, China's biggest ride-hailing company, is headed Down Under as it escalates its global challenge to Uber.
Didi announced Friday that it will introduce its services in Melbourne, Australia's second-biggest city, at the end of this month.
Didi is best known for driving Uber out of China after a costly battle. The company isn't widely known outside of China, but it has been aggressively pushing into international markets this year.
It said in a statement Friday that it will "continue to cultivate markets in Latin America, Australia and Japan" this year.
Related: Uber faces a new threat in Mexico
Didi's push into Australia comes less than two months after it launched in Mexico, another core market for Uber. It entered the Brazilian market by buying local operator 99 in January. And in February, it announced plans for a ride-hailing venture in Japan with Japanese tech company SoftBank (SFTBF).
Uber, meanwhile, has pulled out of some international markets. In March, it sold its operations in eight Southeast Asian countries to Singapore-based Grab. At the time, Uber CEO Dara Khosrowshahi said the retreat "puts us in a position to compete with real focus and weight in the core markets where we operate."
Related: Uber quits 8 countries in Southeast Asia, selling out to rival Grab
One of those core markets is Australia. Uber launched there in 2012, battling with regulators and taxi companies to grow operations. It won regulatory approval in 2015 and currently operates in about 20 cities across the country. Along with ride hailing, the company also offers taxis, food delivery, and bike sharing services in Australia.
Uber is already facing other challengers in Australia. India's Ola Cabs launched in Sydney, Perth and Melbourne earlier this year, and recently expanded to Brisbane, the Gold Coast and Canberra. Estonia's Taxify entered the country late last year, offering services in Sydney and Melbourne.