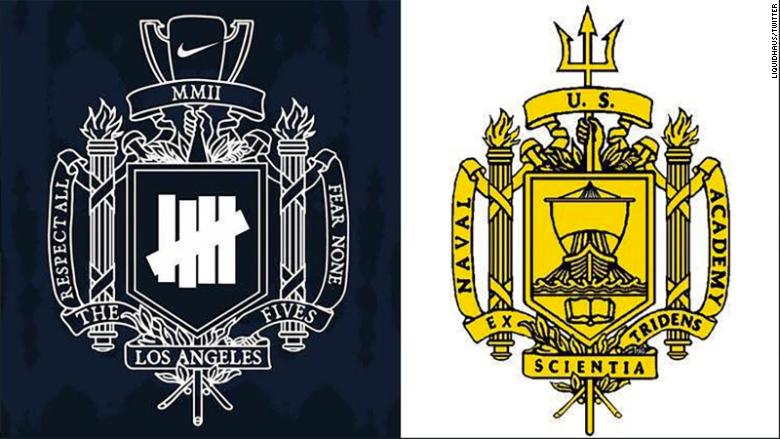 Nike is ditching a clothing line that featured a logo many claimed was a ripoff of the US Naval Academy's coat of arms.
The company also apologized to "anyone who was offended" in a statement shared with CNNMoney on Saturday.
The move comes after the Naval Academy addressed Nike and its collaborator on the clothing line, Los Angeles-based Undefeated, in a tweet. The Naval Academy called the similarities between its crest and the logo on the clothing "undeniable."
"[W]e believe their logo is clearly an infringement under trademark law," the tweet, posted Thursday, reads. The Naval Academy said it was working with Navy leadership to issue a "cease and desist."
The crest "represents honor, integrity and leadership,and is emblematic of our students and more than [80,000] alumni who serve and have served our country, many of whom made the ultimate sacrifice in its defense," the academy said in a separate tweet. "It is difficult to understand why anyone would modify and use our symbol without permission for marketing and profit motives."
Related: Under Armour still under siege in the US
Nike and Undefeated were planning to roll out a collaborative clothing line called The Fives, a line of soccer wear that was scheduled to debut at a promotional event in Los Angeles on Saturday.
Undefeated, which did not respond to requests for comment, said in an Instagram post Friday that the clothing line "will no longer be available for purchase."
A promotional video teasing the collection showed soccer jerseys, t-shirts, pants and other items emblazoned with the crest. Its similarity to the Naval Academy's crest garnered widespread attention this week when the logo was shared on social media.
The crest intended for The Fives collection features the same dual columns and surrounding embellishments, but Undefeated's logo was placed in the center of the crest and a trophy with the Nike swoosh was added to the top.
"We recently were made aware of our logo being included into a design that has been previously used by one of our longstanding partners," Nike said in a statement. "We have always respected the US Navy and its Academy and have been a longtime supporter of the military. We do not feel it is appropriate to move forward with the collection. We apologize to anyone who was offended."
Related: She's one of the most powerful women at Nike. Here are her tips for success
Nike did not respond to questions about its involvement in the design process.
For its part, the Naval Academy said in a tweet Friday that it "appreciates" Nike's decision to no longer use the logo.
"We are pleased by this decision which is respectful of the Academy, our students and alumni," the academy said.