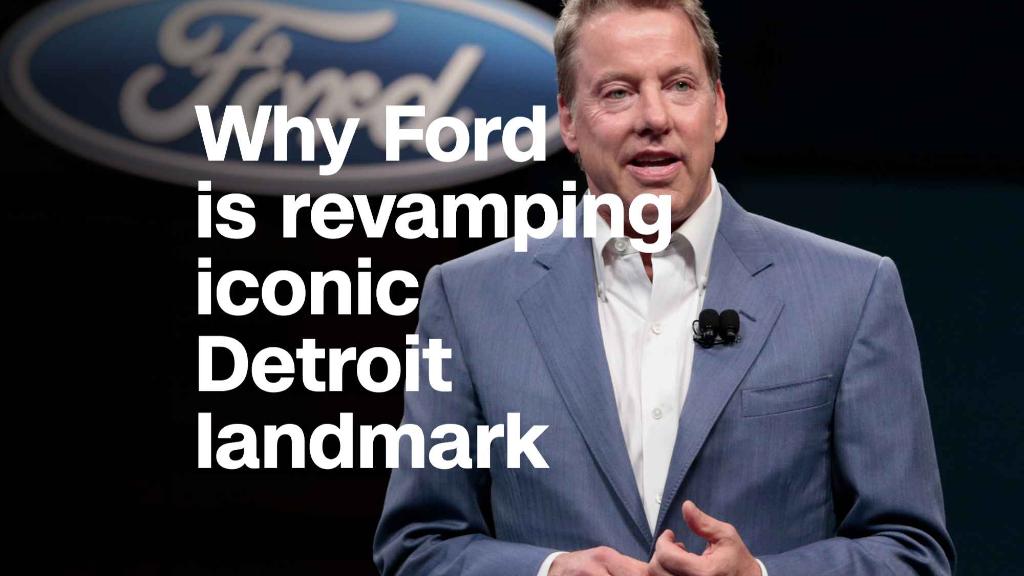 If you've ever been to Detroit, you've probably seen Michigan Central Station. And you've probably wondered why someone didn't just tear it down.
Visible from miles around, the 18-story building has been abandoned for decades and is, literally, a mere shell of its former self.
Now Ford has purchased the crumbling building and on Tuesday will announce plans to make it part of a major technology center.
"I remember the train station when it was vibrant and it was an awesome place." Ford chairman Bill Ford said in an interview with CNN's Poppy Harlow.
Built in 1913, the Michigan Central Station was once a symbol of Detroit's importance as a center of American industry. Designed by the same firms behind New York City's Grand Central Terminal, the Detroit building included both a train terminal and a rectangular office tower. When it opened, it was the tallest train station in the world.
At one time, thousands of people passed daily through its enormous bronze doors. Visitors walked on marble floors, under an arched ceiling 65-feet high. Light streamed in from tall windows or came down from chandeliers.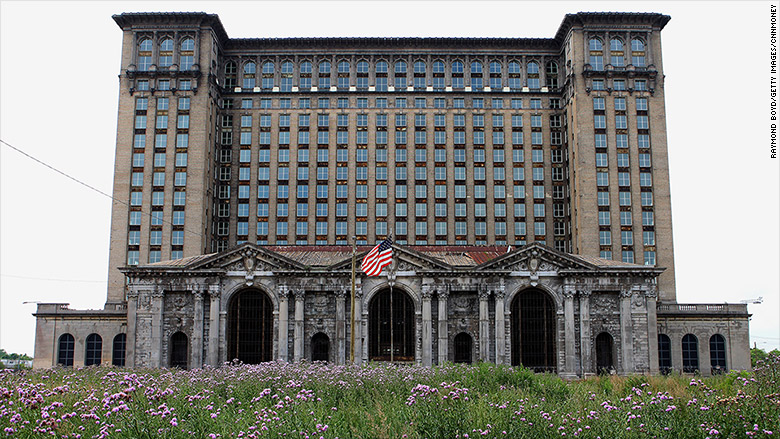 Now, when photographers want to show the decay of the city of Detroit, they often turn their cameras toward the hollowed out Michigan Central Station.
"It was like a knife through my heart," Ford said of the images.
The ornate tile-work is gone from its ceiling and paint has long ago peeled away. For a long time there were no windows, leaving wind, rain, wildlife, not to mention vandals, free to go through the building. The windows, at least, were replaced a few years ago.
Now, the building will be fully restored and its first floor re-opened, Ford said. There will be restaurants, shops, bars and cafes, with offices on the floors above.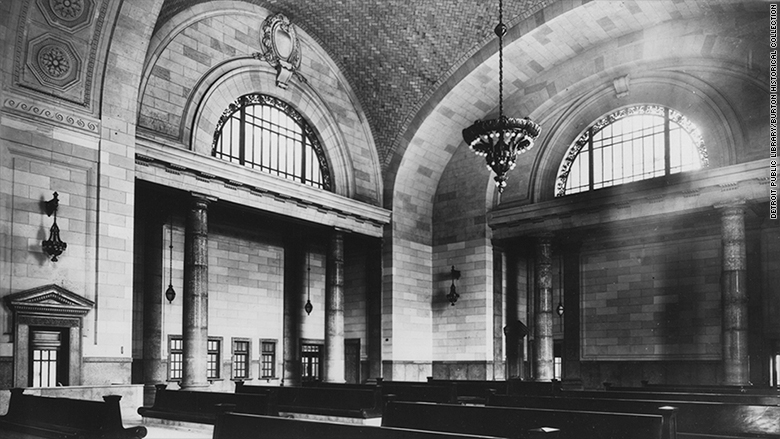 "Even now, in its decayed state, walking around, the grandeur is unmistakable," he said of the building's ground floor. "And so we're going to restore all of that. Make that all open to the public."
The office tower will be re-opened, too, and available for companies to rent space in what Ford hopes will be a revitalized neighborhood in a city that is trying to recover from municipal bankruptcy five years ago.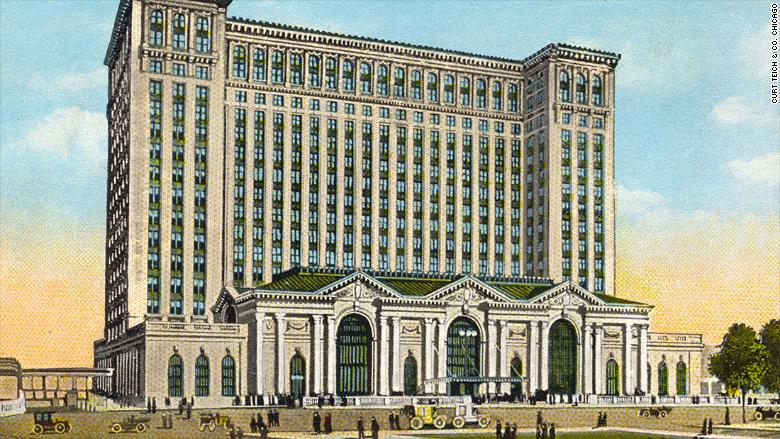 The train station is in Detroit's historic Corktown neighborhood. The neighborhood was named after Ireland's County Cork, the ancestral home of many of the area's earliest residents who left there during the Irish Potato Famine of the 1840s. Ford (F) founder Henry Ford's father was from County Cork, having left there in 1847.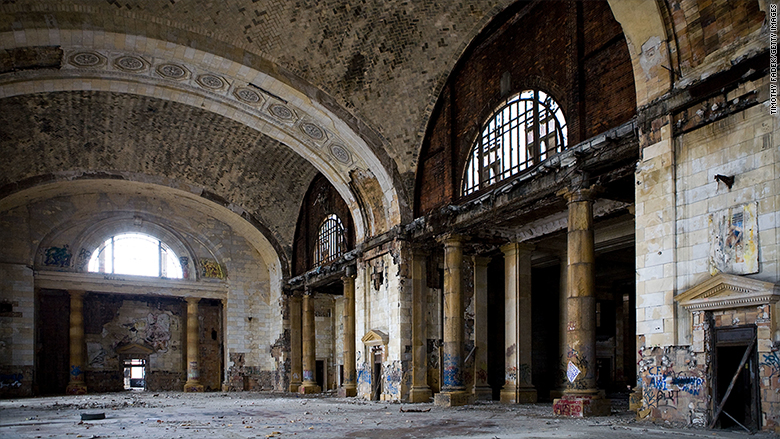 Bill Ford, the great-grandson of Henry Ford, said he feels a special connection to the neighborhood. The car company got its start in Detroit in 1903 but later moved its headquarters to Henry Ford's nearby hometown of Dearborn, Michigan.
Ford had previously announced it would locate its autonomous and electric vehicle teams to a large former factory building in Corktown. That building, once home to knitting mills, will house engineers, designers and software developers working on future products. Ford is buying other buildings and land, too, and will ultimately occupy 1.2 million square feet in the neighborhood, the company said. About 2,500 Ford employees will work there by 2022 with space to accommodate as many as 5,000.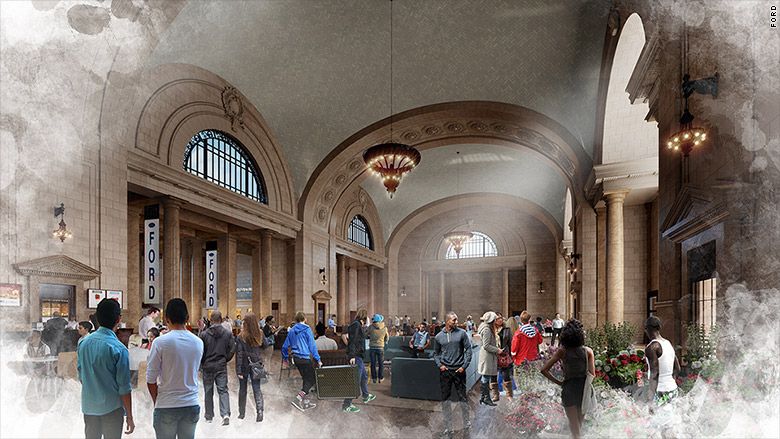 Ford Motor Co. intends to turn the area into the company's hi-tech transportation campus. The carmaker isn't saying how much it's spending on these buildings. The money is coming from funds already budgeted for workspace additions and improvements.
This is not the first time Ford Motor Co. has invested heavily in Detroit. Over 40 years ago, Ford spearheaded and largely financed the construction of the Renaissance Center, one of the most prominent buildings on the Detroit skyline. It was envisioned as part of the rebirth of an already struggling city when it opened in 1977. It is now the global headquarters of rival General Motors (GM).