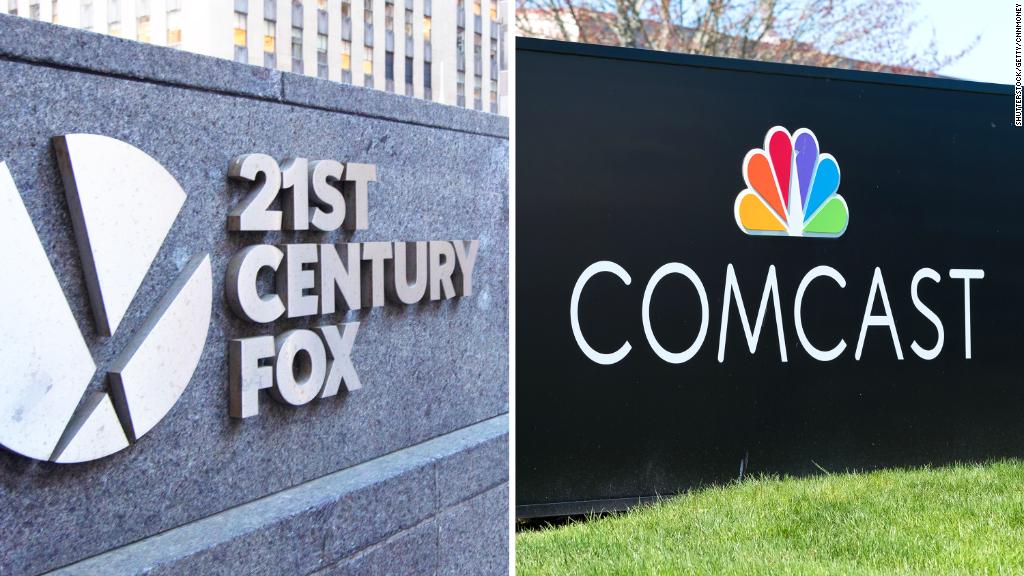 Comcast is on the verge of maxing out its credit card to win
21st Century Fox

(FOXA).

If it wins the bidding war with Disney, the cable giant will take on as much as $85 billion of debt. That would be a dramatic shift for a company long known for a conservative balance sheet.

And that doesn't include the $27.5 billion of debt that Moody's estimates would come with a successful takeover of the British satellite broadcaster Sky.

All told, Comcast's spending spree would nearly triple its total debt to $170 billion, according to the Moody's ratings firm. Not counting banks, that would make Comcast the world's second-most indebted company by dollars, behind the newly combined AT&T and Time Warner, according to Moody's.

"It's an unprecedented amount of debt for a company like Comcast," said Cowen analyst Gregory Williams.

Comcast's aggressive strategy shows how badly CEO Brian Roberts, a longtime rival of Disney (DIS) CEO Bob Iger, wants 21st Century Fox's film studio and cable networks. The two are bitter enemies, dating back more than a decade to when Comcast attempted a hostile takeover of Disney.

Comcast is confident that it can generate enough cash to pay down the debt. AT&T has described its purchase of Time Warner in similar terms.

But Comcast risks borrowing too heavily to buy media assets as it adapts to an industry upended by Netflix (NFLX)-inspired cord-cutting. Comcast has just $6 billion in cash on its balance sheet, meaning it will have to borrow most of the $65 billion cash that it bid for Fox. If it's successful, Comcast would also take on Fox's $20 billion of debt.

Related: Which media companies are still up for grabs?
'Bit of a surprise'
Moody's warned in a report last week that it may downgrade Comcast's credit rating if Comcast pulls off the bid for 21st Century Fox.
Comcast's leverage would spike. Moody's estimates that, if it acquires both Sky and 21st Century Fox, Comcast's debt will soar from about 2.5 times its annual profit to about 4.25 times.
Among high-debt companies, and again excluding banks and government-related entities, only AT&T (T) and beer giant Anheuser Busch InBev (BUD) would have higher leverage ratios, Moody's said.
Even some on Wall Street were taken aback by the shift from Comcast.
"The willingness to take your leverage up to this level is a bit of a surprise," Morgan Stanley analyst Ben Swinburne said during a Comcast conference call after it announced the Fox bid.
He asked Roberts to explain how he and the board "got comfortable" with taking on so much debt. Roberts played down the worries and predicted that Comcast will grow fast enough to swiftly clean up its balance sheet.
"We're having an excellent quarter, and we've had an excellent run for several years," Roberts said. "We're confident enough in the company and our prospects that we can take a temporary re-leveraging and bring us back down."
Comcast did not respond to a request for comment about the Moody's report.
It's a complicated time to pile on debt.
Borrowing costs have risen sharply, making it more expensive to refinance debt as it comes due. And some worry that the economic expansion, already the second-longest on record, could stumble over the next few years.
"If there's a recession," Williams said, "investors will flock away from levered companies."
Will Disney lever up?
Some analysts on Wall Street share Roberts' optimism. Rich Greenfield of BTIG Research called the Comcast proposal "manageable."
"We can debate the growth prospects of the cable industry, but the business from a free cash flow standpoint is going to generate robust cash flow for years to come," he said. "This is going to deliver very, very rapidly."
Instead, he questioned how much Disney would be prepared to borrow as part of a counter offer.
"What's Disney's willingness to lever up?," he added. "I've covered Disney for 23 years. They've never really levered up. Are they prepared to?"
Disney's original $52.4 billion bid for Fox was all stock. Other analysts expect the company may add cash as part of a counter.
Disney declined to comment. The company has not yet spoken publicly about Comcast's bid.
Other analysts are more skeptical of the Comcast offer, especially considering how much money Comcast will need to spend on content to keep up with Netflix and other rivals.
Ultimately, it will be "challenging" for Comcast to get borrowing back to healthy levels without selling assets or cutting its stock dividend, Moody's said.
Corporate America is racking up serious debt
Comcast is hardly the only company taking on debt to scoop up rivals.
In fact, Moody's downgraded AT&T's credit rating two notches on Friday following the completion of its $85 billion purchase of CNN owner Time Warner. The deal will leave AT&T with more than $180 billion of debt, according to Moody's — an amount the ratings firm said makes it "beholden" to the whims of the capital markets.
Asked about the downgrade, an AT&T spokesperson said the company's debt ratings and balance sheet "are among the best in the industry," adding that the company sees the merger as "a very positive move for us."
AT&T CEO Randall Stephenson acknowledged the amount of debt during an interview on CNBC last Friday. But he also said the company will generate enough cash to pay it down.
"This thing delivers quickly," he told the network. "Within four years, we'll be back to our normal levels of debt."
UBS estimates that AT&T will generate around $12 billion next year in excess free cash flow, which the firm says would probably be used to pay down debt.
If Comcast successfully buys Fox and Sky, it should have between $10 billion and $15 billion per year to pay down debt, UBS estimates.
Cigna (CI) is paying for its $67 billion takeover of Express Scripts (ESRX) with cash and debt. If the merger of Sprint (S) and T-Mobile (TMUS) is completed, those two companies would have as much as $77 billion of debt.
All that debt has drawn the attention of the Federal Reserve. Asked whether the United States is in a "credit bubble," Fed chief Jerome Powell said on Wednesday that officials are "watching" elevated levels of corporate leverage.