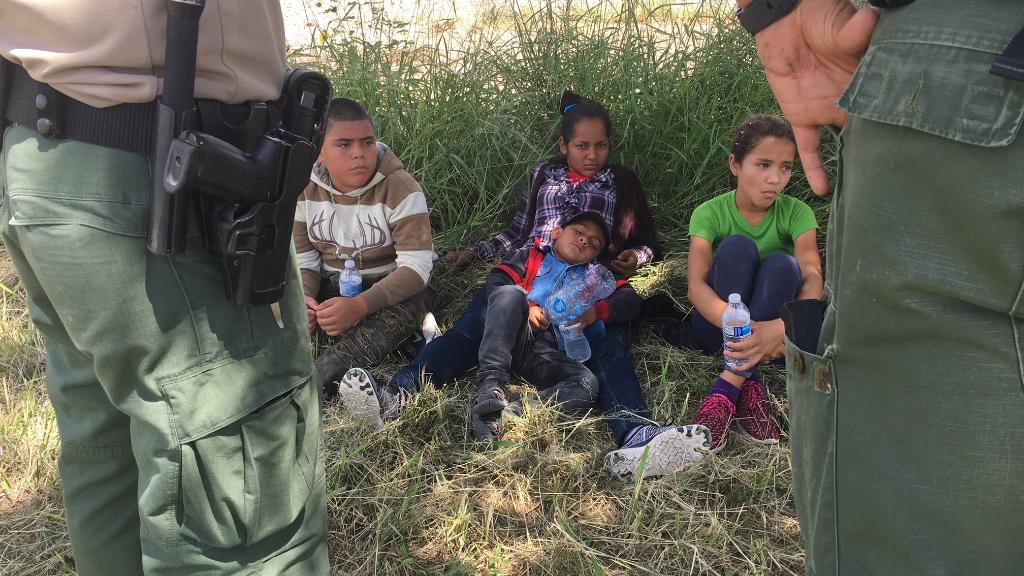 The separation of migrant families at the US border is becoming a bigger story by the day.
And not just in America: News outlets around the world are also looking askance at what's happening as a result of the Trump administration's recent policy change.
Newsrooms have been surging resources to the border region in recent days. Journalists are receiving access to detention centers, albeit with restrictions, and seeing that some children are being kept in cages. Other children are staying in dorm-like settings.
Border story spills into the national spotlight
Among the reasons for the surge of news coverage: President Trump's lies about the policy, sustained outrage among immigration advocates, and organized protests by Democratic lawmakers.
By Father's Day, it was the lead story on many newscasts and websites. CNN had multiple crews in the region. And CBS deployed morning show co-host Gayle King to Texas.
"All I can say, after talking to the people, watching the people, listening to the people: the Statue of Liberty, I think, is weeping right now," King said on Monday's "CBS This Morning."
It was the lead story on other morning shows too. "Protests are growing at processing centers nationwide, where those children are being detained," Hoda Kotb said on NBC's "Today."
On CNN, a banner on "New Day" asked, "Will President Trump end family separations today?" Co-host John Berman said "he could pick up the phone and end it right now."
From one perspective, journalists are speaking up for basic American values -- family values -- and morality.
"Something disgraceful is happening, something that can be stopped," CNN anchor Ana Cabrera said Saturday.
This is not a purely partisan issue -- many prominent Republicans are joining Democrats in speaking out. Cabrera interviewed Texas Rep. Will Hurd, a Republican, who said "we should not be using kids as a deterrent policy."
What Trump's media boosters are saying
There's some serious pushback from pro-Trump commentators. They say the real scandal is that people are crossing the border illegally in the first place.
On "Fox & Friends," co-host Steve Doocy disputed whether children at a facility in McAllen, Texas, were really being held in "cages," the way the Associated Press and other major news outlets said.
Pictures released by Customs and Border Protection on Sunday showed the cages really clearly -- contradicting a previous pro-Trump talking point that cages weren't being used.
At one point on Monday, Doocy said the authorities simply "built walls out of chain-link fences." He also said it looks "more like a security pen to me." But he said he recognized why some people called them "cages."
The new fallback position is that the Obama administration used the same kinds of facilities to hold unaccompanied minors.
There's also a lot of media-bashing going on. On Monday morning, Department of Homeland Security secretary Kirstjen Nielsen told people in a speech not to believe what they're seeing.
"It's important to understand that these minors are very well taken care of. Don't believe the press," she said.
"Fox & Friends" leaned heavily on Nielsen's Sunday tweet claiming there's "no policy of separating families at the border." Elsewhere, the tweet was widely criticized as an example of doublespeak.
White House spokesman Hogan Gidley was served up softballs on the Fox morning show. "Fox & Friends" host Brian Kilmeade asked, "Do you think the message from the media is correct, that your administration is separating parents, moms, from kids?"
"It is completely false," Gidley replied. "This is all the Democrats' doing."
It's precisely that line of argument -- "blame the Dems" -- that made this issue blow up last week. Newsrooms have been churning out fact-checks that clarify how a springtime policy change has caused a spike in family separations.
"The president has made the decision to do it. He's lied to the American people about how it's being done," CNN political analyst Brian Karem said on Sunday's "Reliable Sources."
Karem was criticized by some and applauded by others for his eruption at a White House briefing last week.
"Come on," he said to Sarah Sanders, "you're a parent! Don't you have any empathy for what these people are going through?"
How the story broke through
Some journalists -- at local outlets like the Houston Chronicle -- were ahead of the curve.
Chronicle immigration reporter Lomi Kriel tweeted, "Local/statewide media is often on the ball way way before national pubs. As they should be. But yes, family separations began last fall in El Paso area/ New Mexico. We reported on it then. That national media is now outraged is good, but we've been saying this for while."
One of her stories from last November was titled "Trump moves to end 'catch and release', prosecuting parents and removing children who cross border."
The so-called "zero tolerance" policy was expanded and publicly announced by attorney general Jeff Sessions in early May. That's what triggered national media attention.
MSNBC host Chris Hayes started calling attention to the policy several weeks ago by booking immigrant advocates as guests. Baltimore Sun media critic David Zurawik praised MSNBC for bringing "moral authority" to the coverage.
Every day the policy is in effect, more families are affected -- and that's another reason why this has become a top story.
CNN's Ed Lavandera started reporting live from McAllen a week ago, explaining that the "fallout from this zero-tolerance policy" was starting to be seen on the ground.
Lawyers and other immigrant advocates helped to personalize the issue by sharing accounts from individual families.
With journalists pressing for information, authorities allowed a handful of tours of detention centers. And on Friday the Department of Homeland Security shared new data showing 1,995 children were separated from adults during a six-week period in April and May.
Lavandera pointed out on Twitter that this was the "first time we've heard a number in the wake of the controversial zero-tolerance policy."
Democratic lawmakers also started to seize on the issue by holding events in border states, giving TV crews another reason to descend in the region over the weekend.
This story has broken through because of "dogged reporting, on the ground reporting," New York magazine's Olivia Nuzzi said on "Reliable Sources."
And in Washington, she said, "reporters are questioning this White House and following up and making them answer for their lies."