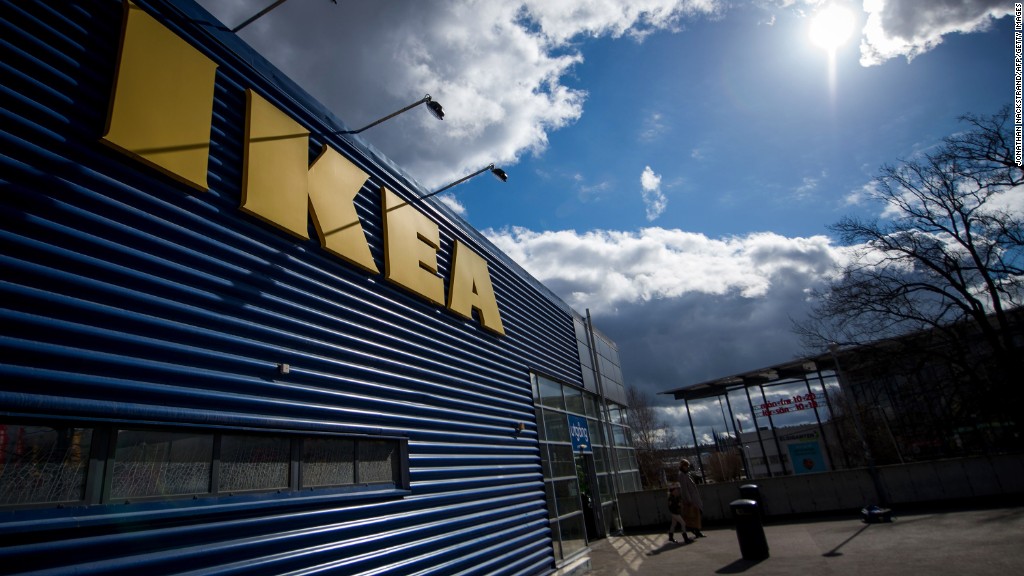 Before moving to India, John Achillea managed an Ikea store in St. Louis, Missouri, that got 1.6 million visitors a year.
That was nothing.
Achillea, who started working for Ikea in 1996, is now racing to open the brand's first location in India. He expects the debut store in Hyderabad to get 7 million visitors a year -- on a par with the population of Hong Kong.
"In India, because of the sheer size of the population ... the potential numbers are much, much higher," he told CNNMoney on Monday.
The new 400,000-square foot store, which could open within a matter of weeks, has been designed to accommodate massive crowds.
"We have bigger door frames, we have wider entrances," said Achillea.
Related: Ikea bans all single-use plastic from its stores and restaurants
The Swedish furniture giant has sourced materials for its global operations from India for around three decades. But it has been prevented from opening stores because of government restrictions on foreign investment.
Those rules were relaxed in 2016, paving the way for Ikea to target over a billion potential new customers.
The company is already planning stores in Mumbai, Bangalore and New Delhi over the coming years, and it's targeting 25 locations across the country by 2025.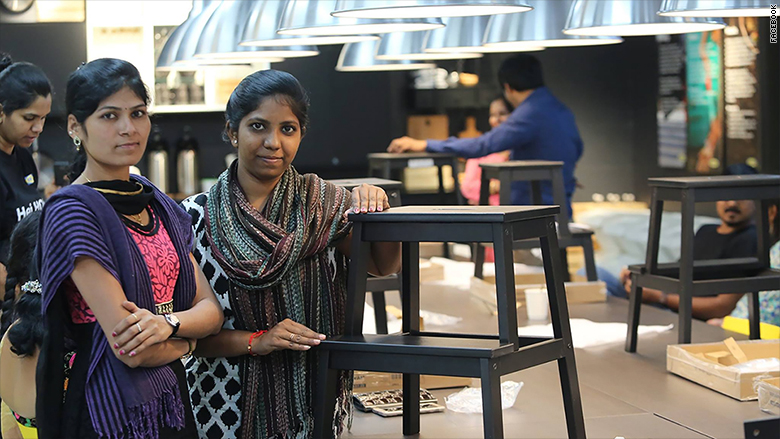 "The exciting thing about India is it is brand new to us, so we are going to learn so much about our customers -- how they shop, what they want," Achillea said. Ikea teams have already spent more than two years visiting hundreds of Indian families as they prepare for the store opening.
The biggest challenge was getting the pricing right for cost-conscious consumers in India, where the average annual wage is about $2,000.
"In terms of affordability, India is probably one of the toughest markets we have," Achillea said. The Hyderabad store will have thousands of products that cost less than 300 rupees ($4.50) -- including many that cost less than $1.
"You see the store with its very large building and with that come some thoughts that we're a very expensive brand," he added. "But very quickly they will realize that we have products for everybody."
Related: IKEA gives India employees six months paid parental leave
Other tweaks include serving local Indian dishes alongside salmon at the new store's 1,000-seat restaurant, as well as chicken and vegetarian versions of its popular Swedish meatballs. (Many Indians adhere to religious rules prohibiting consumption of beef or pork.)
Ikea is also looking to expand its online operations to tap into India's rapidly growing e-commerce industry, which Morgan Stanley estimates will be worth $200 billion by 2026.
It's an increasingly crowded market, with US retail giant Walmart (WMT) recently spending $16 billion to acquire India's Flipkart. Amazon (AMZN) has committed more than $5 billion to its India business.
While most Indians will be discovering Ikea for the first time, Achillea said that many others -- particularly among the country's growing middle class -- already know the brand.
An Ikea "experience zone" set up at a local mall in Hyderabad has had thousands of visitors.
"The people that know Ikea can't wait for us to come here," he said. "They're so excited."