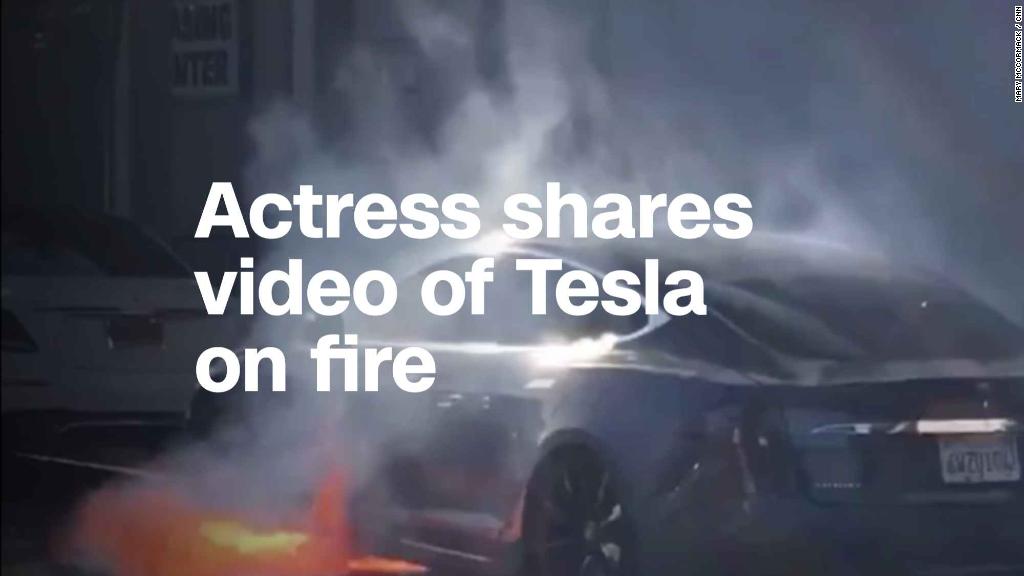 A Tesla Model S being driven by the husband of actor Mary McCormack caught fire on a Los Angeles street last week, McCormack tweeted Friday night.
She posted a video of the car stopped at the side of the road with flames and smoke coming from underneath it.
"This is what happened to my husband and his car today," she wrote. "No accident, out of the blue, in traffic on Santa Monica Blvd. Thank you to the kind couple who flagged him down and told him to pull over. And thank god my three little girls weren't in the car with him."
Tesla cars, which run on electricity stored in large battery packs in the floor of the vehicle, have been involved in a few recent incidents where the cars have caught fire after high-speed impacts. Gasoline-powered cars also sometimes catch fire even without a collision.
"This is an extraordinarily unusual occurrence," a Tesla (TSLA) spokeswoman said in an email, "and we are investigating the incident to find out what happened. Our initial investigation shows that the cabin of the vehicle was totally unaffected by the fire due to our battery architecture, which is designed to protect the cabin in the very rare event that a battery fire occurs."
Are electric cars more likely to catch fire?
Tesla cars are 10 times less likely to catch fire than gasoline-fueled cars, the automaker said, citing data from the National Fire Protection Association and U.S. Federal Highway Administration. Lithium-ion batteries, like those in Tesla cars, also ignite more slowly and burn in a more controlled way than gasoline.
Battery fires can be harder to put out, though, and require special treatment by fire fighters. Tesla and other electric vehicle manufacturers are training first responders on how to deal with crashes and fires involving electric cars.
The National Transportation Safety Board said it is sending an investigator to observe Tesla's examination of the car.
"The observation will provide the agency with an opportunity to learn more about fires in all types of battery-powered vehicles," the agency said.
The NTSB has investigated other Tesla fires in order to better understand electric vehicle fires and how emergency crews can best handle them.
McCormack tweeted that her husband was unaware of the fire under his car until passing motorists flagged him down. He was then able to pull over, stop the car and get out safely.
Mary McCormack appeared in the TV series West Wing. She also appears in a new ABC comedy series,The Kids are Alright, about an Irish family in the 1970s.