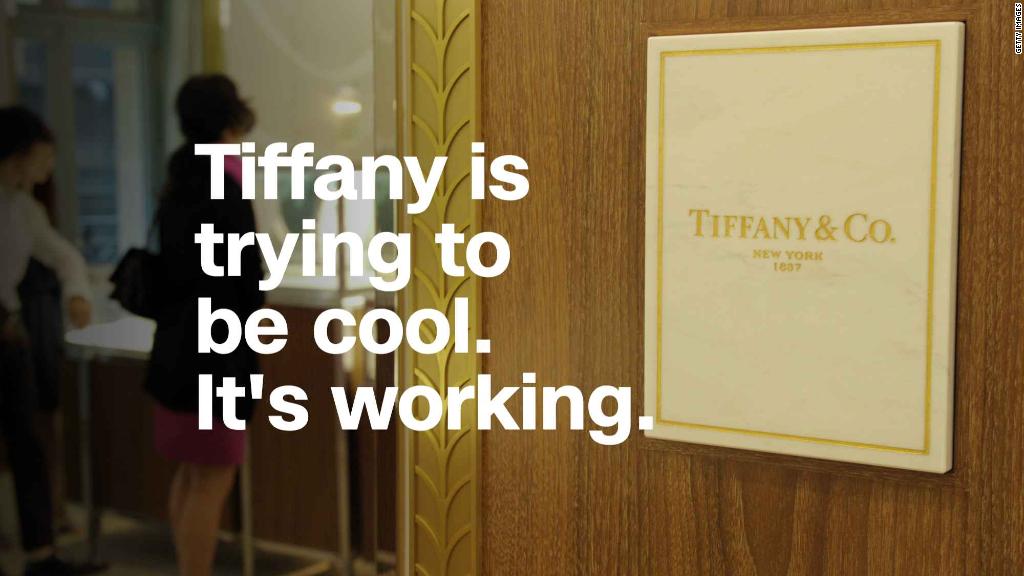 Tiffany is rebranding as a company for the young and hip. And actually pulling it off.
With the help of campaigns featuring inclusive messaging and young celebrities, a new Instagram-friendly cafe and homages to its glamorous heritage, the jeweler boosted sales over the holidays and in the first quarter of this year.
The company is embracing a trend, said Thomai Serdari, a strategist in luxury marketing and branding who teaches at NYU's Stern business school: "Cool is the new proper."
Andrea Davey, Tiffany's senior vice president of global marketing, said the idea is to take the formality out of luxury.
Before shifting its approach, Tiffany was struggling. Its CEO resigned in February 2017 after two years of declining sales.
A new management team, led by CEO Alessandro Bogliolo and Tiffany's first chief artistic officer, Reed Krakoff, has focused on refreshing the brand's image. And although attracting Millennials isn't the only goal, it's an important one.
Related: Tiffany's booming sales send stock soaring
"If you don't capture the Millennial customer, you put your business model at extreme risk for the future," said Cowen analyst Oliver Chen.
If Tiffany reaches customers at a young age, they'll keep the brand in mind as they shop for milestones later in life. Plus, the new campaigns can signal to parents and grandparents that Millennials would like a gift from Tiffany.
Tiffany's new "Believe in Dreams" campaign, which launched last month, features celebrities who are recognizable to a younger audience, like Elle Fanning, Maddie Ziegler and A$AP Ferg.
It's not just about picking the right stars, explained Jonah Berger, associate professor of marketing at Wharton. Tiffany (TIF), he said, has done a "pretty good job of ... speaking to Millennials in a language and way they're interested in."
In the fall, Tiffany launched its "Believe in Love" campaign, highlighting the company's engagement and wedding rings and telegraphing a more modern take on romance.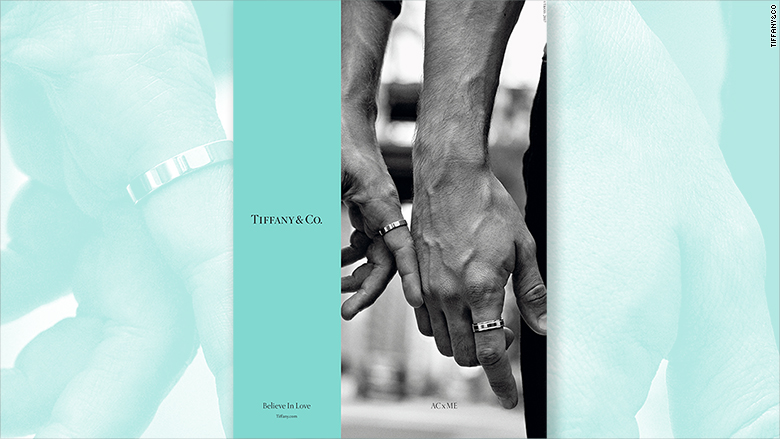 The campaign "honors commitment in its many forms and features a diversity of real couples," the company said in a statement.
The ads feature interracial and same-sex couples. Quotes from author David Sedaris about his partner, Hugh, and Nigerian writer Chimamanda Ngozi Adichie, who was featured on Beyonce's song "Flawless," appear prominently on the "Believe in Love" website.
The message is working: Engagement ring sales are up, and Tiffany is successfully luring younger shoppers into its flagship New York City store with its Blue Box Cafe.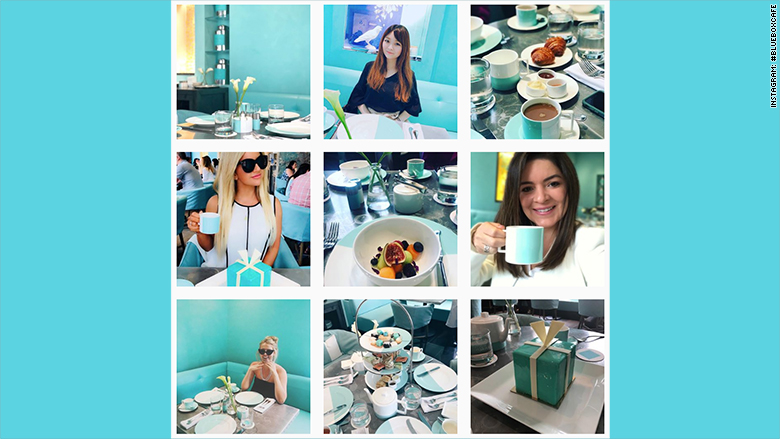 "On any given weekend we have up to 4,500 tables on our wait list," said Davey.
The cafe is on a recently renovated floor of the Fifth Avenue store. Patrons can check out the new space and recent collections. And they can spread the word, as many do on social media.
All of Tiffany's efforts — from its campaigns to its cafe — are inspired by its luxurious roots. By remaining true to this heritage, Tiffany is making sure not to alienate its loyal customers.
Related: Why Tiffany is selling a $1,000 'tin' can
Tiffany "wants to retain its point of view as a distinctly luxury, high-end brand," said Neil Saunders, managing director of GlobalData Retail. "They've modernized things, but they haven't been too radical about it."
Though the jeweler offers some lower-cost products, it hasn't significantly lowered prices. Tiffany's new Paper Flowers collection runs from $2,500 to $75,000 per item.
"They want to give people the ability to buy into the brand on some level," Saunders said, "but don't want to cheapen the brand."