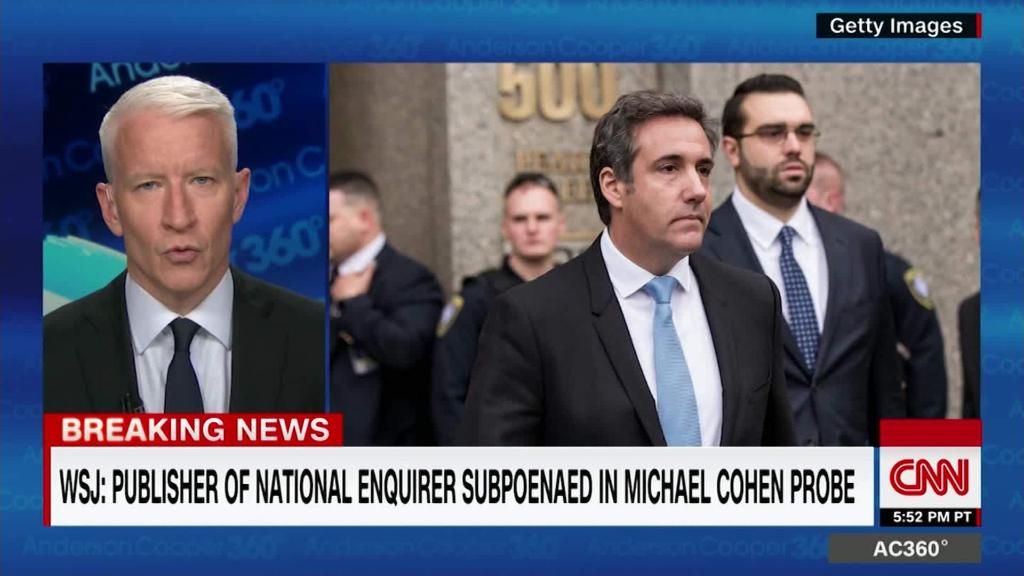 Federal prosecutors subpoenaed records from the National Enquirer as part of a probe into President Donald Trump's former personal lawyer, Michael Cohen, according to a new report from The Wall Street Journal.
The subpoena is for records on $150,000 that the tabloid paid former Playboy model Karen McDougal. The Wall Street Journal previously reported that the National Enquirer paid McDougal for an exclusive story about a relationship she claimed to have with Trump more than a decade ago. The White House has said Trump denies the alleged affair.
Related: Former AMI editor describes 'favor bank' of killed Trump stories
When the first Wall Street Journal story broke, the tabloid denied that it pays people in order to quash damaging stories about Trump, and rather that it was for "editorial discretion to publish her life story."
Trump has a long-standing relationship with David Pecker -- the chairman and CEO of the National Enquirer's parent company, American Media Inc.
In a statement, American Media Inc. did not address the subpoena directly, but said it "has, and will continue to, comply with any and all requests that do not jeopardize or violate its protected sources or materials pursuant to our first amendment rights."
Related: Why the National Enquirer's Trump connections are under scrutiny
Prosecutors from the US Attorney's Office in the Southern District of New York are investigating Cohen's personal financial dealings, including whether payments were made to suppress negative information about the president before the 2016 election, as well as Cohen's taxi medallions business.
The US Attorney's Office declined to comment. Cohen has not been charged with any wrongdoing.
- Kara Scannell contributed to this report