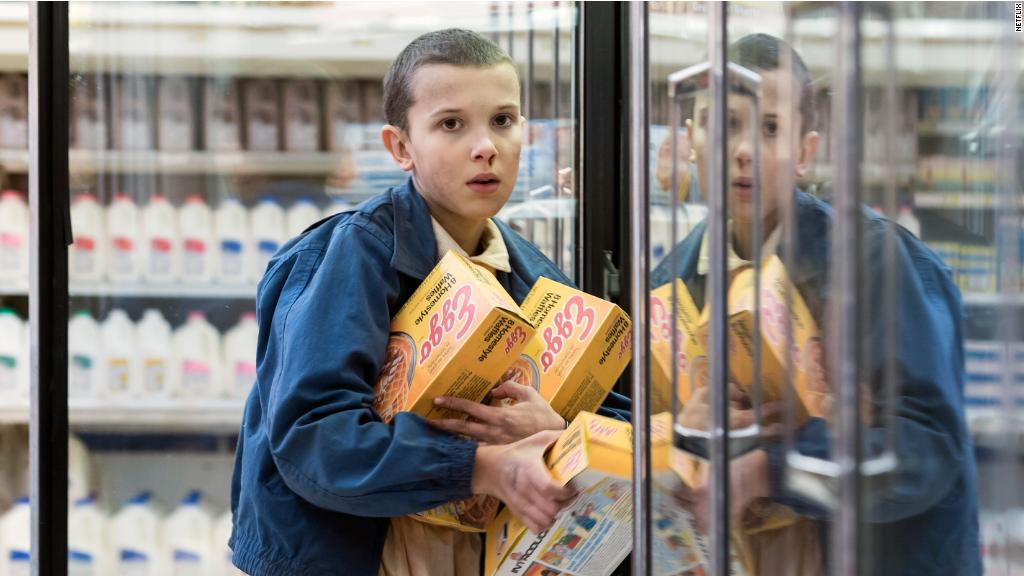 Americans aren't binge-watching Netflix's "Stranger Things" right now. That means they're not bingeing on Eggo waffles.
For the four weeks ending May 19, Kellogg's (K) frozen waffles, pancakes, and French toast sales grew just 1.3% from a year earlier, according to Nielsen. That's a steep drop from the 9.4% average growth for Eggos during the first four months of 2018, and 14% jump during the fourth quarter of 2017.
The second season of "Stranger Things" debuted just before Halloween last year, helping to boost Eggo sales. One of the characters in the 1980s sci-fi mystery, Eleven, can't get enough of the frozen waffles. In season one, she escaped from Hawkins National Laboratory and headed straight to the supermarket to grab a handful of Eggos.
Most of the show's fans have watched the second season by now, so the glow is fading, explained Alexia Howard, an analyst at AllianceBernstein.
The popular show gave the aging brand a "cultural relevance," Kellogg said at a February presentation.
"When Eggo waffles became a fixture on the hit show 'Stranger Things', we quickly leveraged the [resulting] consumer engagement," chief executive Steven Cahillane said. "It sparked conversations. And it prompted consumers to reconsider a long-established brand in new and very contemporary ways."
Eggo sales had been declining prior to "Stranger Things"' 2016 debut, but surged after as the show first aired.
Related: Trouble in Big Food: America's cereal, soda and soup companies are in turmoil
"Stranger Things" has played up its nostalgic appeal, and the serendipitous Eggos placement has rejuvenated the 65-year-old breakfast food.
In a commercial that aired during the 2017 Super Bowl, "Stranger Things" repurposed an old Eggo ad to promote its second season.
Eggo capitalized on the free promotion, exchanging jokes on Twitter with the "Stranger Things" account.
The second season of "Stranger Things" came out in October of 2017, and Kellogg said it led to the most-ever monthly mentions for the brand on social media. Eggo released special waffle recipes paired with each of the season's episodes.
Kellogg doesn't break out Eggo sales, but Eggo and Morningstar Farms' frozen waffles, pancakes, and French toast make up around 6% of the company's $13 billion in annual sales, estimated Howard.
The company's cereals, including Corn Flakes, Froot Loops, Frosted Flakes, Apple Jacks, and Special K, have lost some of their appeal with Americans who are reaching for healthier or more convenient options in the morning.
Despite the Eggo slowdown in May, CEO Cahillane believes frozen foods is a "promising" area.
Eggo should also be poised for a lift when a new season of "Stranger Things" returns next year.
—Update: This story has been changed to more clearly state that Kellogg CEO Steven Cahillane has not commented on the upcoming season of "Stranger Things."