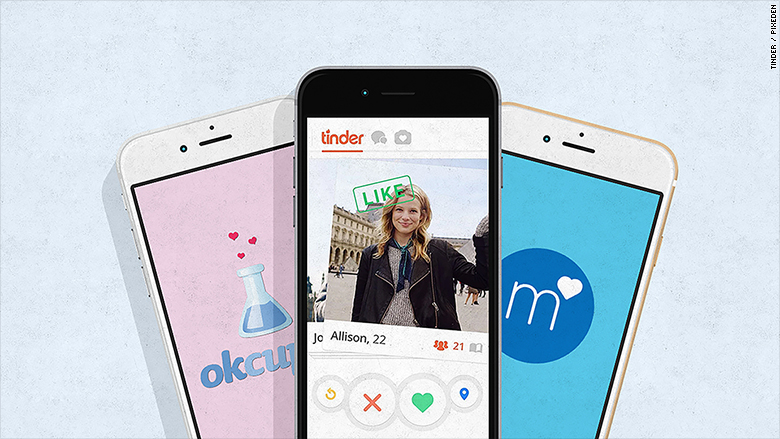 Match Group, the company that owns a number of dating websites and apps, now owns a 51% stake in millennial-focused, long-term dating app Hinge.
Match has the right to purchase all the remaining shares of Hinge within the next year. Additional terms of the deal were not included in a press release issued Wednesday. The company did not respond to requests for additional comment.
The move puts Hinge under the control of the same umbrella company that owns Tinder, OkCupid, Match.com, Meetic, and OurTime.com.
In a statement Wednesday, Match Group (MTCH) CEO Mandy Ginsberg said the company is ready to "leverage our extensive experience" to enable Hinge to "become a major player in the relationship space."
Hinge used to look somewhat similar to Tinder. They both used a "swipe" feature that allowed app users to like or dislike another user's picture with the swipe of a thumb.
Related: Match Group CEO doubts people will 'feel comfortable' using Facebook dating service
But Hinge did away with swiping in 2016, hoping to veer away from being seen as a "hook-up app" and develop a reputation as a "relationship" app.
Match Group said it acquired its initial stake in September 2017. The company said it has "gradually" increased its stake ever since.
In a press release announcing Match Group's acquisition of a majority stake, Hinge CEO Justin McLeod said in a statement that its mission is to serve "millennials who are looking for more meaningful, lasting connections."
"While our prime focus is on creating the most effective dating service for our members, it's now time for us to bring that service to more people in the US and abroad," McLeod said. "We're thrilled to have Match Group's support and scaling expertise as we grow."
The takeover comes just weeks after Facebook announced it wants to roll out a match-making feature.
Female-geared dating app Bumble, which also uses a swipe feature, and Match Group have been engaged in a very public legal battle in recent months. Match Group has accused Bumble of patent infringement and stealing trade secrets. Bumble has called the lawsuit baseless.