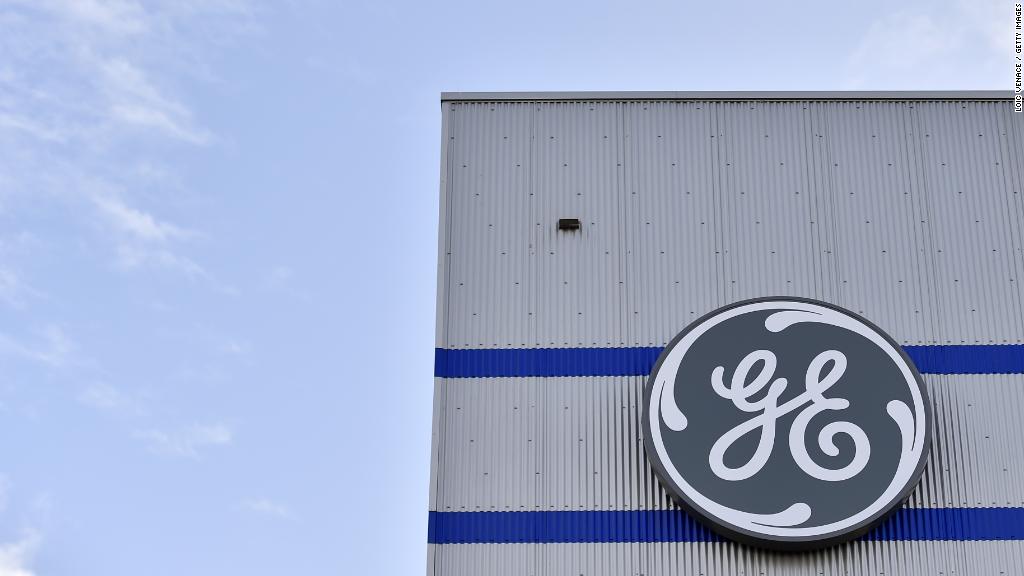 General Electric has paid a dividend for 119 consecutive years, including during the Great Depression and the 2008 financial meltdown. Goldman Sachs thinks that streak needs to come to an end.
GE (GE) is sitting on a mountain of debt accumulated by a series of bad deals, shrinking revenue and a huge pension shortfall. That debt is now making it difficult for the maker of light bulbs and jet engines to afford its dividend payout to shareholders.
"We think the most prudent action would be for GE to consider suspending its common dividend for the next 18 months," Goldman Sachs analyst Joe Ritchie wrote in a report published on Thursday night.
"GE is in a challenging situation," Ritchie wrote, adding that putting the dividend on hold would save the company $6 billion that can be used to pay down debt.
Related: Inside the dismantling of GE
Suspending the dividend would be the latest blow for GE, which is getting kicked out of the exclusive Dow Jones Industrial Average next week. GE was an original member of the Dow in 1896 and has been in it continuously since November 1907.
GE has already taken drastic action on the dividend, which millions of shareholders rely on. Last fall, the conglomerate cut the dividend in half, marking just the second time since the Great Depression that it touched the coveted payout. GE has paid a dividend each year since 1899, according to Howard Silverblatt of S&P Dow Jones Indices.
GE is also racing to raise cash by selling off businesses, including ones central to the company's identity. It's trying to find a buyer for the light bulb division that Thomas Edison founded. Last month, GE also reached a deal to unload the century-old railroad business.
Yet GE's financial problems are huge. Total debt since 2013 has nearly tripled to $77 billion, according to Moody's. That includes GE's large pension shortfall, which is the biggest of the S&P 500 companies.
Goldman Sachs estimates that GE needs to slash its debt by $35 billion to $40 billion to get borrowing levels back to healthy levels. The firm said that would be "difficult to achieve" without bigger asset sales or a significant rise in interest rates, which would help the pension gap.
If GE doesn't get its borrowing levels down, credit ratings firms could punish GE. A downgrade would hamper GE's ability to borrow in short-term credit markets, Ritchie said.
"GE needs to shore up its balance sheet to mitigate the risk of a credit ratings downgrade," he wrote.
Related: General Electric gets booted from the Dow
Others on Wall Street, most notably JPMorgan Chase analyst C. Stephen Tusa Jr., have previously warned that GE can't afford its dividend.
GE declined to comment. CEO John Flannery said at a conference last month that GE sees a "path forward to increasing our cash levels, decreasing our leverage."
GE's shares plunged during Flannery's speech because he wouldn't commit to leaving the dividend alone in 2019. They're trading at the lowest level in nearly nine years.
That suggests GE's stock could take another sizable hit if it put the dividend on hold -- at least in the short run. Similar moves by General Motors (GM) and JCPenney (JCP) caused their shares to struggle over the next year to two years, Goldman Sachs noted.
The one exception: BP (BP). Ritchie noted that the oil giant's stock plunged but then quickly recovered after it had to suspend the dividend to pay massive fines related to the Deepwater Horizon oil spill in 2010.
Of course, it's never comforting when the silver lining is the worst environmental disaster in American history.