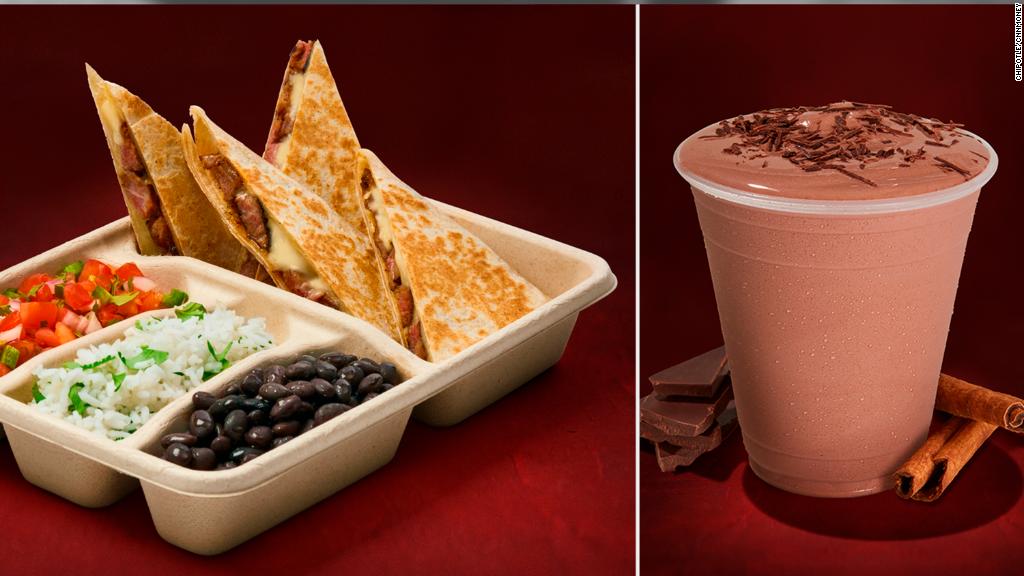 Americans are finally getting paid more — and that's creating challenges for nearly all of your favorite restaurants.
Labor expenses make up an average of 25% to 30% of restaurants' sales. Rising wages are forcing fast food and quick-service chains, including Olive Garden, LongHorn Steakhouse, Domino's (DPZ), Wendy's (WEN), Jack in the Box (JACK), McDonald's (MCD), Shake Shack (SHAK), and Chipotle (CMG), to make a crucial decision: Raise menu prices too much and risk losing customers, or absorb the hit and turn off Wall Street.
Related: Why Domino's is winning the pizza wars
"Everybody has to be very careful about pricing. You have to maintain that value perception," said Howard Penney, a restaurant analyst at Hedgeye Risk Management.
All of the big chains are raising prices as inflation climbs, but Olive Garden, Longhorn, and Domino's are moving more slowly than McDonald's, Shake Shack, and Chipotle.
Their choice boils down to simple questions, Penney said. "How much do you want to protect your margins versus how much do you want to drive traffic? How can you hide the price increase to not impact consumer behavior?"
At the same time, the companies want to keep restaurant crews consistent and limit worker turnover. It's expensive to hire and train new staff, particularly in a tight job market.
Related: Unemployment rate matches lowest point in half a century
Several factors have pushed up labor costs: Restaurants are opening new stores, lifting hourly wages and adding perks to their benefit packages.
Dozens of cities and states also adopted minimum wage increases, and seven states ended a rule allowing employers to pay tipped workers below minimum wage.
Related: Here's where the minimum wage is going up in 2018
Olive Garden
On Thursday, Olive Garden and LongHorn Steakhouse's parent company Darden Restaurants (DRI) said that boosting hourly wages by 5% and pricing food under inflation would limit its ability to grow profit margins.
The company spent 13.4% more on employee wages, benefits, and training last quarter than a year earlier.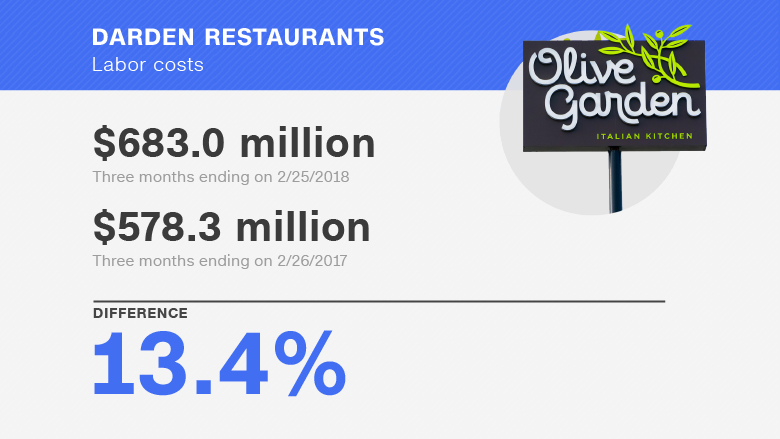 Darden's low prices are attracting customers. Sales at stores that have been open for at least a year grew 2.4% at both Olive Garden and LongHorn last quarter.
Related: Why Uber Eats and GrubHub partnerships are risky for restaurants
"We are continuing to go after our strategy of pricing below our competition," Ricardo Cardenas, Darden's chief financial officer, said on a call with analysts.
The company said reducing promotions and simplifying operations to accelerate worker productivity will help keep labor costs in check.
Domino's
Domino's, one of the top-performing chains in the country over the past decade, isn't sweating labor strains.
The company's $5.99 two medium, two-topping pizza, now in its ninth consecutive year, "allows Domino's to materially underprice independent pizza operators as well as larger regional and national chains," BTIG analyst Peter Saleh said in a research note last year.
Saleh found that independent pizza stores have raised menu prices by an average 7.5% over the past two years to combat rising labor costs. Domino's hasn't changed its $5.99 offer, allowing it to undercut competitors and grab market share.
The company believes it can dodge any margin squeeze by selling more pizza.
Related: Domino's will deliver pizza to the beach
"We're going to try to grow our way out of this," said Jeffrey Lawrence, Domino's chief financial officer, on a conference call Wednesday.
Domino's would risk turning off customers if it raised prices too much, he added.
"It's a dangerous game," Lawrence said. "Consumers know if you just poke them in the eye and you want to take price from them. And they have lots of other options."
Domino's has found the right balance. Same-store sales grew 7.7% on average in 2017 and 8.3% last quarter.
Wendy's
Other chains are betting costlier burgers, fries, sandwiches, and burritos won't hurt their traffic.
Labor inflation and higher food expenses pushed Wendy's (WEN) company-owned restaurants' profit margin down 2.1 percentage points last quarter.
Wendy's brought up prices and saved money by adopting more kiosks and automated dish washers. The company believes it can ease labor pressure in the future through more kitchen automation, including frying and grilling operations.
Higher prices improved Wendy's same-store sales in the United States by 1.6% last quarter.
McDonald's
McDonald's (MCD), Jack in the Box (JACK), and Chipotle (CMG) have been the most aggressive in raising prices lately to help offset labor costs. Shake Shack (SHAK) is hiking prices too.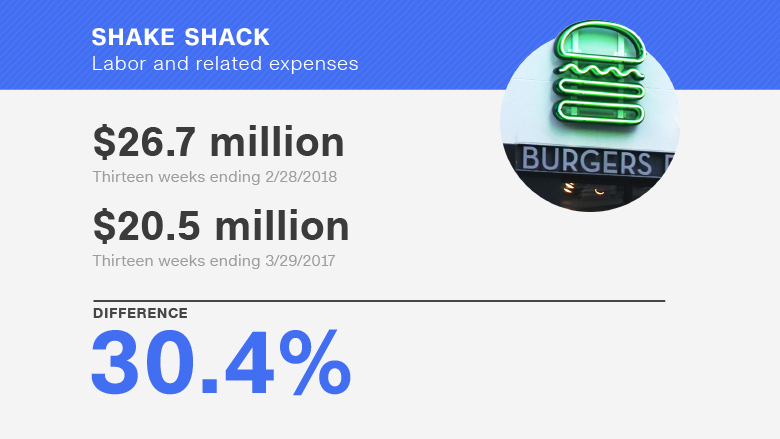 McDonald's company-operated store margins shrank 1.5 percentage points as payroll and employee benefit expenses grew. Chief Financial Officer Kevin Ozan said that training workers for the rollout of fresh beef in Quarter Pounders was a major factor in those costs.
Related: McDonald's raises prices and still posts stellar sales
The company said prices last quarter were slightly below inflation. But McDonald's believes it can get away with inching up burger and french fry prices as long as they're not moving above inflation or rivals.
Jack in the Box
To minimize the hit from raising wages in a "highly competitive labor market," Jack in the Box brought up prices 2.5% last quarter at company-owned restaurants.
"Jack in The Box has destroyed their value equation," said Hedgeye's Penney.
Since 2011, he found that the average check at Jack in the Box has grown around 24%, but transactions are down 4%, signaling that price increases have led to declining traffic.
Franchisees are now also making a popular taco deal more expensive at some California stores. Two tacos used to be $0.99, but they've gone up to $1.29. Bloomberg first reported the move.
"As minimum wage in California started to creep up toward the $15 mark, it doesn't necessarily make sense from a profitability perspective for our franchisees to continue at that price point," Carol DiRaimo, head of Jack in the Box's investor relations, said a Baird conference this month.
Chipotle
High labor turnover has been a problem for Chipotle in recent years. Increasing wages is one way to attempt to prevent employees from leaving.
Chipotle's hourly wages rose 5% last quarter from a year prior, and labor costs grew 10.8%.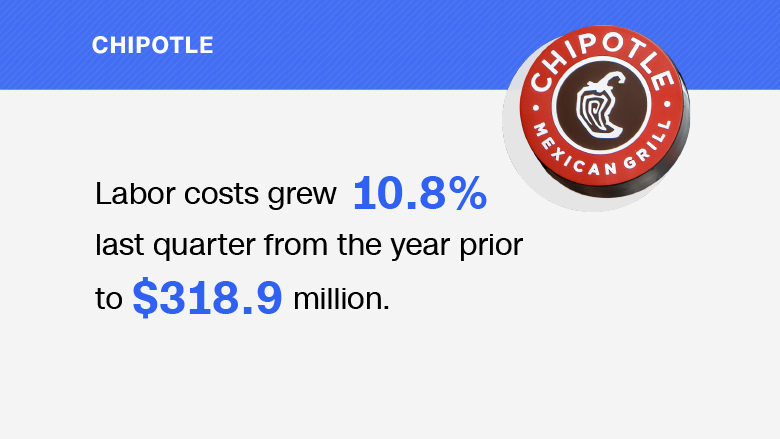 To compensate, prices across the menu have gone up by 5% in the past year. An analyst on Chipotle's April earnings call noted that the pricing gap was a "decent ways ahead" of the competition.
New CEO Brian Niccol said that some customers on the West Coast had pushed back on the hike, but the company hadn't experienced much resistance to the changes.
Related: Chipotle hires away Taco Bell's CEO
Same-store sales grew 2.2% last quarter, but Chipotle's higher prices could jeopardize its image among cost-sensitive customers.
"We think that affects the consumer's value perception of Chipotle," said Stifel analyst Chris O'Cull.