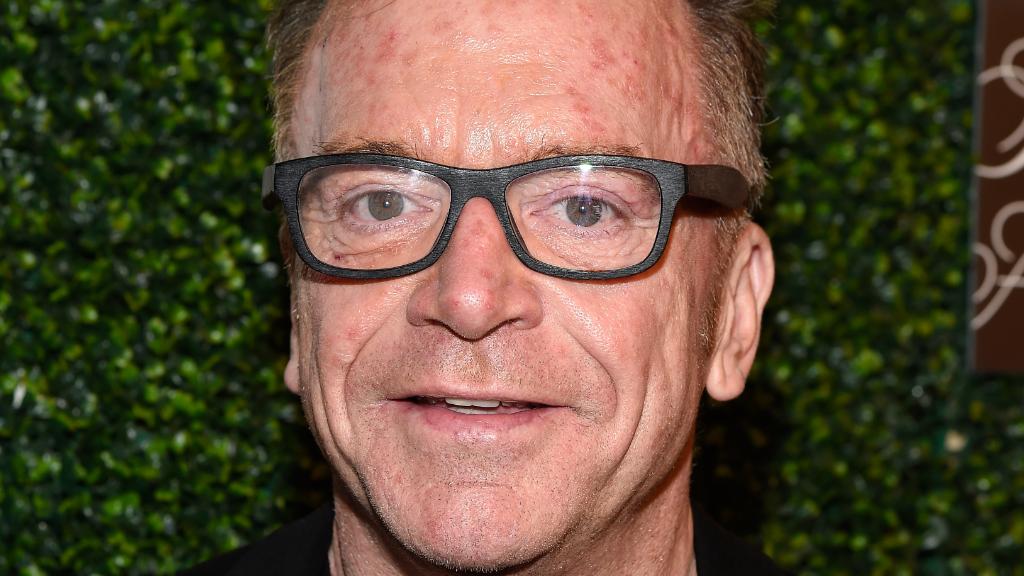 If Tom Arnold knows one thing, it's how to get attention.
And that's exactly what he is doing now, hyping his forthcoming TV show for Viceland, while stirring speculation about Michael Cohen's allegiance to President Trump.
Arnold is a dedicated Trump critic. So eyebrows were raised when he tweeted a picture of himself with Cohen on Thursday night -- and when Cohen retweeted it. Cohen, Trump's longtime personal lawyer and "fixer," is now under federal investigation.
In a series of interviews on Friday, Arnold hinted that Cohen confided in him and repeatedly suggested that Cohen is turning against Trump.
But there may be less here than meets the eye.
Arnold was in the lobby of the Loews Regency New York Hotel, where Cohen is known to be staying. Arnold was talking with Brian Hiatt, a senior writer for Rolling Stone magazine.
"I was with Tom and we had a polite and brief interaction with Michael Cohen after we bumped into him at the Regency Hotel," Hiatt told CNN. "I took that picture of them together."
Impromptu 'Fox & Friends' interview caps President Trump's wild media week
This lines up with what Cohen said on Twitter Friday night: "This was a chance, public encounter in the hotel lobby where he asked for a selfie."
Arnold said on CNN that he was going to spend the weekend with Cohen, which prompted Cohen to tweet, "Not spending the weekend together, did not discuss being on his show nor did we discuss @POTUS."
Later in the evening, Arnold admitted on MSNBC that he probably "oversold" the extent of his conversations with Cohen. But he insisted that the two men had weekend plans.
Confused yet? Maybe the better question is: Are you entertained?
Arnold played to the cameras in his interviews on CNN and MSNBC. One minute he was chatty. The next minute he was evasive. Sometimes he looked down the barrel of the lens mischievously, like he was having fun. Other times he sounded nervous. Some wondered if it was all just a performance.
After all, Arnold has been an actor for decades. In recent years he has also been a prolific tweeter. His criticism of Trump has been unusually pointed, even by Hollywood standards.
Regardless, Arnold's comments on Friday were clearly newsworthy -- because he really did have an encounter with Cohen.
Report: Prosecutors subpoena National Enquirer records in Michael Cohen investigation
On Friday afternoon Arnold told MSNBC's Nicolle Wallace that Cohen "knows Donald Trump does not care about him."
(Earlier this week, the Wall Street Journal reported that Cohen has complained about Trump not offering to pay his legal fees. CNN reported that "Cohen has expressed frustration that he is not getting assistance from Trump with his substantial legal fees, according to a source familiar with the matter.")
Later in the day on Friday, Arnold told CNN's Poppy Harlow that Cohen is "working with America, he's on the good side." Arnold added: "He's not working with Trump, let's put it that way."
And he told MSNBC's Lawrence O'Donnell that Cohen told him "I'm with you."
But it remains to be seen if this is anything more than wishful thinking by Arnold.
In the interviews, Arnold also teased his forthcoming Viceland show. The small Vice-branded cable channel could use some hit shows -- so in May it ordered eight episodes of "The Hunt for the Trump Tapes with Tom Arnold."
Vice said the show would follow Arnold "as he uses his network of connections" to undercover incriminating Trump-related tapes.
For years there has been chatter about possible material in the archive of "The Apprentice" that might embarrass or shame the former host.
On CNN, Harlow askd him, "Do you have any tapes of the president that the public is not already aware of?"
Yes, he said, "we have a lot of tapes."
On MSNBC, Arnold said that Cohen will be the subject of one of the episodes. But Cohen has not given him an actual interview.
So viewers may have to wait until September to see if Arnold is bluffing. And that's just how he and Viceland like it.