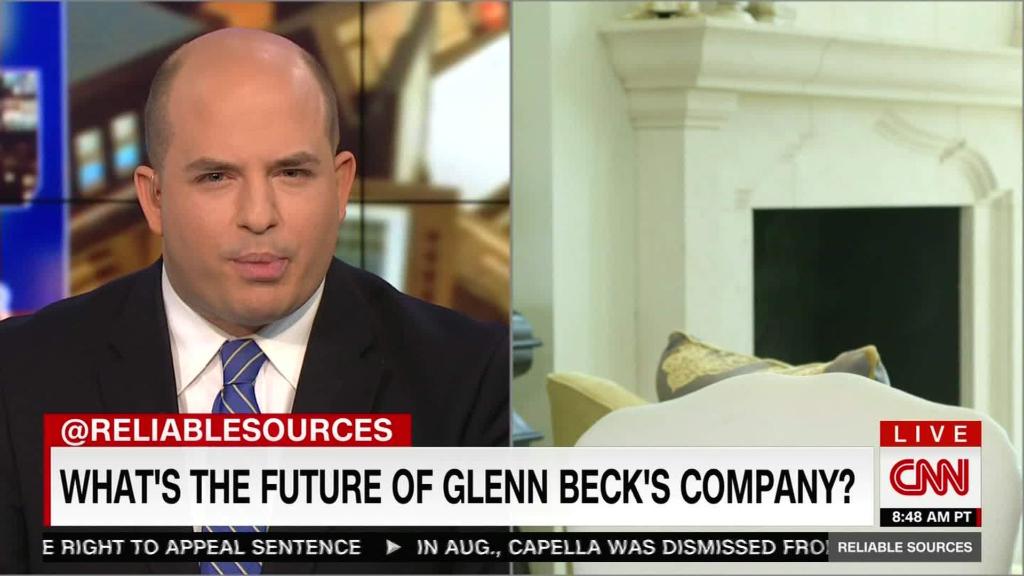 Glenn Beck walked out of a live interview on CNN when questioned about reported troubles at his media company.
The conservative commentator stormed out Sunday when Brian Stelter, host of CNN's media analysis show "Reliable Sources," asked about changes at his website, The Blaze.
The Daily Beast reported Friday that The Blaze now has a lean staff of fewer than 50 employees. The report claimed that Beck's "media empire" is imploding.
About six minutes into the interview that mostly focused on media bias and the issue of family separations at the US and Mexico border, Stelter said, "I do have to ask you" about the report. "What's going on with that?"
"No," Beck responded as he began to take off his microphone.
Related: 'Mass firing' at conservative site RedState
"I think that's the most ridiculous question I have ever heard," he said. "I'm sitting here ready to talk to you about the detaining of children and parents and trying to break families apart ... and you want to play those games? Have a nice day."
Beck then exited the screen. He did not respond to an email request for additional comment.
Shortly after his CNN appearance, Beck tweeted about it. He said he walked off the show because he "couldn't take anymore of it."
Beck was known for incendiary comments and personal attacks in the 2000s. He founded The Blaze after leaving Fox News in 2011, and has since expressed remorse about his divisive rhetoric.
Beck's digital media venture has had its ups and downs, and The Daily Beast has aggressively reported on the downs.
Friday's report said that "managerial shakeups, seemingly ceaseless layoffs, and office closures have depleted morale, tanked the site's web traffic, and caused cable distributors to jump ship."
An earlier report in March said that Ben Shapiro and The Daily Wire were in talks with Beck about a possible takeover of The Blaze.
Related: What's broken about media? Can it be fixed?
When Shapiro appeared on "Reliable Sources," Stelter asked him about that.
"We're always looking for opportunities to grow, and we are very much fans of what Glenn does," Shapiro said. "Any opportunity we have to work with Glenn, like a lot of other folks, we're happy to take."
According to the new Beast story, however, the sale is now "effectively dead."
Related: While Trump bashes 'fake news,' these are his media shelters from the storm
On Sunday, Beck had spent the majority of the CNN interview critiquing the mainstream media's coverage of President Donald Trump, and claiming the media did not give Beck enough coverage in 2014 when he visited migrant children at the border.
"That's not true," Stelter said. "There was lots of coverage of it in 2014. I remember you going to the border in 2014. Obama's policy might have been ugly. It's a lot worse now."
Beck also criticized the mainstream media for "playing this little game of back and forth" with Trump, rather than offering solutions for issues like immigration.