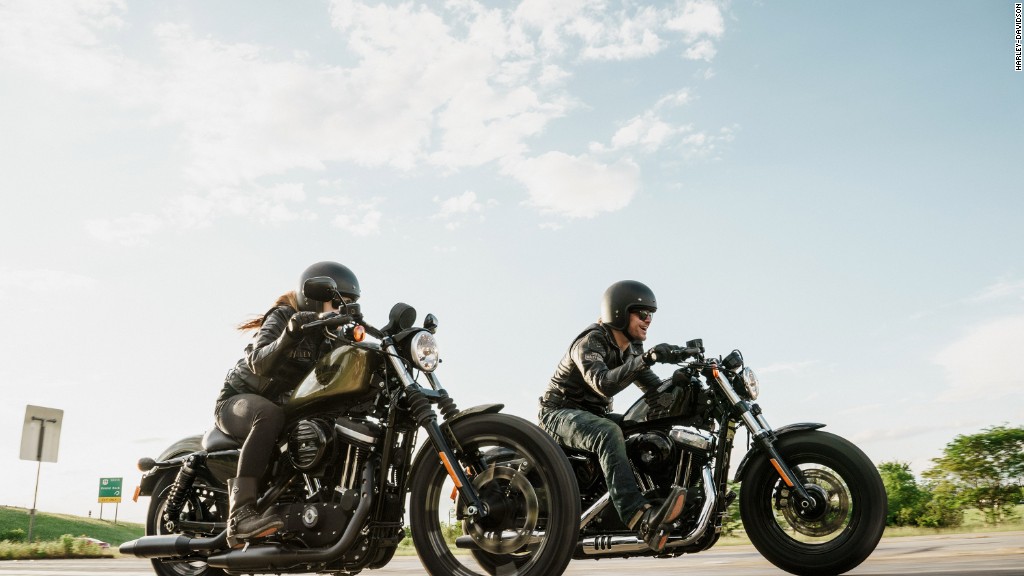 A move by President Donald Trump to impose tariffs on cars assembled in Europe would dramatically escalate trade tensions and produce a quick response from the European Union.
Trump threatened to make cars his next major target in a transatlantic trade tussle on Friday, saying they were in line for a 20% tariff if the European Union did not remove its own tariffs and trade barriers.
"If [EU] Tariffs and Barriers are not soon broken down and removed, we will be placing a 20% Tariff on all of their cars coming into the U.S. Build them here!" he said on Twitter.
Should Trump follow through, analysts said that the European Union will be ready to strike back.
"Cars is a big deal. This is a much bigger deal than steel," said David Henig, a former trade negotiator from the United Kingdom who worked on trade talks with the United States.
Cars worth €38 billion ($44 billion) are shipped each year from the European Union to the United States. It's the biggest export market for an industry that forms the backbone of manufacturing in Europe.
"Even now [EU officials will] be running through their statistics" to figure out how to retaliate against US tariffs on cars, said Henig.
Analysts said the European Union is likely to work from the same playbook it used after Trump imposed tariffs on steel and aluminum from Europe. That resulted in 28 EU members unanimously slapping retaliatory tariffs on $3 billion worth of American goods last week.
Offer talks while preparing to retaliate
Given the size of the trade at stake, and the potential damage to European companies who also export cars from plants in the United States back to Europe, EU officials may start by offering to strike a deal with Trump.
"They will try to wave a carrot," said Henig.
The Trump administration may not be willing to play ball. Europe's top trade official said she offered to scrap the bloc's 10% auto tariffs during negotiations over metals tariffs, but the United States declined to engage.
Meanwhile, the European Union would be working to finalize a list of American products that could be targeted for retaliatory tariffs. That list could potentially include chemicals, aerospace and agricultural products.
Target top brands and farmers
The European Union will chose its targets from US imports worth about €256 billion ($299 billion) each year.
"The targets will be a combination of iconic US brands and politically sensitive agricultural products," said Gregor Irwin, chief economist at Global Counsel.
Ross Denton, a trade expert and partner at law firm Baker McKenzie, suggested that Boeing (BA) could face tariffs since it's America's single largest exporter and it competes directly against Europe's Airbus (EADSF).
Experts said the European Union would also attempt to limit damage to its own companies and consumers while pursuing a proportionate response. That could prove to be difficult because of the large size of the trade penalties and because global supply chains are interconnected.
European automakers including Volkswagen (VLKAF) and BMW (BMWYY) have major factories in America, for example, and their exports to Europe would be harmed by new EU tariffs.
"The issue the European Union is going to face is it's just going to run out of retaliatory objects," warned Denton.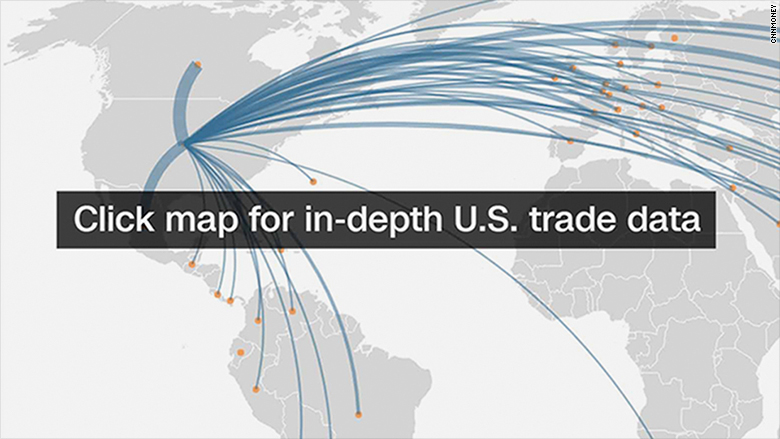 Take legal action
EU officials are likely to challenge the legality of any US tariffs on cars. It's already filed a complaint over US metals tariffs at the World Trade Organization.
"The United States has sought to use the threat of trade restrictions as leverage to obtain concessions from the European Union," EU trade official Cecilia Malmström said last month. "This is not the way we do business, and certainly not between longstanding partners, friends and allies."
EU trade officials declined to comment for this article.
Related: Made in America: The German cars Trump doesn't want
Henig suggested that the economic cost of retaliatory tariffs -— and the threat of further escalation — could encourage the European Union to moderate its response.
"The European Union will not want to do anything that would really damage the economy and industry," he said. "The best response might be to just do something symbolic and not make a big deal."