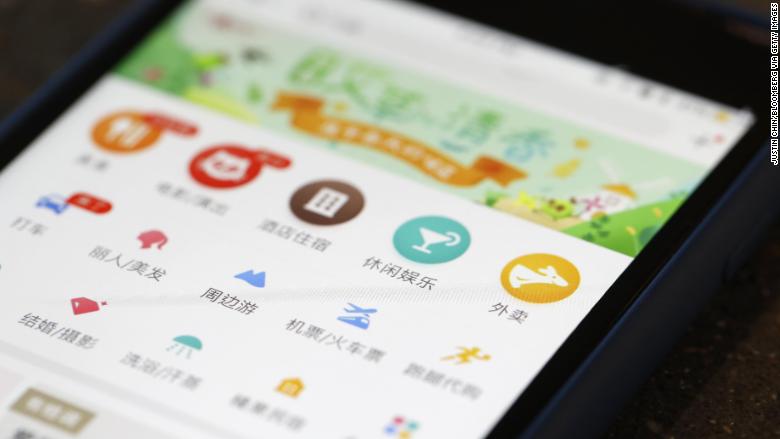 Meituan-Dianping, a massive online services platform in China, has filed to go public in Hong Kong in a move that's expected to raise billions of dollars from investors.
Meituan likes to call itself the "Amazon of services." The Beijing-based startup was formed in 2015 by the merger of two smaller companies viewed as China's equivalents of Groupon and Yelp.
It has since ballooned into a one-stop shop for online services, a place where people can make lunch reservations, buy movie tickets, book vacations or hail a car ride -- all using Meituan's mobile app.
Related: China's bike-sharing competition heats up with Mobike sale
The company is seeking to raise more than $4 billion at a valuation of $60 billion, according to Reuters. That would be double what Meituan was valued at in October, when an injection of $4 billion from investors like Chinese tech company Tencent (TCEHY) valued the company at $30 billion.
Meituan didn't respond to a request for comment on its potential valuation.
In a stock exchange filing, Meituan said it will use funds raised from the IPO to upgrade its technology, develop new products and services, and make acquisitions and investments. The company recently made headlines for buying Chinese bike-sharing company Mobike in a deal reportedly worth around $3 billion.
Despite racking up 320 million active users and more than doubling revenue last year, Meituan has yet to turn a profit.
According to its recently filed IPO documents, the company posted an adjusted net loss of 2.8 billion yuan ($430 million) for last year. That's narrower than the 5.4 billion yuan ($830 million) loss it reported for 2016.
Related: The wave of massive Chinese tech IPOs has begun
Meituan is one of several major Chinese tech companies that are expected to go public in the coming year.
Smartphone maker Xiaomi on Saturday detailed plans to raise around $6 billion in its Hong Kong IPO. Its shares are due to start trading in early July.
Ride-hailing giant Didi Chuxing, online payments company Ant Financial and streaming music firm Tencent Music also reportedly have plans to go public in the near future.