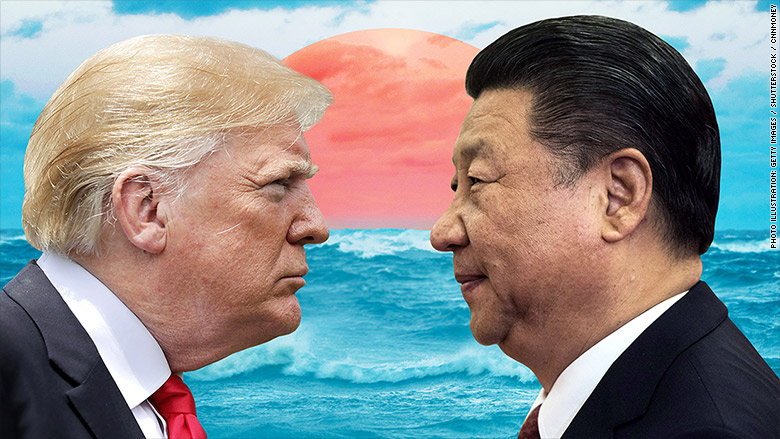 What's Next: Trump's Plan to Curb Chinese Tech: President Trump may move to curb China's technological ambitions by blocking its access to key US technologies through trade and investment, WSJ's Bob Davis reports:
• Part I: "The Treasury Department is crafting rules that would block firms with at least 25% Chinese ownership from buying companies involved in what the White House calls 'industrially significant technology.'"
• Part II: "The National Security Council and the Commerce Department are putting together plans for 'enhanced' export controls, designed to keep such technologies from being shipped to China."
Treasury Secretary Steven Mnuchin disputes the reports: "On behalf of @realDonaldTrump, the stories on investment restrictions ... are false, fake news. The leaker either doesn't exist or know the subject very well."
The Big Picture: Whatever strategy the US pursues will be aimed at curbing China's ability to acquire or reverse-engineer US technologies, a key part of its effort to become a global leader in AI, aerospace, and other areas of technology by 2025.
Sign of the Times: "China Extends Lead as Most Prolific Supercomputer Maker" via NYT's Steve Lohr: "For years, the United States dominated the supercomputer market. But two years ago, China pulled even ... [and] moved decisively ahead last fall."
The FAANG stocks -- Facebook, Amazon, Apple, Netflix and Google -- fell slightly on fears of a trade war ...
Sign up for PACIFIC: The new CNNMoney newsletter about the center of change and innovation
---
Welcome to PACIFIC. We're headed to the Aspen Ideas Festival later this week to talk with Facebook's Campbell Brown about how tech companies like hers can support and ensure quality journalism. If you're in town, join us.
Speaking of news, Apple has unveiled a 2018 Midterm Elections section in Apple News with exclusive features from publishers like The Washington Post, Axios, and Politico. There's also a section called "The Conversation" that will aggregate top opinion pieces from around the web.
---
Dept. of Leadership: Why Netflix fired Friedland
Netflix fired top communications executive Jonathan Friedland on Friday for using the N-word in meetings about sensitive words. The most notable thing about the incident is the thoughtful and transparent memo CEO Reed Hastings sent to staff:
• "Jonathan contributed greatly in many areas, but his descriptive use of the N-word on at least two occasions at work showed unacceptably low racial awareness and sensitivity, and is not in line with our values as a company."
• " I realize that my privilege has made me intellectualize or otherwise minimize race issues like this. I need to set a better example by learning and listening more so I can be the leader we need."
• "For non-Black people, the word should not be spoken as there is almost no context in which it is appropriate or constructive (even when singing a song or reading a script). There is not a way to neutralize the emotion and history behind the word in any context."
• "We seek to be great at inclusion, across many dimensions, and these incidents show we are uneven at best. We have already started to engage outside experts to help us learn faster."
The Big Picture: There is a premium on moral accountability in business right now, and companies like Netflix and Starbucks are responding to racism or racial insensitivity in their ranks by addressing it head-on with self-awareness and promises to self-correct.
Bonus, via THR: "Netflix Airs 'Strong Black Lead' Spot Two Days After Firing PR Chief for Using 'N-Word'"
Sign up for PACIFIC: The new CNNMoney newsletter about the center of change and innovation
---
Talent Acquistion: How Netflix landed the Obamas
New York Magazine's Gabriel Debenedetti has the backstory on the Obamas decision to sign with Netflix:
• "The arrangement ... came about in large part because of the years-long relationship between Obama and both Reed Hastings, Netflix's CEO, and Ted Sarandos, its chief content officer."
• ."Sarandos ... met his wife, Nicole Avant, at an Obama fund-raiser in 2008 that she was co-hosting. Avant became Obama's ambassador to the Bahamas. ... Sarandos's new chief of staff is Ferial Govashiri, who served as Obama's personal assistant in the White House."
The Big Picture: Relationships matter.
---
What Hollywood Fundraisers Are Reading
That Debenedetti piece, which is titled "Where Is Barack Obama?" and seeks to answer how the most ubiquitous man in America virtually disappeared "just as American politics appears to so many to be on the brink of breaking."
---
The Ad Game: AT&T buys AppNexus
Fresh off the heels of its $85-billion Time Warner acquisition, AT&T has acquired the ad exchange AppNexus to enhance its advertising and analytics service:
• AT&T wants to give advertisers the ability to target users based on their unique wireless data. AppNexus, one of the world's largest online ad exchanges, will enhance that effort and give its analytics service global reach.
• AppNexus will give AT&T greater ability to compete against Google and Facebook, which together account for more than half of the US digital ad market.
The Big Picture: AT&T's quest for scale against big tech is also a quest for greater control of the advertising market. Never forget: The media business is the advertising business.
Sign up for PACIFIC: The new CNNMoney newsletter about the center of change and innovation
---
Future of Health: Atul Gawande's vision
How does Atul Gawande, the newly named CEO of the Amazon-Berkshire-JPMorgan health care venture, plan to lower prices and improve services? We spoke to a source last week who said he plans to cut out pharmacy benefit managers, aka the middlemen of the medicine supply chain.
Gawande at Aspen, over the weekend:
• "One source of waste is our very high administrative costs. There are a lot of middlemen in the system, and there have to be solutions that simplify that, take some of the middlemen out of the system."
Who's Hit Hardest: Pharmacy benefit managers like CVS Health and Express Scripts and insurers like UnitedHealth, Cigna, Aetna and Anthem.
The Big Picture: The Amazon-Berkshire-JP Morgan initiative could revolutionize healthcare: While Gawande's improvements will initially apply to the companies' one million-plus employees, Bloomberg's Zachary Tracer notes that it could ultimately affect the more than 150 million people in the US who get their health insurance through work.
---
Future of Retail: Amazon primes Whole Foods
Amazon completes its rollout of Prime member discounts at Whole Foods stores this week, PACIFIC's Jordan Valinsky reports:
• "Beginning Wednesday, Amazon Prime members can earn additional savings on select items at all of Whole Foods' 466 US stores ... by using the Whole Foods app at checkout or typing in their Amazon-linked mobile number."
The Big Picture: Amazon is pursuing myriad incentives to boost memberships and make Prime the one-stop shop for every facet of your life.
Sign up for PACIFIC: The new CNNMoney newsletter about the center of change and innovation
---
Valinsky's Links
TheBoardlist seeks to empower women (CNNMoney)
Tech execs meet to discuss privacy (Axios)
Advertisers ponder ethics in Cannes (NYT)
Uber gets a boost in London (Bloomberg)
Facebook launches a magazine (CNNMoney)
---
Apple Watch: New AirPods in 2019
News you can use: "Apple is ... planning higher-end AirPods, a new HomePod and studio-quality over-ear headphones for as early as next year," per Bloomberg's Mark Gurman and Debby Wu:
• "The Cupertino, California-based company is working on new AirPods with noise-cancellation and water resistance."
• "The company has also internally discussed adding biometric sensors to future AirPods, like a heart-rate monitor, to expand its health-related hardware offerings beyond the Apple Watch."
• "Apple is working on a new version of the HomePod for as early as next year."
---
What Next: Summer music: The Carters' "Everything is Love" ... Kamasi Washington's "Heaven and Earth" ... Father John Misty's "God's Favorite Customer" ...
See you tomorrow.
Sign up for PACIFIC: The new CNNMoney newsletter about the center of change and innovation