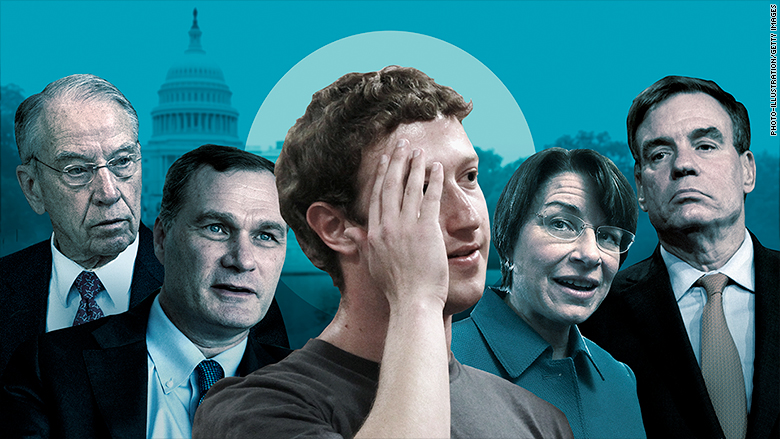 What's Next: The Silicon Valley-DC Disconnect: Technology firms and government agencies have failed to work together to address foreign meddling in US elections and have left the 2018 midterm races vulnerable to the same Russian-led misinformation campaigns that plagued the contest between Donald Trump and Hillary Clinton, sources on both sides of the debate tell me.
• How Silicon Valley sees it: The Intelligence Community is not taking responsibility for the national security of the United States, which is their job, and instead is withholding vital intelligence from the tech companies that would help tech companies curb foreign meddling.
• How Washington sees it: Facebook and Google are better equipped to monitor foreign activity on their platforms than the FBI or NSA, because they have access to the data and can see where activity originates from. They should take responsibility for the activity that happens on their watch.
• How both sides see it: The Trump White House failed to come up with an inter-agency response to foreign information warfare -- likely because it's politically inconvenient for Trump to acknowledge the gravity of the problem.
The Latest: Facebook hosted a meeting with top tech firms and US intelligence officials in Menlo Park last month, our sources confirmed. The New York Times, which was first to report the meeting, says "neither the FBI nor the Department of Homeland Security was willing or able to share specific information about threats the tech companies should anticipate."
What Silicon Valley sources tell us: The fact that the meeting was hosted by Facebook in Menlo Park, and not DHS in Washington, tells you everything you need to know about who takes this issue seriously.
The Big Picture: Without Washington's help, Facebook, Google and other tech companies will have to fight foreign meddling on their own. And as Mark Zuckerberg often says, this is a problem that can be monitored but never be entirely prevented.
Bonus, via The Washington Post: "Two months after Mark Zuckerberg testified before Congress, Facebook has responded to 26 of the 50 questions it promised to answer."
---
Welcome to PACIFIC.
We feel like Edward Gibbon.
---
The Big Picture: US sleeping, China rising
File this one under "Fate of America," or "What Thomas Friedman is Reading"...
Axios' Steve LeVine: "The U.S. is putting up relatively meager competition in a potent new global tech race that, combined with the wave of go-it-alone nationalism led by President Trump, is reshaping global politics and may lead to war, according to a major new report [from the Atlantic Council]."
Robert Manning, the report's lead author, talks to LeVine:
• "Absent the US regaining its footing, trends suggest a China-centric future in which Beijing shapes global standards for 5G, ethics for gene editing, and norms and limits on AI. ... [as well as] global data flows and .. digital commerce."
• "China's advantage is a whole-of-nation mobilization of human, scientific and capital resources to dominate in technology by the 2030s. This suggests that, even factoring in its enormous waste, corruption and misallocation of resources, China will achieve a good portion, if not 100%, of its goals."
• "While I believe one underestimates U.S. resilience at one's peril, given our current dysfunctional political system, trends in education, and general aura of complacency, it is difficult to see a 'Sputnik moment' of across-the-board effort taking the steps needed to reserve these trends."
---
Bad Intel: AI has a race problem
Facial recognition machines are struggling to identify individuals with darker skin tones because they have been taught mostly by white faces, raising serious concerns about law enforcement agencies' use of the technology.
Bloomberg's Lizette Chapman and Joshua Brustein report:
• AI is "being used in a growing number of contexts by law enforcement agencies, which are often less than forthcoming about what they're using it for and whether they're doing enough about potential pitfalls."
• "Microsoft, IBM, and China's Face++ misidentified darker-skinned women as often as 35% of the time and darker-skinned men 12% of the time, according to a report published by MIT researchers earlier this year."
• "In recent months, major vendors say they've diversified their training data sets to include darker-colored faces and have made strides in reducing bias."
The Big Picture: "Police are beta-testing new technologies or piloting new ideas in policing without a vetting process to think through bias or how it might affect citizens' civil rights," Andrew Ferguson, a law professor and author of The Rise of Big Data Policing, tells Bloomberg.
What's Next: Reuters: "Orlando has stopped testing Amazon's facial recognition program after rights groups raised concerns that the service could be used in ways that could violate civil liberties."
---
Valinsky's Links
Amazon's brand overtakes Google's (9to5Mac)
Andreessen Horowitz embraces crypto (WSJ)
Chinese stocks enter a bear market (CNNMoney)
Apple unveils iOS 12 in public beta (Fortune)
Instagram redesigns Explore (9to5Mac)
---
Mind the Gap: Uber wins London
"Uber has a green light in London," my colleague Ivana Kottasová reports:
• "The Westminster Magistrates' Court [granted Uber] a 15 month license to operate in the British capital."
• "Uber had been forced to appeal after Transport for London declined to renew its license in September. The transport authority had cited several concerns including how Uber reported serious crimes."
• "The decision announced Tuesday is a major victory for Dara Khosrowshahi, who has sought in his 10 months as CEO to present Uber as a humbled and reformed company."
The Big Picture: After ceding China, Southeast Asia and Russia to its rivals, Uber needs to be fully operational in every city it still has.
---
The Stream: Spotify hires new CCO
Spotify has hired Conde Nast entertainment executive Dawn Ostroff as its chief content officer in a move to build out its music and video partnerships.
Where Spotify is headed:
• Spotify needs a strategy beyond music because music isn't exclusive. As present, Spotify is offering the same content that Apple, Amazon and Google offer, and those companies are all seen as integral to people's lives.
• Ostroff has relationships in film and television that could help the company line up exclusive deals for video content and original programming.
---
Sign of the Times: The influencers who aren't
So this is a thing... My colleague Kaya Yurieff reports:
• "Like many social media infuencers, "Lil Miquela" posts photos of herself wearing high-end designer clothing with cleverly crafted captions. ... She has more than 1 million followers ... [She] also voices support for social causes like Black Lives Matter and has partnered with Prada on a campaign for Milan Fashion Week. She's even released a few songs on Spotify."
• "But in April, she made a confession. ... Miquela is a CGI -- or computer generated image -- created by a Los Angeles-based startup called Brud. The company specializes in artificial intelligence and robotics."
• "Miquela is a part of an emerging group of 'fake' virtual influencers ... Like human social influencers, these CGI accounts often promote brands and products."
The Big Picture: "Virtual influencers can be particularly appealing to companies ... It can be less risky than partnering with a person because there is more control over the image. ... There won't be issues in a CGI's past that could get the brand in trouble, such as criminal history or use of profanity."
---
What Next: "Do you really know what your kid's doing on that device?" by AP's Martha Irvine.
See you tomorrow.