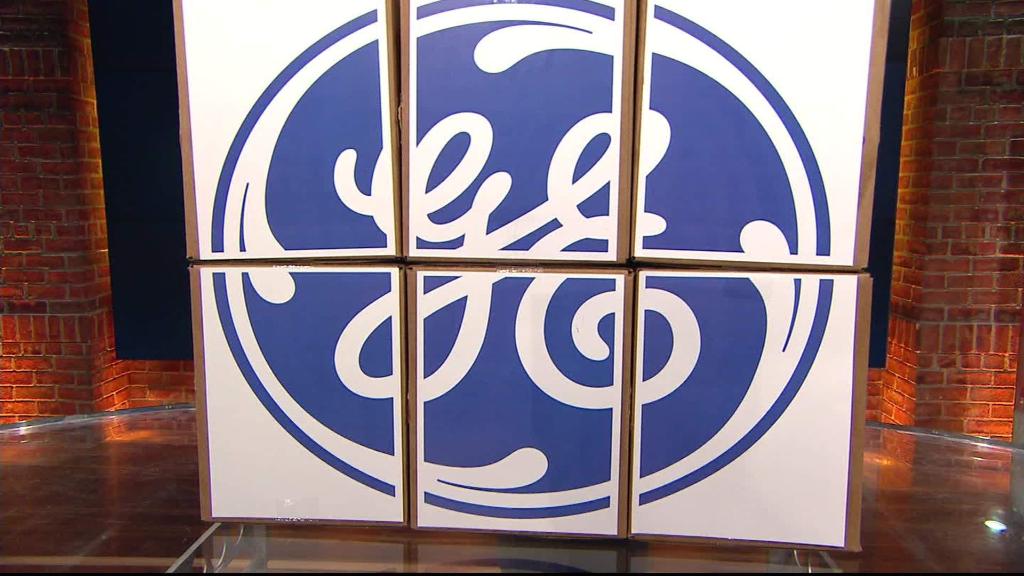 General Electric, once one of America's greatest conglomerates, is reinventing itself by getting smaller and simpler.
GE is saying goodbye to its health care, oil and gas and locomotive businesses. Years ago it shed a formidable appliance division, NBC and most of the good parts of the giant bank that nearly killed it in 2008. Even the iconic light bulb division that Thomas Edison founded is on the auction block.
What will be left? A shell of GE's former self.
Tomorrow's GE will feature a booming jet engine business as well as a small yet promising renewable energy division. But GE isn't getting rid of its two biggest problem children.
The largest remaining division will remain GE Power, a maker of power plants that's in a deep slump. And then there's GE Capital, the financial arm that's bleeding billions from insurance and subprime mortgage troubles.
"We have changed many things, but the essence of GE endures," CEO John Flannery told analysts on Tuesday. "We are on a path of rejuvenation and growth."
Wall Street cheered the long-awaited changes to GE's portfolio. GE's (GE) depressed share price spiked 8% on Tuesday, its biggest leap in three years.
"Investors simply don't want to own the conglomerate hodgepodge that GE became. That's part of their bugaboo," said Jack De Gan, chief investment officer at Harbor Advisory. After 21 years as a GE shareholder, the investment firm dumped its shares last fall.
Related: Inside the dismantling of GE
GE is trying to learn from mistakes that sparked a cash crisis, forcing a wave of asset sales. Flannery vowed to clean up GE's debt-ridden balance sheet, make the company less risky and simplify a structure that grew far too complex for everyday investors to decipher.
That won't be an easy task. By getting rid of divisions, GE will have less firepower to pay back its debt, a challenge that could be magnified should the economy stumble into a recession.
"While we applaud management's straightforward plan," Stifel analyst Robert McCarthy wrote to clients, "we remain concerned" about how GE will execute its plan and handle problems at GE Capital.
Decision-making won't come from the headquarters in Boston anymore either -- a dramatic shift for a company long known for its central management style.
"We are fundamentally inverting the company to make the business units the center of gravity," Flannery said.
Soaring jet engines
GE was a pioneer in aviation, so it's only fitting that the bright spot of the remaining company makes and fixes jet engines.
GE Aviation's technology powers two out of every three commercial flight departures around the world. The business has a long runway too, with a decades-long backlog of orders totaling $200 billion.
"The aircraft engine business is a phenomenal one," said De Gan
Power problems
Unlike in the past, GE is rearranging its portfolio to only keep businesses that fit well together. So it makes sense that Flannery decided to retain GE Power, which makes giant turbines used by power plants.
"A power turbine is effectively a jet engine that doesn't fly," Scott Davis, lead analyst at Melius Research, wrote to clients.
But GE Power is in disarray. Under former CEO Jeff Immelt, GE doubled down on fossil fuels by spending heavily to acquire the power business of Alstom. That deal left GE badly exposed to the shift away from natural gas and coal. GE has raced to shrink its power business, slashing 12,000 jobs along the way.
Flannery acknowledged that GE Power is a "turnaround story" that will take years, not quarters, to play out.
Small footprint in clean energy
The shakeup at GE has elevated the role of its renewable energy business, which is built on a large onshore wind business. GE is also making inroads into offshore wind as well as hyro power.
Holding onto renewable energy gives GE a foothold in the growth part of the industry as Americans push for cleaner fuels. But it's a tiny foothold. Renewable energy hauled in $10 billion of revenue last year, accounting for just 8% of the company's total sales.
The ghost of GE Capital
Listening to GE talk about the future, it would be easy to forget that a big chunk of it is wrapped up in GE Capital. The financial arm has been dramatically downsized over the past decade. And Flannery pledged to make it even smaller.
Yet the leftovers of GE Capital are still hogging vast amounts of money -- cash that the parent company could be using to invest in the future.
GE recently set aside $1.5 billion to cover potential losses from a federal investigation into defunct its subprime mortgage unit. And it's plowing $15 billion to stabilize losses from its long-term care insurance business, which GE is also attempting to get rid of.
"When they dismantled GE Capital, they sold the good stuff and they kept all the garbage," said De Gan.
It'll take years for GE to recover from the sins of the recent past. For now, it's clear that tomorrow's GE will likely nothing like today's.
"We have argued for the full breakup of GE and we pretty much have that," said Davis.