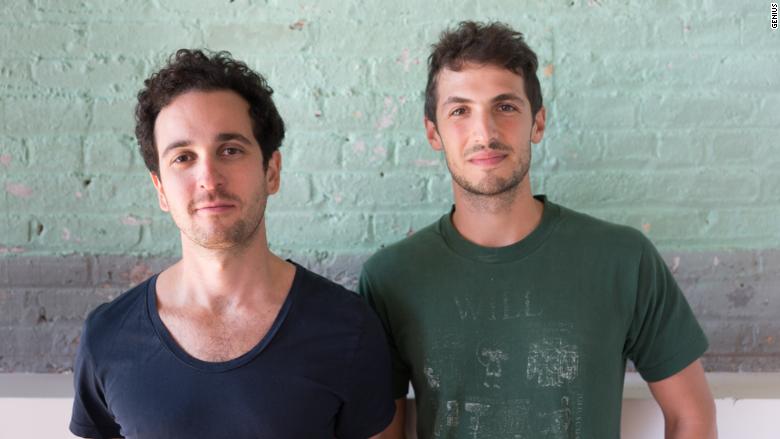 Confused about a rap song lyric, a line of Shakespeare, a news report or even a State of the Union address? Genius can help with that.
The online service crowd-sources annotations to song lyrics and other materials. What started out as a hip-hop project now has more than 100 million unique visitors to its website and app every month.
Genius is the brainchild of college friends Tom Lehman, Ilan Zechory and Mahbod Moghadam. In 2009, Lehman asked Moghadam the meaning of a lyric in the song "Family Ties" by rapper Cam'ron: "80 holes in your shirt, there: your own Jamaican clothes."
A week later, Lehman started coding a website for annotating song lyrics.
"The idea ... was to have the same conversation we were having about music in our apartment, but on the internet -- so that anyone could participate," Lehman, who is now the company's CEO, told CNNMoney.
'Passion project'
When the platform was launched in August 2009, Lehman was a programmer, Zechory was a project manager at Google (GOOGL) and Moghadam was an attorney on a sabbatical.
"[We were] thinking about the site primarily as a passion project, albeit one that showed a lot of promise," Lehman said.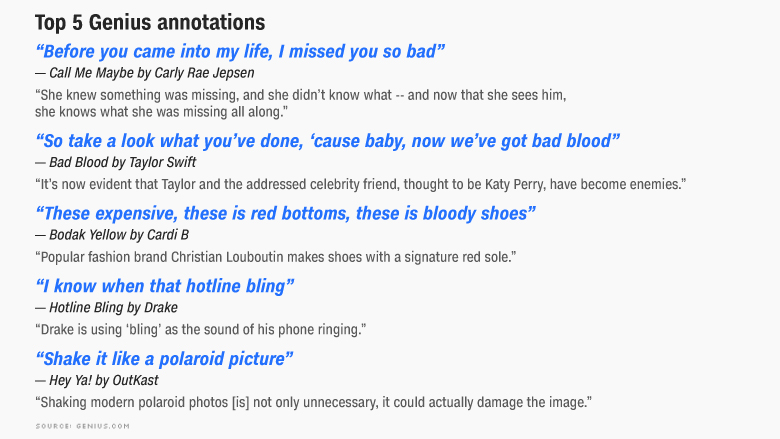 Related: 9GAG -- from side project to internet phenomenon
In the early days, the trio wrote their own annotations to hip-hop tracks. One of the first songs to be annotated on Genius was Cam'ron's 2004 track "Killa Cam." The annotations pop up when users click on text on the site.
Genius was initially only open to the co-founders' friends. In mid-2010, however, the public were given the ability to contribute, after people searching for song lyrics on Google started arriving at the site.
"Opening up the site, Wikipedia-style, came out of a desire to talk about lyrics with people smarter, funnier and more insightful than we were," Lehman said.
Related: Sweatcoin -- the app that pays you to get fit
The new users began adding annotations to materials beyond rap music.
"At first, it ​did​ irritate us a bit," Lehman said. "But we realized that, at the root, people just wanted to apply this tech we'd built to other types of content and start a new dialogue around that."
Genius was originally called Rap Exegesis and then Rap Genius. In 2014, to reflect its broader functionality, the platform rebranded to Genius. The iOS app launched the same year, followed by the Android app in 2015.
Today, anyone can add annotations on Genius and users can vote for explanations they prefer.
'Not always a neat and tidy process'
Genius is based in Brooklyn, New York, has 85 employees and has raised $79 million to date. Investors include Silicon Valley venture capital firm Andreessen Horowitz, Reddit founder Alexis Ohanian and American rapper Eminem.
The company is spending its latest round of funding on music-centric original content and video, and partnerships with brands. It works, for example, with music streaming service Spotify (SPOT) to provide the "Behind the Lyrics" function, which allows users to listen to a song and read annotations on the screen of their device.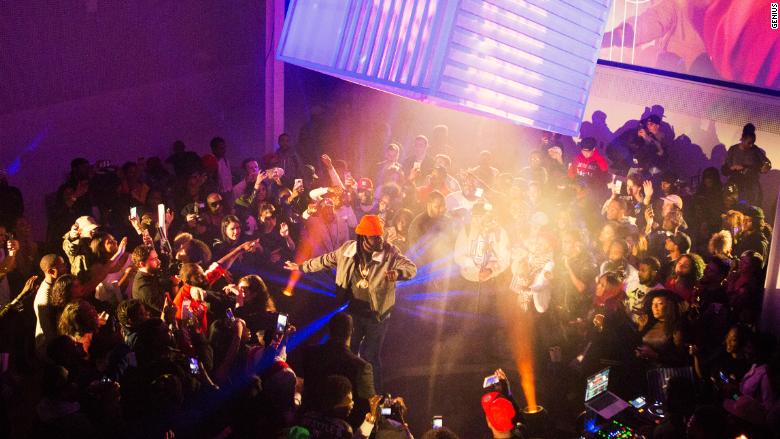 Related: Meet the 30-year-old with a $1 billion startup
It hasn't all been smooth sailing, however. Moghadam resigned from Genius in 2014, after he annotated a manifesto written by Elliot Rodger, a gunman who killed six people in an attack in California.
Genius released a statement after the incident, saying that Moghadam's postings didn't "enhance anyone's understanding of the text" and had veered into "gleeful insensitivity and misogyny."
Moghadam told CNNMoney this week that he had already been planning to move to Los Angeles -- and that he had brain surgery about five months before leaving the compoany.
"So it looked like I'm doing this big departure, but I'd actually kind of already been on my way out," he said.
In a tweet in 2014 that has since been deleted, he wrote, "I want to apologize to everyone. I need to hear these criticisms, reflect for real, and work on becoming a better person."
Lehman admitted that crowdsourcing is "not always a neat and tidy process," but said he sees Genius as "a 100-year knowledge project."
"In our next 91 years, we're going to keep raising the bar on what's possible in music storytelling."