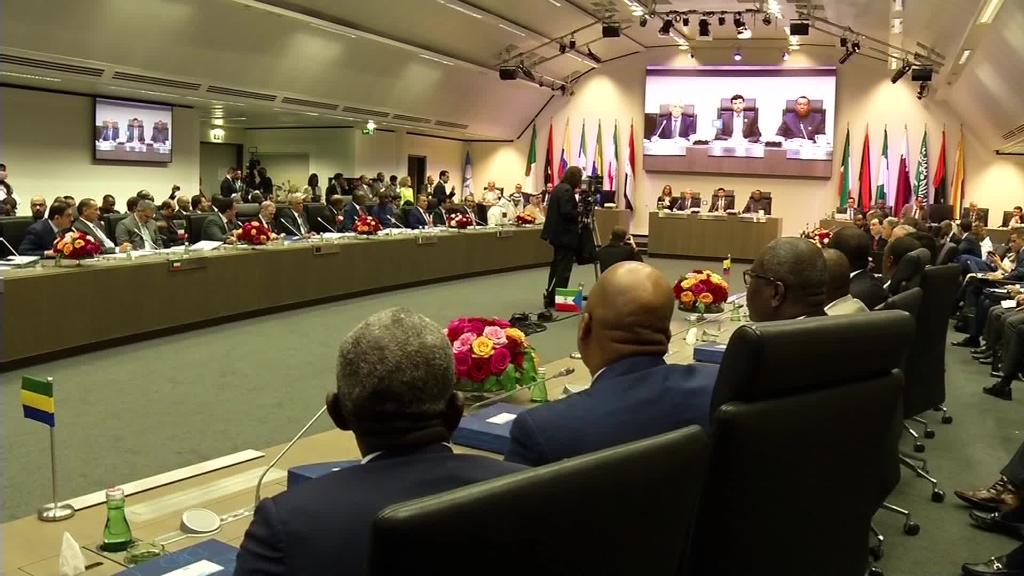 The Permian Basin, arguably the most important oilfield in the world, is growing so fast that it hurts.
A rush to pump oil out of the West Texas shale field has vaulted the United States to record-high production levels.
But the gangbusters growth has created serious challenges. The Permian Basin is rapidly running out of pipeline to carry all that crude. Companies are struggling to find talented workers. And the region's infrastructure is buckling under the pressure.
"Right now, everything's an issue: Water, sand, buildings, transportation. You name it," Ryan Sitton, a commissioner on the Texas Railroad Commission, told CNNMoney in a recent interview.
The Lone Star State is no stranger to the boom-to-bust nature of the oil industry. But the speed of this cycle has even caught many in Texas off-guard.
"In 2014, it was amazing. 2016 was down in the dumps. Two years later, it's back to crazy," said Sitton.
The Permian Basin's growing pains have global implications.
US oil prices have nearly tripled since their early 2016 low, in large part because of production cutbacks by OPEC and Russia. Sanctions on Iran are also biting, with crude hitting a three-and-a-half year high this week.
More than ever, the fast-growing Permian Basin is being relied on to quench the world's thirst for oil.
The Permian is the "largest and most important source of oil supply growth in the world," analysts at consulting firm Wood Mackenzie wrote in a recent report.
That's because the Permian Basin's unique geology makes it easier and cheaper for major players like Chevron (CVX) and Pioneer Natural Resources (PXD) to drill for vast deposits of oil. The best-performing wells in the Permian can break-even at just $22 a barrel, according to a report by analytics firm GlobalData.
Those extremely favorable economics help explain why the number of active oil rigs in the Permian Basin has nearly quadrupled since the low in April 2016, according to Baker Hughes..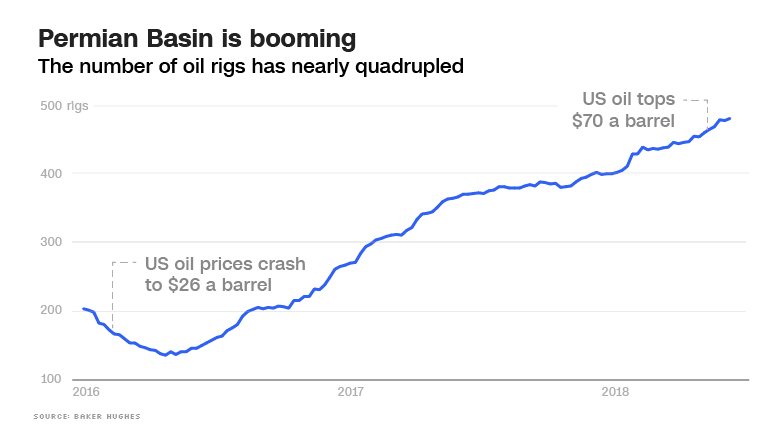 Related: America's biggest oilfield is running out of pipeline
Running out of pipelines
But that growth has limits. The most pressing problem: surging production has overwhelmed the region's limited system of pipelines. New ones are being built, but not fast enough to keep up.
That's caused some shale companies to dial back. The number of drilled but uncompleted wells in the Permian Basin has nearly doubled over the past year, according to the US Energy Information Administration.
It's also caused Permian crude to trade at a discount to benchmark US prices -- as much as $18 a barrel cheaper.
Sitton said that while pipeline bottlenecks will eventually work themselves out, for now it's a real obstacle to both crude oil and natural gas in the region.
Related: India may ignore US demand to halt Iran oil imports
'Shortage of bodies'
With the national unemployment rate tied for the lowest since 1969, Texas oil companies are also struggling to attract enough employees to meet demand.
"To say there's a shortage of bodies is an understatement," said Jeff Bush, president of oil and gas recruiting firm CSI Recruiting.
Bush said the problem is most serious for the oil services companies that provide tools and expertise in drilling. They're searching for sales people, account managers and laborers.
"These service companies took it on the chin the last few years. They're trying to make hay while the sun shines, but you can't do that if you don't have people," said Bush.
Local communities are struggling to deal with the influx of people who do arrive to work in the Permian.
"The schools are packed right now," said Sitton.
Even the Federal Reserve has taken notice of the talent issues. The Fed's Beige Book, a roundup of information about regional economic conditions, said that energy exploration and production companies complained about a lack of workers at "all skill levels."
Sand, water headaches
And then there are supply chain constraints in the Permian.
For instance, fracking all that oil requires vast amounts of sand that must be trucked in from elsewhere, driving up drilling costs.
Transporting sand and other materials can also create burden on the roadways in West Texas. The Texas Department of Transportation recently estimated that motor vehicle fatalities in the Permian Basin have soared almost 30% between 2016 and 2017, according to a report by Height Capital Markets.
Another challenge created by the boom: water. The process of extracting oil from shale wells requires a great deal of water -- a precious commodity in Texas due to recent drought conditions and a growing population.
At the same time, each shale oil well can give off millions of gallons of contaminated water trapped thousands of feet underground. This "produced" water is often put back into the ground in disposal wells or trucked out of the area.
But the swelling volumes of water have become more and more expensive for Permian Basin companies to deal with. Some shale companies are even experimenting with recycling the water to use it for future projects.
"The sheer volume of water is unprecedented," wrote Wood Mackenzie principal analyst Ryan Duman.
The firm said that water expenses could eventually knock as much as 400,000 barrels of anticipated daily production growth offline.
Water risks "could impact the ability to actually carry out operations," Duman said.