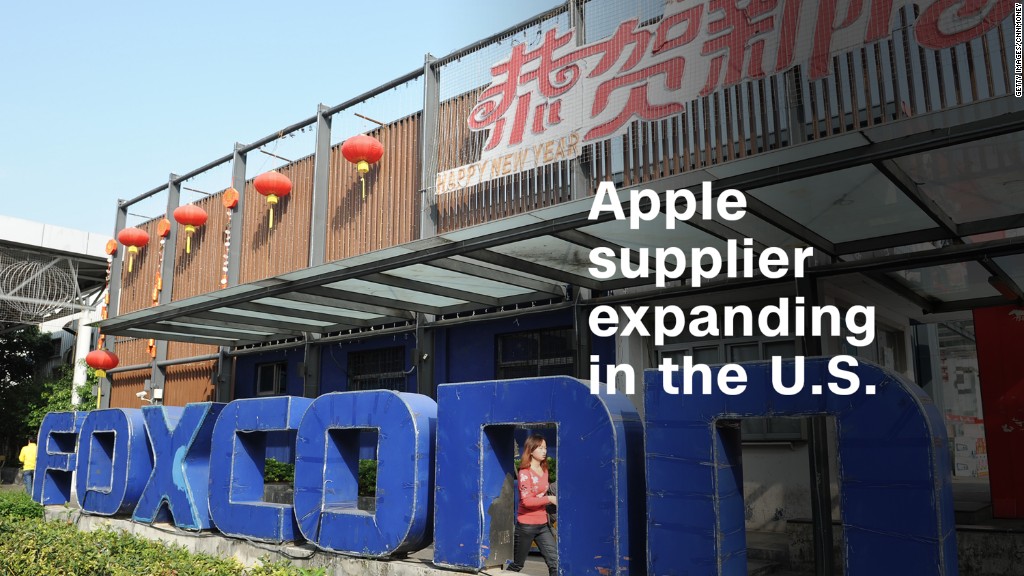 Taiwanese electronics manufacturer Foxconn breaks ground on a new plant in Wisconsin Thursday after receiving a controversial $4 billion package of tax breaks and other incentives to build there.
President Donald Trump will attend the ceremony, as will Governor Scott Walker, who helped arrange local, state and federal incentives to woo the company.
The package is one of the richest ever offered to a business to locate a plant.
Foxconn is promising to hire 13,000 workers, and to place its North American corporate headquarters in nearby Milwaukee. Foxconn says it will spend up to $10 billion on the plant.
They may have trouble finding staff.
Wisconsin's unemployment rate is at a record low 2.8%, and there are fewer than 90,000 unemployed in the state.
The state has started an ad campaign to try to entice workers in other states to move to Wisconsin.
Related: Foxconn land dispute - Property owners are furious
Jobs are expected to pay about $53,000 a year. Walker vowed it would give Wisconsin its own version of Silicon Valley.
"This is a once-in-a-century opportunity for our state and our country, and Wisconsin is ready," said Walker at the time of the announcement a year ago.
But opponents criticize it as an example of corporate welfare the state can not afford.
Foxconn is best known as the electronics manufacturer that builds Apple (AAPL) iPhones and Amazon (AMZN) Kindles and Echo Dots at massive factories in China.
The state alone is poised to give the company up to $3 billion in tax credits and breaks.
It will take until at least 2043 for the state to recoup that lost tax revenue, according to Wisconsin's estimates.
Related: Amazon said it pushed for reforms at Foxconn factory in China
Most of the rest of the funds will come from county and local governments and the feds.
The Village of Mount Pleasant and Racine County, where the plant is to be built, have greed to provide $764 million in tax incentives to help get the facility constructed, including buying the land and giving it to Foxconn for free.
State and local governments will also spend $400 million on road improvements, including adding two lanes to the nearby Interstate 94. And the federal government has committed to spend $160 million more in federal money to help pay for the interstate expansion.
In addition, the local electric utility is upgrading its lines and adding substations to provide the necessary power that will be used by the plant, at a cost of $140 million. The cost of those projects will be paid by 5 million customers in the area.