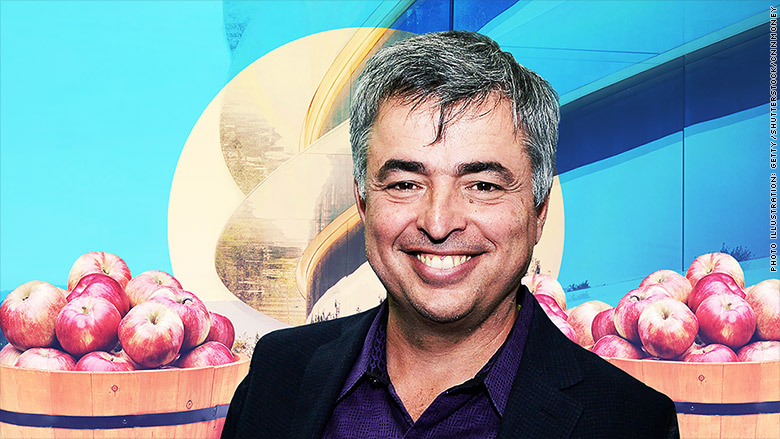 What's Next: Apple Bundles. Apple SVP Eddy Cue is overseeing a plan to bundle Apple's original TV and film programming, Apple Music, and Apple News (including Texture) into a variety of subscription plans, a source familiar with the plans said. The bundles, first hinted at by The Wall Street Journal two weeks ago, will not be offered until next year.
Why Apple is moving on Hollywood:
• As iPhone sales slow, Apple wants to make more money from its services business -- as much as $50 billion by 2020, a 74% increase on what it made last year.
• Original programming coupled with music and news will help Apple differentiate itself from other streaming services.
• Apple plans to spend more than $1 billion on original content this year and has signed deals with Oprah Winfrey, Reese Witherspoon, Stephen Spielberg and others.
The Big Picture: The future of media and entertainment may not be siloed services like Netflix for movies and TV and Spotify for Music. It may be the world's biggest tech companies, like Apple and Amazon, providing all your content needs -- movies, TV, music, news, cloud storage and, in Amazon's case, delivery services -- all for one price.
But ... We're not there yet. A new survey by MoffettNathanson finds 85% of people who watch Amazon Prime Video in the US also have Netflix.
Flashback: My full conversation with Cue at this year's SXSW.
---
Welcome to PACIFIC. Former President Barack Obama is in Beverly Hills tonight for a DNC fundraiser at the home of Allan Mutchnik, an executive at Harbor Freight Tools. Michelle Obama, recently spotted lunching in West Hollywood, will not join him, a source with the Obamas tells me.
If you haven't read it yet, Gabriel Debenedetti's "Where Is Barack Obama?" is still the talk among Hollywood fundraisers who are pissed about Obama's absence from the immigration debate, the gun control debate, etc.
---
New Funds: Peter Chernin seeks $500m
Media mogul Peter Chernin is building a new $500 million fund to further his investments in digital media, The Information reports and a source familiar with the matter confirms.
The news comes as AT&T is reportedly planning to take full ownership of Otter Media, its joint venture with the Chernin Group, in a deal that values Otter at more than $1 billion. An AT&T representative declined to comment.
The Information's Jessica Toonkel:
• "The Chernin Group ... has invested in a range of digital media ventures over the past few years [including] Barstool Sports, mobile gaming company Scopely and Headspace, a Los Angeles-based developer of a meditation app."
• "In October, the Chernin Group rolled up three of its sports companies to launch the Action Network, a subscription-based sports data and analytics company for fantasy sports players. That company is well positioned given the Supreme Court's decision in May to legalize sports gambling."
One Hollywood insider emails the following assessment of Chernin:
• "He's brilliant but like all mortals still hit or miss. The Otter acquisition is his big victory ... He started white hot on the film and TV front but has cooled a bit since. That said, there's so much stupid money flowing into Hollywood content right now (due to Netflix, Amazon, Apple, box office growth, gaming, etc...), anyone can raise so Chernin should have no issues finding another $500."
---
Microsoft Goes Hollywood
Showtime has (finally) ordered a 10-episode season of "Halo," a drama based on the immensely popular X-Box video game franchise. The 10-episode series will be produced by Showtime in association with Microsoft/343Industries and Steven Spielberg's Amblin Television. What Hollywood insiders are saying: This may be Showtime's bid to create its own "Game of Thrones."
----
Innocents Abroad: Can Netflix take India?
Netflix CEO Reed Hastings has said the company's next 100 million customers will come from India.
Bloomberg's Lucas Shaw asks whether that's possible in a country where the streaming service costs double the usual cable package:
• "Netflix has fewer than 1 million customers in India, and even aggressive forecasts by analysts suggest the video service will reach only 3 million by 2020."
• "Fewer than 10% of Indian households with TV pay for a premium TV service that costs more than Netflix."
• "The vast majority of titles on Netflix's service in India are in English, but films there fare best when in Hindi or Tamil."
The Big Picture: "Investors value Netflix at more than $170 billion because they believe in its potential to attract customers in the world's largest economies. The US market is already saturated ... China isn't welcoming Western video services, so India represents Netflix's biggest opportunity in Asia."
Bonus, via THR: One analyst predicts Netflix will hit 90 million US subscribers in 10 years.
---
The Big Picture: Can Netflix please investors?
The cover story of the new Economist, out today, asks whether the company can keep investors happy:
• "The short-term danger is financial. ... To justify its current valuation, Netflix's gross operating profits in a decade's time would have to be equivalent to about half of all the profits made by American entertainment firms this year."
• "The company has amassed $8.5bn of debt. ... Hastings... has said it will continue borrowing billions 'for many years'; free cashflow is expected to remain negative for some time."
• "That strategy will pay off if Netflix can raise prices while continuing to add subscribers ... But competition is becoming more intense."
The Money Quote: "If Jesus were a stock, he'd be Netflix," one savvy investor is said to have observed. "You either believe or you don't."
---
Valinsky's Links
Instagram video has a promising future (NYT)
Sling TV hikes price on Disney-ESPN (Variety)
Roku launches an ad marketplace (WSJ)
CAA launches a diversity database (LAT)
California extends film tax credits (THR)
---
The Trust Crisis: California votes on privacy
The California legislature will vote today on a new online privacy law that could change how technology and telecom firms collect user data.
What you need to know:
• The California Consumer Privacy Act of 2018 would require companies that collect data -- Facebook, Google, Amazon, but also AT&T, Verizon, etc -- to disclose the kind of data they collect and which advertisers or third parties they share that data with.
• The act would give users the ability to stop these companies from selling their data.
What'll happen? We'll know more tomorrow.
---
What Next: Today in Aspen I'll be on stage with Facebook's Campbell Brown, The Atlantic's Adrienne LaFrance and NPR's Joshua Johnson for a talk about the future of online journalism. 3:10pm Mountain Time. Come join us if you're here.
See you tomorrow.