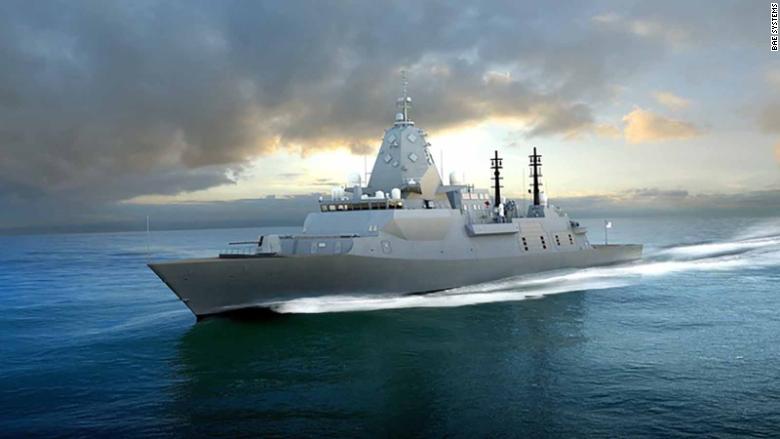 British defense company BAE Systems has bagged a contract worth billions to build new warships for Australia.
BAE (BAESF) beat out competition from Italy's Fincantieri and Spain's Navantia for the 35 billion Australian dollar ($26 billion) program to provide the new anti-submarine warfare frigates.
The warships will be designed by BAE and built by Australian state-owned company ASC Shipbuilding. The program will create 4,000 jobs in Australia, according to the country's government.
"The Future Frigates, named the Hunter class, will be built in Australia, by Australians, using Australian steel," it said in a statement Friday.
During the program, ASC will become a subsidiary of BAE. The Australian government said the arrangement will ensure that BAE "is fully responsible and accountable for the delivery of the frigates" and that construction "will be carried out by Australian workers and create Australian jobs."
The government will retain a stake in ASC, and retake full control once the ships are completed.
The Australian government didn't respond to requests for comment on how much of the money from the program would go to BAE directly.
Related: Britain's top defense firm cuts 2,000 jobs as fighter jet orders slow
BAE said in a statement that it will soon start negotiations with the Australian government on the initial design part of the contract. Production is expected to start in 2020.
The contract is a boost for the British company, which said last year it would cut nearly 2,000 jobs as it struggles to land big orders for its Eurofighter Typhoon fighter aircraft.
Australia's huge investment in the new warships comes against the backdrop of rising military spending across the Asia-Pacific region, led by China.
Experts says tensions between China and many of its neighbors are driving the increase.
The award of the warship contract comes in the same week that Australia said it would spend $6 billion on spy drones that can fly higher and farther than the country's manned aircraft. It's buying them from US defense contractor Northrop Grumman (NOC).