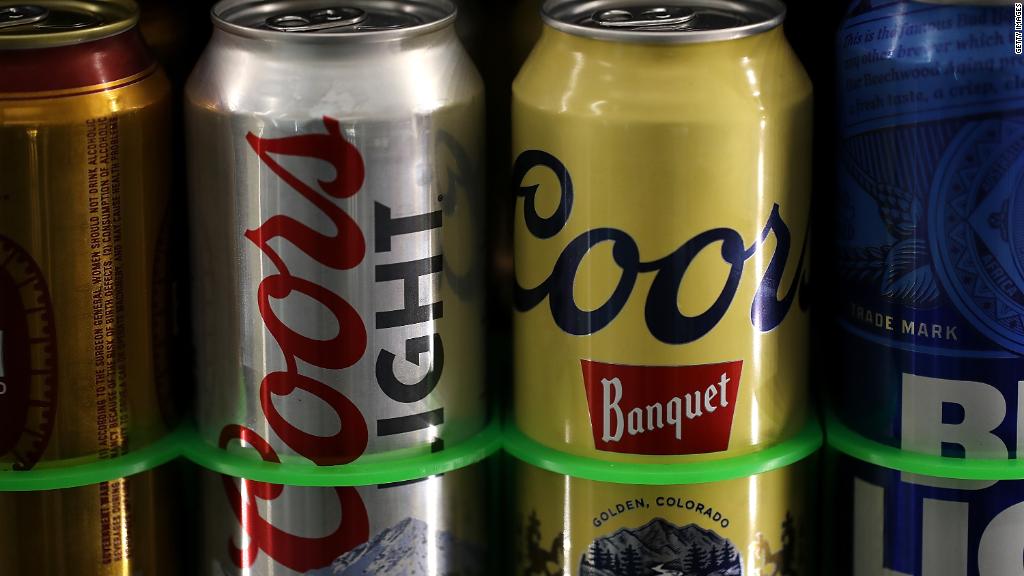 More Americans are putting down Buds and Coors, instead grabbing wine, liquor, Corona and Michelob.
Americans' changing drinking habits have been taking shape for years, but the trend accelerated in 2018. Beer shipments from US breweries are down 3.5% so far this year, according to The Beer Institute, an industry trade group.
The big four US brands — Bud Light, Miller Lite, Coors Light, and Budweiser — have been hit particularly hard.
What's wrong with Big American Beer? Drinkers think it's stale, compared to the innovative new brands and creative concepts emerging from craft breweries, vineyards and distilleries.
Related: Budweiser falls off the list of America's three favorite beers
"Well-established category leaders are finding it challenging to maintain their relevance against a backdrop with so much innovation and new brand activity," said Cowen analyst Vivien Azer. "You now see a much more promiscuous alcohol consumer."
Brewpubs and axe-throwing bars
A wider selection on the shelves and growing concepts, such as brewpubs, taprooms, music festivals, axe-throwing and similar gaming bars, have created challenges for the once-dominant players. More people are also drinking when they eat out at restaurants or order food at home.
Related: Beer is being rationed in the UK
"We estimate that meals represent over 40% of total alcohol-appropriate occasions globally, though beer is underrepresented," Anheuser-Busch InBev (BUD) CEO Carlos Brito told analysts last month.
American drinkers have found that beer doesn't go with everything. Instead of choosing beer for every alcohol occasion, more people are making their decisions based on social activities, Nielsen alcohol analysts say.
Azer said drinkers today might reach for a Mimosa at brunch, but pick a glass of wine or a cocktail at happy hour, bourbon on a cold night, or a beer during a Sunday football game.
AB InBev, the distributor of Budweiser, Bud Light, and Stella Artois, is trying to reposition its beers to fit the changing drinking environment.
"Budweiser is the perfect beer for high-energy, premium party occasions," Brito said.
Generational change
Shifts in younger drinkers' preferences have upended the industry.
Millennials have shown a tendency to experiment across categories, explained Eric Shepard, executive editor of trade publication Beer Marketer's Insights.
Related: Trump's new tariffs could make beer, cars and baseball bats more expensive
Fewer people today say they exclusively drink beer or wine, and category lines are blurring, with the rise of flavored malt beverages, spiked seltzers, and exotic bourbon and whiskey wines, Nielsen analysts have found.
More women are also drinking. Women favor wine and cocktails at a higher rate than men, these analysts say.
Craft brews, once the bright spot in the US beer industry, are beginning to grow at a slower pace.
"There's a certain saturation point that you reach in any kind of trend," said Robert Ottenstein, an analyst at Evercore ISI. "Not everybody is an experimenter."
Many drinkers have settled into their go-to craft brands after testing out the myriad lines and flavors that have cropped up in recent years.
Related: Forget craft beer. The next craze is non-alcoholic brews
At a Stifel analyst conference earlier this month, outgoing Craft Brew Alliance (BREW) chief financial officer Joe Vanderstelt said that many craft lagers were not immune to drinkers replacing beer with wine and spirits. Craft Brew believes its Kona brand can continue to attract new drinkers.
Craft wine and liquor
Wines and liquors — roses, proseccos, bourbons, whiskeys, tequilas, and cognacs — have recently taken advantage of the same phenomenons that led to the craft explosion, said Mimi Bonnett, an analyst at consumer research firm Mintel.
"Most wines and spirits are also well positioned to leverage the nuances of 'craft' without much effort," she said. "They share many of the same traits: heritage, hand-craftsmanship, aged qualities, regionality, a sense of premium and, in some cases, small batch."
Tito's Handmade Vodka has been a "blockbuster" over the past several years, Ottenstein said, while Jack Daniel's brands have led to a whiskey resurgence.
"It was really the launch of Jack Daniel's Tennessee Honey that set the category on its growth cycle," Azer said.
Big beer slips
"Growth in wine and spirits has continued. There's no doubt about that," MillerCoors CEO Gavin Hattersley said last month. 21- to 27-year old drinkers have drifted away from beer, Hattersley told analysts.
MillerCoors' owner Molson Coors (TAP) reported a 3.8% loss of volume in the United States last quarter. The weak results drove its stock to a four-year low. AB InBev reported a 4.1% decline in North America.
Related: Molson Coors tanks on weak US beer sales
The most recent quarter was another mark in the steady decline of beer's popularity and the erosion of AB InBev and Molson Coors' market share.
Since 2002, beer's share of the alcohol market has fallen to 46% from 54%, according to Cowen. Wine has jumped to 37% from 30%, while spirits have ticked up to 17% from 16%.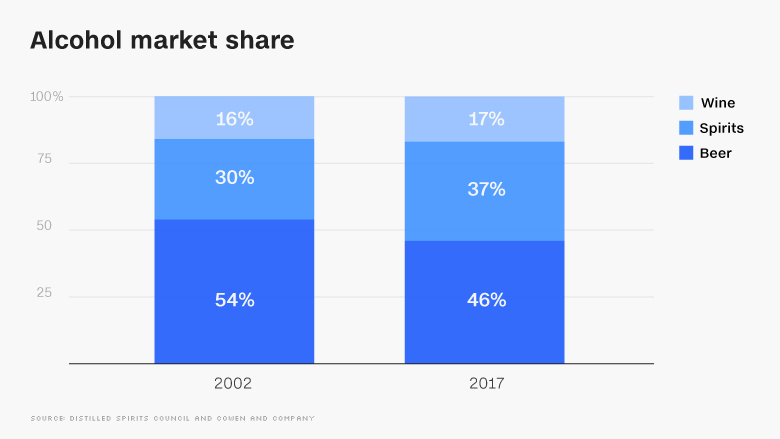 Corona time
Americans are still drinking beer -- just better beer. The premium end of the market is growing faster than the bottom portion.
"There's a huge shift toward higher end beer," Ottenstein said.
Constellation Brands (STZ), the Mexican-based distributor of Corona, Modelo and Pacifico, has capitalized on Americans' love for imported lagers. Shipments from Mexico, the largest beer exporter to the United States, were up 9.5% through May, the Commerce Department said.
Constellation is now expanding with new lines such as Corona Premier and Corona Refresca.
Related: The company that owns Corona is getting into the pot business
Premier will take on Michelob Ultra, a low-carb light beer that has been one of the most successful beers for AB InBev. It has grown its share for three straight years by appealing as a "lifestyle" beer for more affluent, active drinkers.