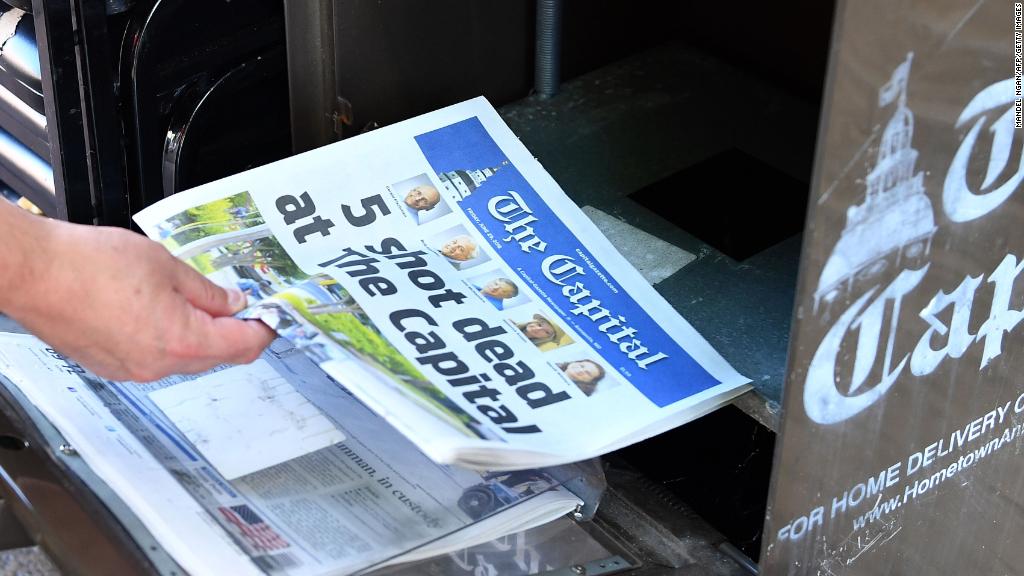 Rachel Pacella had just survived a newsroom shooting at the Capital Gazette.
As she sat in an ambulance Thursday, with a head injury she suffered while trying to escape an office that turned into a war zone, she thought about the next day's paper.
"There's not going to be a paper. There's not going to be a paper," Pacella, the Gazette's Naval Academy and education reporter, told CNN's Brian Stelter on "Reliable Sources" Sunday.
But the reporters, photographers and editors at the Gazette worked to put out a Friday edition, just hours after a gunman stormed their office in Annapolis, Maryland, killing five people.
Related: After shooting, staffers at Capital Gazette published this special edition
In the hospital, Pacella's mind raced, but she thought about her duty as a journalist.
"I wanted information," she said. "As a journalist, I wanted information."
Her colleague, crime reporter Phil Davis, had taken cover under his desk while gunfire rang out. He texted a spokesperson for the Annapolis Police Department for help during the shooting. Later that night, he began digging through court records, looking for information about the shooter, who had sued the paper in 2012 for defamation.
The shooting marked the deadliest day for journalists since 9/11, but the reporters who survived the attack say they have no second thoughts about continuing in their profession.
Related: Annapolis shooting: A day newsrooms have feared
"I want to be a journalist. It's who I am," Pacella said.
Joshua McKerrow, a photographer for the Gazette, worked on putting out the paper's Friday edition after the shooting.
"We did what any newsroom would have done," he told Stelter.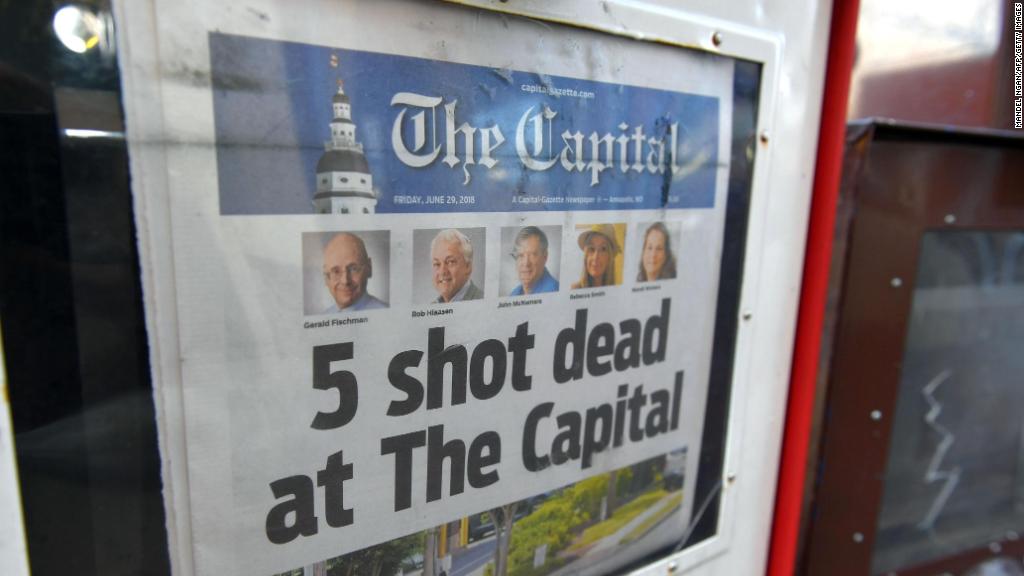 He said the experience has moved him to redouble his efforts as a storyteller who could help bring people together.
"I want to re-dedicate the rest of my career to helping create more empathy and more communication," McKerrow said.
Baltimore Sun media critic David Zurawik choked up as he told Stelter that reporters were being "dehumanized" by critics. Zurawik was a longtime colleague of Gazette editor Rob Hiaasen, who died in the shooting. The Gazette and Sun are both owned by Tronc.
Zurawik praised the dedication and bravery of the Gazette journalists.
Related: Remembering the Capital Gazette victims
"If someone tells you we're 'scum' or 'enemy of the people,' think about these people," he said in reference to President Donald Trump's denigration of the press.
Despite occasional reader criticism about coverage, Pacella and Davis never believed Gazette reporters would be a target of violence.
"Even though we're a small paper, we are critical. We are investigative. We go after the tough stories," Davis said. "Never had we ever gotten a response to a story like that that really made us fear any amount of violence."
In the ambulance, Pacella struggled to understand why someone had carried out an attack on the newsroom.
"What could we have done to make people hate us so much? Why do people hate the media? What could we have done to deserve this?" Pacella said.