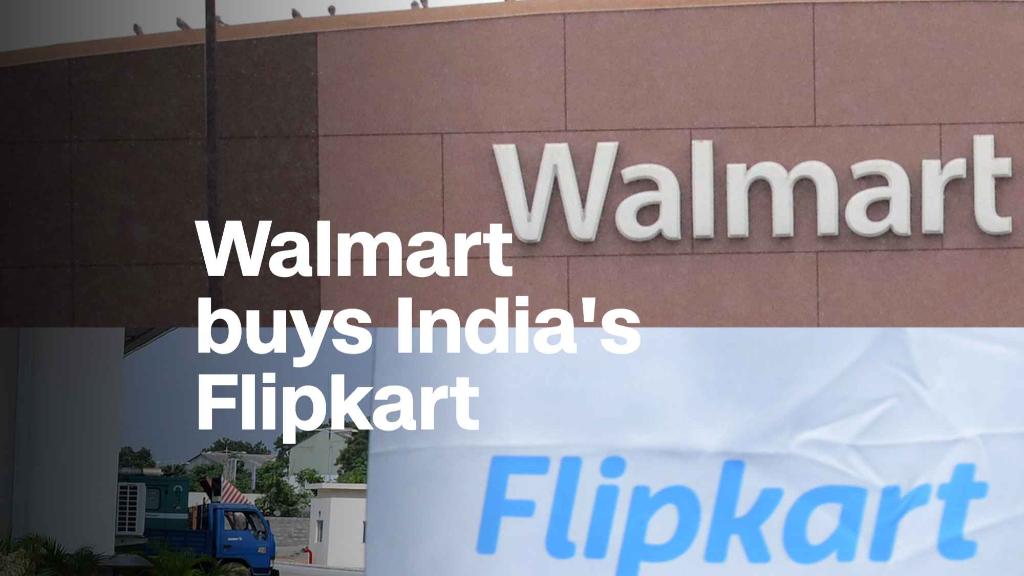 India's shopkeepers took to the streets on Monday to protest Walmart's $16 billion takeover of Indian e-commerce leader Flipkart.
Around a million local traders were expected to protest Walmart's big move into India, according to the Confederation of All India Traders (CAIT) that organized the protest.
They're worried that the combination of America's biggest retail chain and India's top e-commerce company will dominate the market, force prices down and ultimately put them out of business.
But fewer than 100 people turned up to a sit-in in India's capital city, New Delhi. They carried signs that read: "Walmart Go Back" and called on the Indian government to block the Walmart-Flipkart deal. Similar gatherings took place at several other cities including Mumbai, Hyderabad and Bangalore, organizers said.
"This deal is going against the interest of small traders," Praveen Khandelwal, national general secretary for CAIT, told CNNMoney. The confederation says Walmart will use its 77% stake in Flipkart to indulge in "predatory pricing" that will create "an uneven playing field."
"We want the government to stop this deal, and formulate an e-commerce policy and a regulatory authority," Khandelwal added.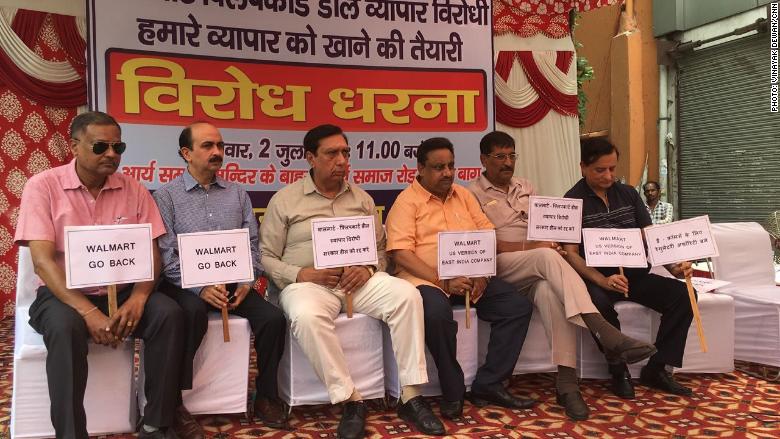 The Indian government did not immediately respond to a request for comment.
Walmart said it had been contributing to the Indian economy for many years, and supported hundreds of thousands of small neighborhood stores through its wholesale business.
"Our continued efforts have been to support the domestic manufacturing in India by sourcing locally from [small and medium enterprise] suppliers, small farmers and women-owned businesses," a spokesperson said.
"Our partnership with Flipkart will provide thousands of local suppliers and manufacturers access to consumers through the marketplace model," the spokesperson added.
Flipkart did not respond to a request for comment.
Khandelwal stood by the organizers' estimate of a million protesters despite the low attendance in New Delhi, saying the confederation represents over 60 million small businesses across India.
'Who will buy from us?'
Satinder Wadhwa, 55, owns a store that sells wristwatches in New Delhi but said he would struggle to compete against big online players like a Walmart-backed Flipkart.
"If they [Walmart] come and start a price war, who will buy from us?" he said at the protest. "They are luring people with additional benefits the trader cannot give."
Flipkart and its American rival Amazon (AMZN) have been locked in a battle for India's fast-growing online market, in part through flash sales and steep discounts. Amazon's billionaire owner Jeff Bezos, the world's wealthiest man, has committed more than $5 billion to the company's Indian business in recent years.
'Backdoor entry'
Walmart has been trying to establish its iconic stores in India for more than a decade but has been thwarted by Indian restrictions on foreign investment in multi-brand retail. It currently runs only a handful of wholesale distribution outlets in the country.
But the Arkansas-based retailer's takeover of Flipkart gives it a major online presence in the world's fastest growing economy, which some trade groups have slammed as gaining a "backdoor entry" into the market.
Wadhwa, the watch salesman, echoed those concerns on Monday.
"They don't allow them to come in through retail, but they are allowing them through the online route," he said.
The Walmart-Flipkart merger still needs to be approved by Indian regulators, and India's small retailers insist they won't back down.
"Retail will be destroyed because this deal will be the end of competition," Khandelwal said Monday. "By all means, this deal should be shelved."
-- Sreoshi Mukherjee contributed to this report