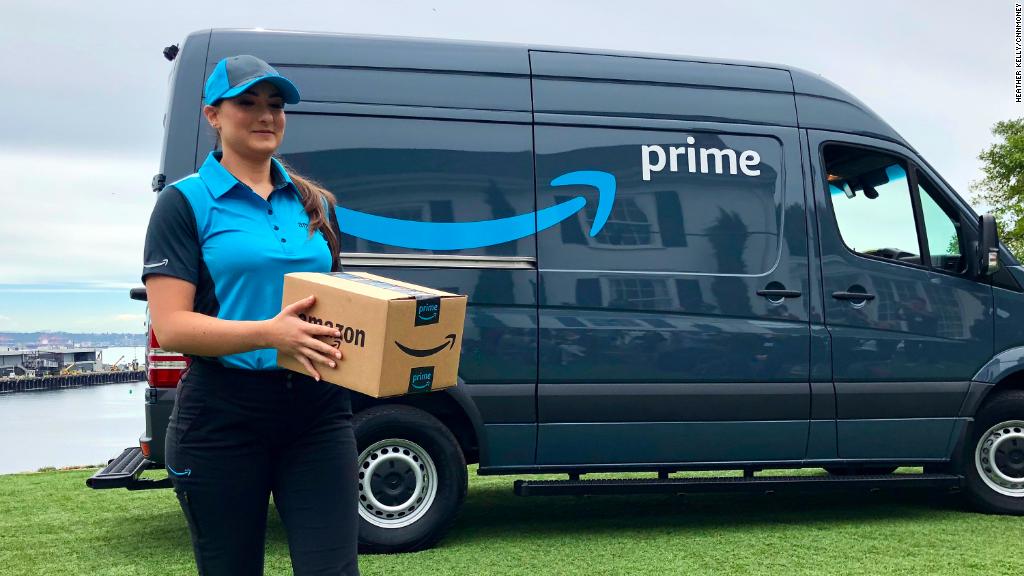 Amazon Prime Day is growing to a day and a half.
Amazon is expanding its savings event for Prime members to 36 hours, six hours longer than last year.
It will start on July 16 at 3 p.m. ET. Amazon is promising more than a million deals around the world.
Amazon uses the day to create buzz, gin up sales, and recruit more people into a program many shoppers already consider indispensable.
Last year's Prime Day was the biggest sales day in Amazon's history. The company didn't give specifics but said tens of millions of Prime members bought something.
Related: Amazon's Prime Day sets company sales record
Prime has more than 100 million members. Amazon raised the price 20% in May, to $119 a year.
Members already get year-round discounts at Whole Foods stores. Amazon recently extended those benefits to Whole Foods stores around the country.
For Prime Day, Amazon is promising "select deals" at Whole Foods stores. And members with an Amazon Prime Rewards Visa card will get 10% cash back on purchases up to $400 from July 14 to July 17.
Putting the Prime Day stamp on Whole Foods is Amazon's latest step to integrate the grocery chain since buying it last year for $13.7 billion.
Related: How Whole Foods will help Amazon rule the world
Amazon is adding countries to Prime Day, too, expanding the deals to Australia, Singapore, the Netherlands and Luxembourg.
As for the deals themselves: Amazon is promising special discounts on Alexa-enabled products like Echo, Fire TV and Fire tablets. It's introducing products including an Alexa-enabled kitchen faucet, a Coleman portable propane grill and an Audible interview series hosted by Bob Newhart.
The company is also offering new discounts for home security. In February, Amazon bought Ring, which makes security cameras and internet-connected doorbells. In November, it launched Amazon Key, a smart lock that allows delivery drivers to leave packages inside the home.
Related: Amazon wants you to start a business to deliver its packages
Starting Tuesday, Amazon is offering $100 off Echo Show, a version of the device with a touchscreen, and discounts on its private label products.
Amazon has been building out its own brands in recent years, and is using Prime Day to highlight those collections.
E-Commerce Guide by CNN Underscored: What's the deal with Amazon Prime Day?
It's offering up to 25% off furniture and home decor from Rivet and Stone & Beam lines, up to 20% off AmazonBasics, and 30% off Presto household essentials, the Mama Bear baby line and Solimo personal care items.
— CNNMoney's Kaya Yurieff, Jackie Wattles and Jordan Valinsky contributed to this story.