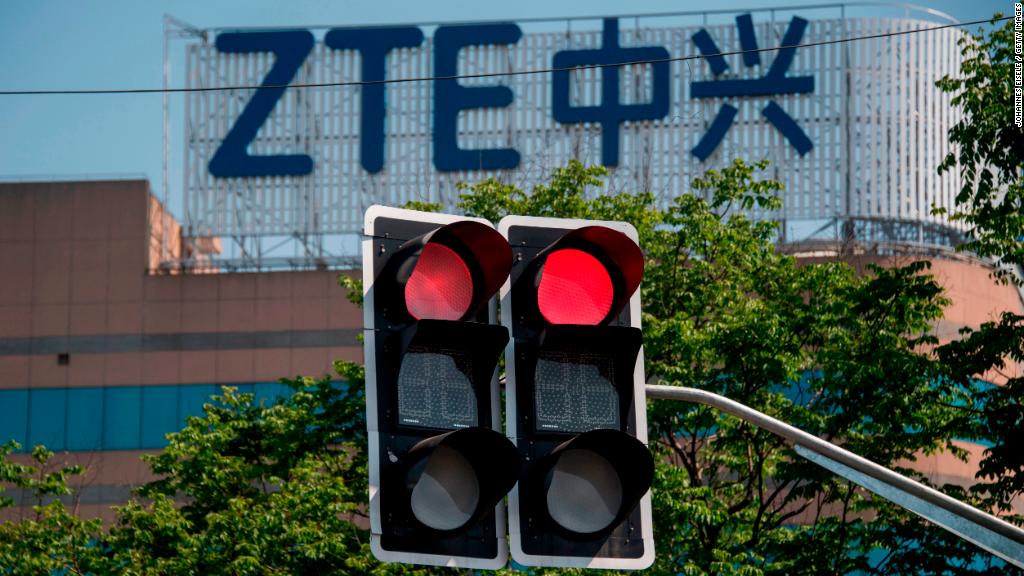 The Trump administration is allowing Chinese telecommunications equipment maker ZTE to restart some business activities.
The Commerce Department says it has agreed to temporarily let ZTE (ZTCOF) carry out transactions it needs to provide network maintenance on contracts it signed on or before April 15. That's when the US government barred American companies from selling parts and services to ZTE, China's second largest manufacturer of telecom equipment.
The ban threatened to put ZTE, which also makes smartphones, out of business. The company became a bargaining chip in trade talks between the United States and China, and the Trump administration announced a deal last month to eventually lift the restrictions.
The authorization allowing ZTE to restart some activities, dated Monday, is valid until August 1. They include being able to do business with US companies in order to provide service and support for ZTE smartphones, such as software updates.
The rest of the ban remains in place for now.
Related: ZTE shakes up management as part of deal with United States
ZTE, which employs around 75,000 people, sells equipment like wireless base stations and fiber optic cables to telecom operators around the world. But it relies on US technology for its products.
Experts say ZTE is facing a blizzard of problems from the ban, including billions in lost revenue, strained relationships with major customers and a tarnished brand.
The Commerce Department's move this week should reduce "the stress on ZTE's carrier customers and thus [diminish] the risk of customer defection," Edison Lee, a telecom analyst at investment bank Jefferies, wrote in a research note. "However, ZTE will still be unable to bid for new contracts, since it is not yet able to buy US components and license US software/patents for new equipment," he added.
ZTE's Hong Kong-listed shares have lost around half their value since the ban.
Lee said he interpreted the US decision to ease some of the restrictions as "a very positive indication that ZTE is on track to a full lifting of the export ban."
Related: Where's ZTE? Execs go AWOL at China's big smartphone fair
The Commerce Department imposed the ban in April, accusing ZTE of violating a 2017 deal in which the Chinese company admitted evading sanctions on Iran and North Korea.
About a month later, President Donald Trump opened the door to working with Chinese President Xi Jinping to get ZTE back in business.
The Trump administration announced in early June it would allow ZTE to start buying American parts again if it paid a $1.4 billion fine, changed its management and brought a US monitoring team on board.
The deal has faced resistance from some members of Congress, who want the ban kept in place, citing national security concerns.
As of late last month, ZTE had paid $1 billion of the fine to the US government and was expected to put the remaining $400 million in an escrow account shortly afterward. ZTE announced changes to its management following its shareholders meeting last week.
The Commerce Department authorization allowing ZTE to restart some activities was reported earlier Tuesday by Bloomberg News.
-- Sherisse Pham contributed to this report.