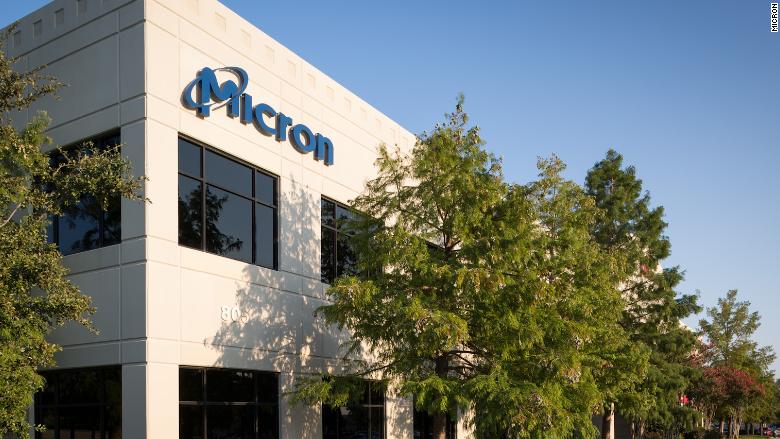 US chipmaker Micron has run into trouble in a court battle in China, according to one of its rivals.
A Chinese court has temporarily barred Micron (MICR) from selling 26 products in the country including memory chips, memory sticks and hard drives, Taiwan's United Microelectronics Corporation (UMC) said in a statement late Tuesday.
UMC filed patent infringement lawsuits against Micron in China in January.
A spokesman for Micron, which is based in Idaho, said Wednesday that the company hasn't yet received the court order and won't comment until it does.
The court, in the southeastern city of Fuzhou, didn't respond to requests for comment.
Shares in Micron dropped more than 5% in New York on Tuesday. UMC shares jumped more than 3% in morning trading in Taiwan on Wednesday but ended the day flat.
Related: China is trying to kick its foreign tech habit
The ruling comes in the middle of a clash between the United States and China over trade and technology. The two countries are set to impose new tariffs on tens of billions of dollar's of each other's products on Friday. Washington says the measures are a response to intellectual property theft by China.
Several companies and high-profile deals have become bargaining chips in the dispute.
Beijing is holding up US chipmaker Qualcomm's (QCOM) proposed $44 billion takeover of NXP Semiconductors (NXPI). The deal has been approved by regulators in eight other jurisdictions including the European Union and South Korea. Only China has not yet cleared it on antitrust grounds.
The delay in approving the deal has coincided with uncertainty over the fate of Chinese smartphone and telecommunications company ZTE (ZTCOF).
ZTE has been in crisis since April, when the US Commerce Department banned American companies from selling vital components to the Chinese firm, including chips. It said ZTE had breached the terms of an earlier agreement concerning the company's violation of sanctions on North Korea and Iran.
Related: Analysis: Tariffs won't slow China's tech rise
The Trump administration struck a new deal with the company in June to end the ban in exchange for an additional fine and a drastic management overhaul. But ZTE still faces an uncertain future, and some members of Congress are seeking to keep the ban in place.
China wants more homegrown chips
The ZTE crisis has intensified China's desire to slash its dependence on foreign-made computer chips. China buys far more chips than any other country, and about 90% came from foreign companies last year, according to technology consultancy International Business Strategies.
But there are concerns about how Chinese companies are obtaining the technology needed to develop a homegrown semiconductor industry.
Micron and UMC are also battling it out in Californian courts. Micron filed a lawsuit in December alleging UMC stole Micron's intellectual property and gave it to a Chinese firm, Fujian Jinhua Integrated Circuit.
UMC denies the allegations, and has filed to have the California case dismissed.
Micron was one of three big foreign chipmakers whose offices in China were visited last month by investigators from a Chinese market regulator. One of the other companies, South Korea's SK Hynix, said the investigation is over suspected price fixing.
-- Serenitie Wang contributed to this report.