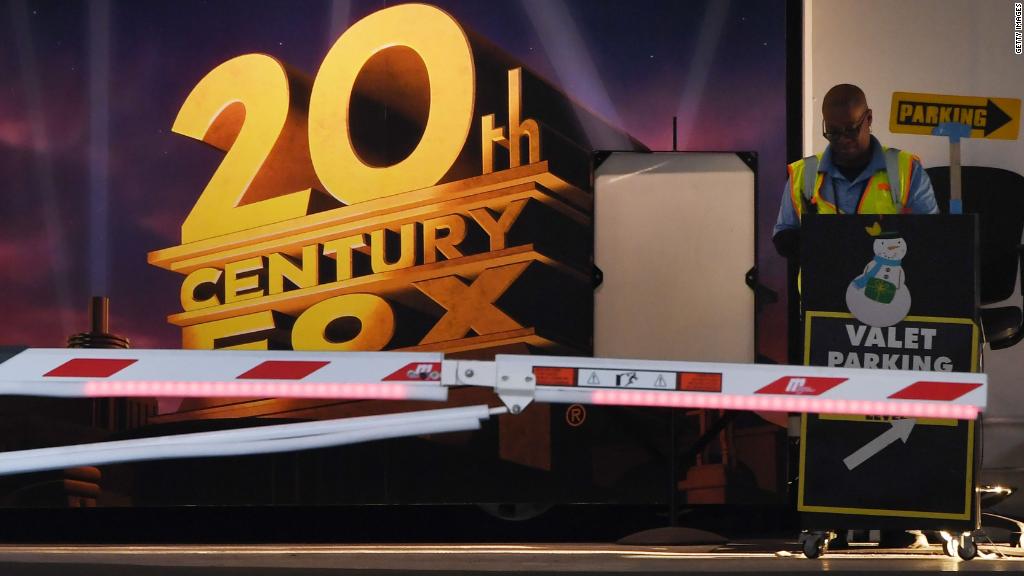 The future of Rupert Murdoch's Fox is live TV.
Last week, Fox bought the rights to broadcast "WWE SmackDown" for five years. It made another five-year deal for Thursday night NFL games earlier this year.
The two franchises are among the most popular on TV. Although the terms of each deal weren't publicly disclosed, The Hollywood Reporter has reported their combined value at about $4 billion.
The deals show how much Fox (FOXA) is willing to bet on sports and entertainment programming as it prepares for life as a leaner company. Disney (DIS) has agreed to buy most of 21st Century Fox, including the iconic movie studio, for more than $71 billion. Comcast (CCZ) might counter, which would push the value of the sale even higher.
Related: Disney wins antitrust approval to purchase most of Fox
The new Fox — the part of the company that isn't up for sale — will be defined by TV. Murdoch is holding on to Fox News, Fox Sports and the Fox broadcasting network, a combination the MoffettNathanson research firm has valued at $23 billion.
Fox declined to comment for this story. But analysts say the decisions to double down on live TV and ink major sports and entertainment contracts makes sense. Fox is making moves that capitalize on an audience it is already good at attracting, said Brandon Ross, an analyst at BTIG Research.
"The strongest asset that's in their portfolio going forward is Fox News," he said, adding that the "core Fox viewer" likely lives in a red state and / or likes live sports. "I think the reason they did the WWE deal is because it fits with both of those things."
Related: Why WWE is a media juggernaut
Fox's investments are also a sign of how rapidly the media industry is changing. The scripted dramas and comedies that used to be TV's bread and butter aren't a sure bet now that Netflix (NFLX) and Amazon (AMZN) are competing in the same space.
Those companies have a strong, on-demand streaming model — watch a show when you want it, where you want it — that has upended traditional appointment TV. Apple (AAPL) is expected to jump into the race soon, too.
Related: Oprah strikes deal with Apple as new Hollywood content wars heat up
But live TV is different, especially sports. Netflix and Amazon took audience from the networks in part by coming up with their own scripted programming: Think "House of Cards." They can't just start airing the NFL every Sunday.
That's what makes sports so valuable for a legacy business like Fox, said Jay Rosenstein, a former CBS Sports executive and current adjunct professor at New York University's Tisch Center for Sports Management.
"There's been a certainty about sports programming that doesn't exist with scripted or unscripted programs," he added. "With sports, you have a known quantity."
Scott Rosner, the academic director of Columbia University's Sports Management Program, agreed. He added that more than 90% of sports programming is watched live, rather than recorded.
"What that means is you are sticking around as the viewer," Rosner said. "You're far more likely to watch advertising that is being put in front of you."
Live TV isn't immune to challenges. NFL viewership on TV, for example, fell 10% during the regular season last year. Some attributed the decline to injuries that left star players on the sidelines, as well as a high-profile spat between the league and President Donald Trump over National Anthem protests.
But that kind of drop isn't enough to deter networks or advertisers right now, Ross said. Football is still the most viewed programming on TV by far.
The bigger concern is how much of a threat big tech companies are going to pose in the future.
"No one knows right now where this is all going to go," Rosner said. "There's a lot of experimentation. A lot of first dates going on between properties."
Amazon, for example, renewed a deal to stream "Thursday Night Football" this year. Facebook locked up the exclusive rights to stream some Major League Baseball games this season.
Related: Facebook to exclusively stream 25 MLB games
Those companies have already started to face off against traditional broadcasters in some arenas, too. Facebook bid heavily last year for the rights to stream cricket in India, but lost out to a Fox subsidiary called Star India. (Fox is selling that division and the cricket rights as part of its larger deal with Disney.)
"I think that all of traditional media needs to be afraid of the checkbook size and the engagement that all of those tech companies now have on a global basis," Ross said.
Many of the most coveted contracts, including those for football and basketball, will come up for renewal in the next several years. And when they do, the sports leagues will undoubtedly welcome any new competition.
"If you have somebody out there who doesn't have your property, they are going to be very anxious to get it — and those who are the incumbents will be very anxious to hold onto it," Rosenstein said. "The NFL and other leagues are very good at playing them off against each other."