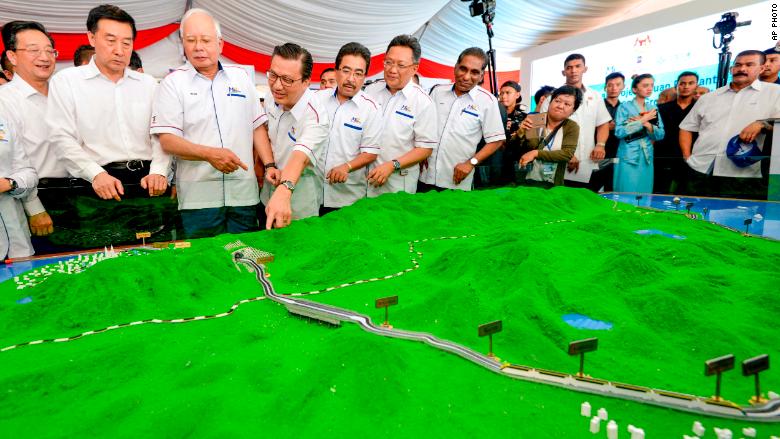 Malaysia has put the brakes on a massive China-backed rail project, citing excessive costs.
The multibillion-dollar rail line was supposed to connect Malaysia's east coast to the capital, Kuala Lumpur, and Thailand. The East Coast Rail Link was also meant to provide a trade route connecting China with markets beyond Asia.
The bulk of the work on the 620-kilometer (385-mile) rail line was awarded to state-owned China Communication Construction Company last year, and 85% of the financing was provided by the Export Import Bank of China.
Malaysia Rail Link, the company managing the project, confirmed reports that it had ordered the Chinese construction firm to suspend work on Wednesday. It declined to comment further.
The move came a day after Malaysia's finance minister said the total bill for the China-backed project was 81 billion Malaysia ringgit ($20 billion), far higher than earlier estimates. He said the cost would have to come down significantly for the project to be financially viable, according to Malaysian state news agency Bernama.
Related: Malaysia ditches Singapore rail link
The Malaysian finance ministry and China Communication Construction Company did not respond to requests for comment.
The suspension of the East Coast Rail Link is a signal Malaysia's new leader, Prime Minister Mahathir Mohamad, is making good on his promise to rein in China's influence.
And it comes just over a month after Mahathir said he was ditching a planned $17 billion high-speed rail link with Singapore, saying it cost too much and likely wouldn't benefit many commuters.
His predecessor, Najib Razak, was a big proponent of China's Belt and Road initiative, Beijing's grand plan to invest hundreds of billions of dollars into ports, rail lines and other projects across Asia, Africa and parts of Europe. Under Najib, Malaysia signed up for an estimated $34 billion worth of infrastructure projects under the Chinese initiative, according to research firm Gavekal.
Mahathir wants to renegotiate the terms of those deals with Beijing.
"We hope to reduce costs a lot, because of a lot of wrong things [are] being done," he said at a news conference in June, referring to the East Coast Rail Link and the billions Malaysia would have to borrow from China to finish it.
Related: Mahathir: Malaysia's comeback prime minister
Some experts fear Belt and Road projects may pile debt onto smaller countries, putting China in a strong position to influence their strategic decisions or even gain control of important infrastructure.
That has already happened in Sri Lanka, where the port of Hambantota racked up heavy losses and was eventually signed over to its Chinese creditors last year.
Halting the East Coast Rail Link may help Malaysia avoid that fate, according to National University of Singapore fellow Johan Saravanamuttu.
"Loan terms and conditions need to be renegotiated to avoid the Hambantota port syndrome of over leveraged loans," he said.
The Financial Times reported that Malaysia has also suspended two China-backed pipeline projects this week, citing a senior Malaysian Finance Ministry official.
-- Daniel Shane contributed to this report.