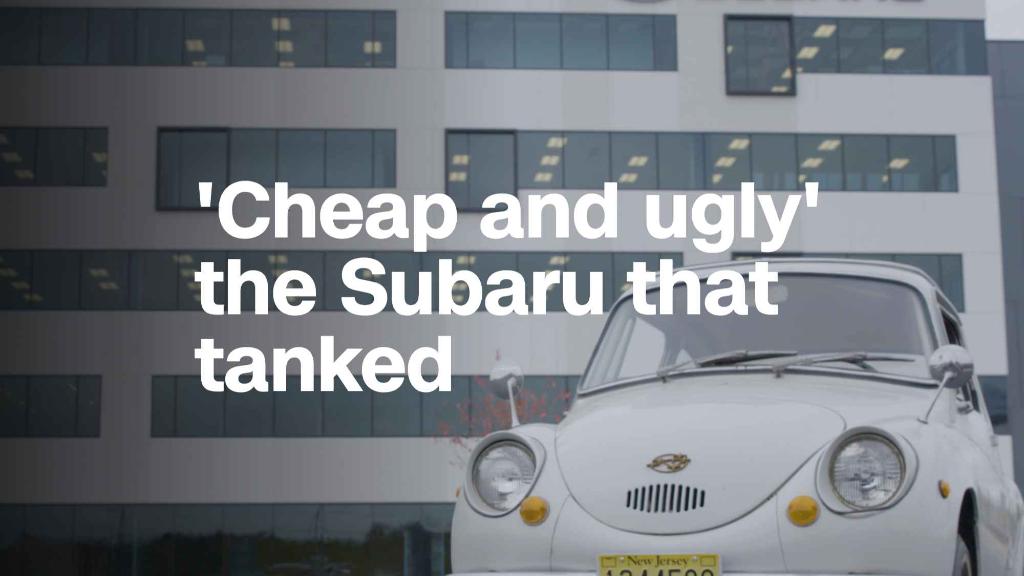 Proving that, in America, anything is possible, Subaru got its start here 50 years ago by importing a car so bad it nearly doomed the brand from the start.
Today, Subaru (FUJHF) cars and SUVs are lauded for their safety and quality. Consumer Reports, arguably the most influential magazine among car shoppers, routinely praises its products.
Consumer Reports was influential in 1968, too, which is why the magazine's devastating review of the tiny Subaru 360 was so damaging. It took the tiny car a full 37.5 seconds to go from zero to 50 miles an hour. Sixty miles an hour on flat ground wasn't really possible with the car's 25 horsepower two-cylinder engine. That was probably a good thing. The front bumpers were "virtually useless against anything more formidable than a watermelon," the magazine said. Handling was dangerously bad. During abrupt maneuvers, the back wheels tended to curl up under the car like a turtle's leg.
In short, the Subaru 360 was "Not Acceptable," the magazine wrote, in large letters.
Sales of the 360 collapsed. The man whose idea it had been to import the cars, Malcolm Bricklin, left the company. He would try again, about 20 years later, with a Yugoslav car imported as the Yugo. In a recent interview with CNNMoney, Bricklin blamed Consumer Reports for the 360's failure and insisted the car wasn't bad, considering its price. It cost $1,300. Toyota's cheapest model, the Corolla, cost hundreds more.
Bricklin's clever idea with the 360 was to import a car that wasn't, under American rules, a car at all. As far as American regulators were concerned, if it weighed less than 1,000 pounds, it was not a car and, so, was exempt from many regulations. The Subaru 360 weighed 965 pounds.
Related: I drove the original supercar
My curiosity, and my courage, were piqued. I had never heard of a car this bad. I have driven a Yugo, and it didn't really seem atrocious, considering its $3,995 starting price in the late 1980s, thousands less than a Toyota Tercel.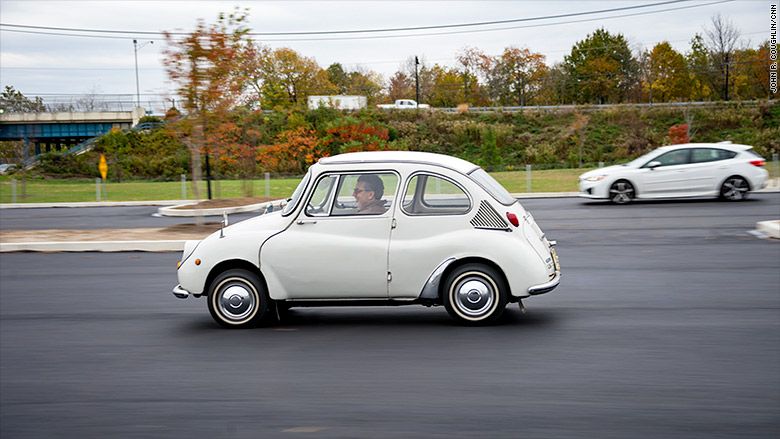 The 360 I borrowed from a top Subaru USA executive and drove on roads and highways around the company's New Jersey headquarters was, indeed, awful. In fact, it was the very worst car I have ever driven. It made me alternately laugh out loud and fear, deep down in my quivering guts, for my very life.
A Subaru 360 is 3 feet shorter than a Volkswagen Beetle. It is a tiny car on tiny wheels with a tiny little engine. On a modern highway, it is a toy sailboat in a rushing river of mega-yachts. I leaned forward, trying to crush the gas pedal down a little further. The mower-sized two-cylinder engine raged loudly, trying its hardest to keep me from getting run over by SUVs. The best I could manage, ever, was something over 45 miles an hour, and it took everything to get there.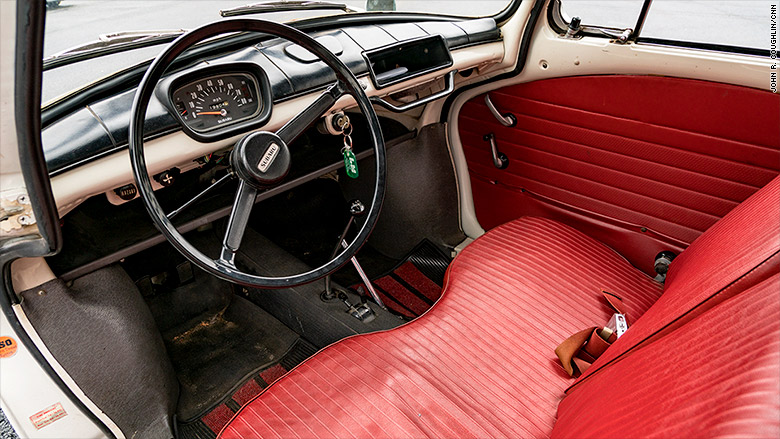 Most of the time, the brakes offered the mere suggestion of stopping. They did work, in their way, when I had to make a real panic stop. A car — one with brakes — pulled in front of me and stopped hard. Instinctively, my foot smashed the brake pedal. The 360's snout dropped down toward the asphalt while its hind end rose into the air like a cat getting its butt scratched. I yanked at the steering as the car squirmed side to side, threatening to turn sideways and put its belly into the air. Finally, it came to a shuddering stop before I hit anything.
It was a driving experience as impressive as any I have had. It was impressive how far a company can come from a beginning like that.