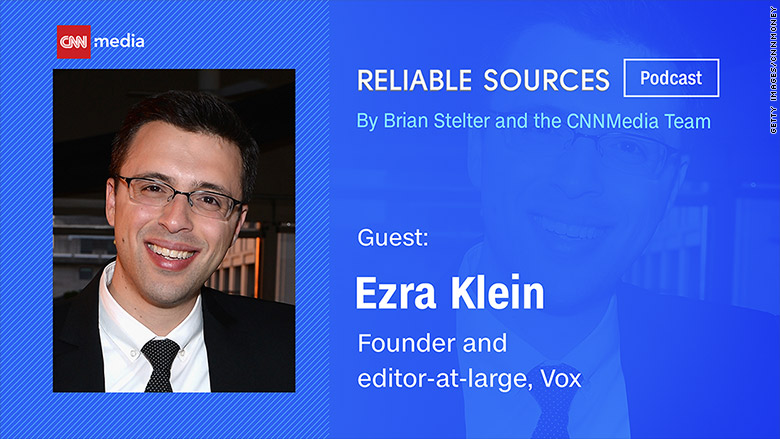 The media needs to stop letting President Donald Trump be its "assignment editor," Vox editor-at-large Ezra Klein says.
There is no rule that "every time the president travels somewhere and opens their mouth, they get wall-to-wall coverage for days," Klein told CNN's Brian Stelter. Rallies by previous presidents hardly attracted the type of attention that Trump's do, he explained. Yet, when newsrooms scramble to cover Trump's rallies, such as the one held on Thursday in Montana, other, more important stories may be getting left behind.
Thursday was the same day that two major stories about the administration dropped. Scott Pruitt resigned after a scandal-ridden tenure as head of the Environmental Protection Agency, and former Fox News executive Bill Shine -- who was accused of covering up sexual harassment scandals at the network -- was named deputy chief of staff for communications for the White House. Yet, "we're talking about rallies, we're talking about Donald Trump throwing schoolyard insults at people the way he always does," Klein said.
For Klein, this kind of coverage raises a number of questions.
"What are we crowding out when we let him decide what we cover, every time he does a rally?" Klein said. "What would have happened in another administration? How long of a story would Scott Pruitt have been? How long of a story would Bill Shine have been? How much information is encoded in those few stories?"
Klein, who is also the host of his own podcast, spoke to Stelter about the Trump beat, as well as the reality of the president's poll numbers and the Fox-White House relationship, for this week's Reliable Sources podcast.
Listen to the whole podcast here:
Klein recently got a rare break from the news cycle while taking book leave in Oceanside, California. He found the experience to be "pretty profound" but realized that returning to a world of news is like "having somebody shouting in your ear all the time."
"[It's] like having Donald Trump follow you around on Twitter and on the news and everywhere, like, 'Look at this thing I did! Look at it!'" Klein told Stelter. "It's up to us to decide whether to look."
Klein acknowledged that he's not exempt from this challenge.
"I say this as somebody who often looks," he said. "I don't say this with any kind of moral innocence or any of it, but the experience of being away from it really was this experience of, 'Oh my God, this is not a way to think. This is not a way that you're able to see clearly the important story. This is not a way that you are able to get any perspective on what is going on at all.'"
A journalist's goal is to inform the audience, Klein said. If news about Trump's lies and insults wasn't common knowledge, it would warrant plenty of coverage. But, he said, "we are years into this now."
"I do think there's a question of, does the public know what the government is actually doing as well as they know what Donald Trump is saying, but often not doing,'" Klein said. "Does the public know what is happening in the regulatory agencies? Does the public know what has happened to the Affordable Care Act?"
While Klein says he is all for publishing a running list of Trump's lies and falsehoods -- such as those Trump said in Montana -- "I think that when we are not being able to tell people important news, that is a different kind of lying deception, and often a more important one that is going unchallenged or unknown."
"If the country knows a lot less about Scott Pruitt in the end than what Donald Trump says at these rallies, then no, I don't think we did a good job at our jobs," he said.