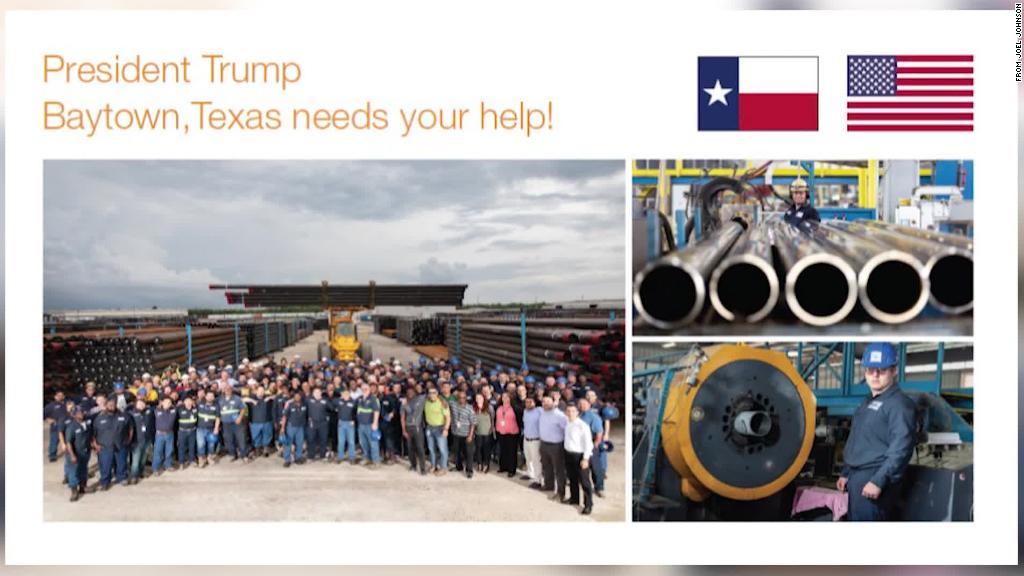 1. Here come earnings: Companies have been worrying for months about a trade war.
Now it's here. The question is when it will start to hurt profits — and by how much.
We may soon get some answers.
Several major companies are set to report earnings next week, starting with PepsiCo (PEP) on Tuesday. Delta (DAL) is scheduled for Thursday, and Citigroup (C), JPMorgan Chase (JPM), PNC (PNC) and Wells Fargo (WFC) are all planning to report on Friday.
The Trump administration's tariffs on steel, aluminum, solar panels and washing machines kicked off retaliatory tariffs from around the world. On Friday, the Trump administration enacted 25% tariffs on $34 billion worth of Chinese goods, and the Chinese government responded in kind.
Companies that make cars, planes and hundreds of other products out of steel and aluminum are already starting to feel the pain from the global trade war.
Harley-Davidson (HOG) is moving some motorcycle production out of the United States to avoid tariffs. The company said the tariffs could have cost it up to $100 million a year. German automaker Daimler (DDAIF) said its profit will fall this year because of tariffs. Toyota (TM) said the tariffs would make Camrys $1,800 more expensive to make.
Companies' reactions are "clear evidence that tariffs or threats are having an immediate impact on earnings," said Peter Boockvar, chief investment officer at Bleakley Advisory Group.
The tariffs' impact probably won't be reflected in second-quarter earnings for most businesses, Boockvar said. But we'll hear a lot about them — particularly when CEOs give guidance for the third quarter.
When discussing the current quarter, company leaders could lay out how they're "preparing or bracing" for the new trade policies, said Mark Luschini, chief investment strategist at Janney Capital.
Related: How a trade war could turn into a recession
Tariffs could force businesses to pull back on capital expenditures, hiring or other investments in the future, he said. The Federal Reserve has already heard from companies that are tightening their belts.
Officials are worried the new trade policies could hurt the economy, and some economists warn that a trade war could trigger a recession. Threats of retaliation and escalation could multiply the harm.
Lindsey Bell, an investment strategist with CFRA Research, said that business leaders will have a hard time quantifying the effects of tariffs as the landscape continues to shift.
But she said: "I'm certain that CEOs and corporate management teams are really on edge with regard to their forward plans."
Related: Fed officials are increasingly worried about a trade war
Overall, profit for S&P 500 companies in the second quarter is expected to be up 19.5% from a year earlier, according to S&P Global Market Intelligence.
The tariffs could exacerbate investor fears that the market has reached peak earnings, said Bell.
On the other hand, if the administration is able to reach agreements with its trade partners and provide a clear path toward a resolution, it could put those fears to rest, Bell said.
2. Major smartphone IPO: Xiaomi, one of the world's leading smartphone makers, is planning to go public in Hong Kong on Monday.
The Chinese company is set to raise about $4.7 billion. That's less than it initially hoped for: When the company announced details of the IPO last weekend, it said it could bring in as much as $6.1 billion.
Xiaomi tried to pitch itself as an internet services business, rather than a hardware maker. But investors didn't bite, and fear that the company's phones will fail to compete with higher-end phones kept Xiaomi's valuation down.
Xiaomi is the fourth-largest smartphone company in Europe, behind Samsung (KRW), Apple (AAPL) and Chinese rival Huawei, according to research firms IDC and Canalys.
Related: How China's Xiaomi took India's smartphone market by storm
3. June's inflation indicators: The Labor Department is scheduled to report its Producer Price Index and the Consumer Price Index for June this week. The indexes keep track of how much consumers pay for goods and how much producers sell them for.
Recently, prices have been creeping higher as companies prepare to combat inflation. Paychecks are only just keeping up. Friday's jobs report showed that wage growth is barely ahead of inflation, which is firming up as the economy strengthens.
Related: Another strong jobs report. Here's why unemployment jumped
4. Coming this week:
Monday — Xiaomi IPO
Tuesday — Pepsi earnings
Wednesday — Producer Price Index
Thursday — Delta earnings; Consumer Price Index
Friday — Citi, JPMorgan, PNC, Wells Fargo, First Republic Bank (FRC) earnings; Consumer sentiment index