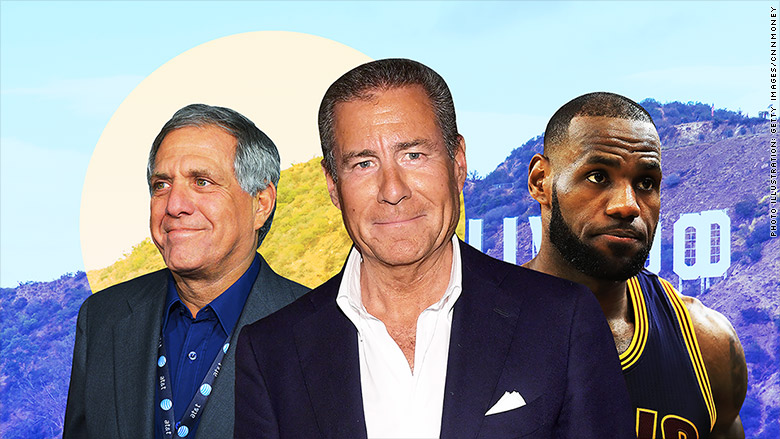 What's Next: Richard Plepler's Last Dance: AT&T wants HBO to transform itself from a boutique for smart, high-minded shows into a 24/7 operation like Netflix that produces more content and drives more user engagement, sources at HBO and AT&T's WarnerMedia confirm. It is a sea-change moment for Plepler, the affable HBO chief and Manhattan-Hollywood socialite who has long enjoyed the luxury of prioritizing a few quality shows on Sunday nights.
Sign up for PACIFIC: The new CNNMoney newsletter about the center of change and innovation
HBO's future now depends on two things:
1. Whether AT&T will give it enough money to compete with Netflix, Amazon and Apple for the best shows, showrunners and talent.
2. Whether Plepler can bring premium content to scale -- which is going to be really hard for a guy who has spent years stressing that the strength of HBO's brand depends on not throwing a hundred things against the wall to see what sticks, a la Netflix.
More on all that, including the the awkward town hall conversation between Plepler and his new AT&T boss John Stankey, below ... Plus: LeBron in Hollywood, Netflix in India, and Les Moonves vs. Shari Redstone in Idaho ...
---
Welcome back to PACIFIC
It's Allen & Co. Week. We're in Sun Valley starting Tuesday, along with Tim Cook, Mark Zuckerberg, Bob Iger, Brian Roberts, Rupert Murdoch & Sons, Randall Stephenson, Reed Hastings, Moonves and Redstone, Jeffrey Katzenberg, Barry Diller, Jimmy Pitaro and Adam Silver, all of whom are among the invited guests at the annual summit of media moguls. This highly private event can only be covered from the sidelines, but we'll do our best.
The Latest in M&A: Comcast is expected to make a $31 billion bid for Sky, just as the UK is giving 21st Century Fox the green light to acquire the company itself. How to read it: Comcast's Brian Roberts is forcing the Murdochs (and thus, Disney) to pay more for Sky, just as he forced Disney to pay more for Fox.
There is no thicker thorn in Bob Iger's side than Brian Roberts.
---
Talk of Tinseltown: Can HBO scale?
For years, Richard Plepler has said that HBO's edge on Netflix is the power of its brand, which is synonymous with quality, and its ability to care for and cultivate every project it invests in. Netflix, by contrast, seems to release dozens of projects at once and pay special attention to only a few guaranteed successes.
Tough luck ... Plepler's new boss John Stankey, the head of AT&T's WarnerMedia, now says HBO must become more like Netflix.
The two men appeared together at a recent town hall meeting at HBO's New York offices. Stankey's remarks, obtained by NYT's Ed Lee and John Koblin, tell you everything you need to know:
• "I want more hours of engagement. Why are more hours of engagement important? Because you get more data and information about a customer that then allows you to do things like monetize through alternate models of advertising as well as subscriptions, which I think is very important to play in tomorrow's world."
• "'We need hours a day. It's not hours a week, and it's not hours a month. We need hours a day. You are competing with devices that sit in people's hands that capture their attention every 15 minutes.'"
• "We've got to make money at the end of the day, right?" [Plepler: "We do that"]. "Yes, you do. Just not enough."
What Plepler says now:
• "I've said, 'More is not better, only better is better,' because that was the hand we had ... I've switched that now ... to: 'More isn't better, only better is better — but we need a lot more to be even better.'"
Do not underestimate how hard this will be. One Hollywood executive emails: "Quality does not necessarily increase with quantity." If there are 7 great shows out of 10 on HBO today, he said, it doesn't mean there will be 14 great shows if you make 20.
Moreover ... the more shows you have to produce and market, the less time you have to dedicate to each one ... to wit ...
Sign up for PACIFIC: The new CNNMoney newsletter about the center of change and innovation
---
Cautionary Tales: What's eating Netflix creators
Netflix spends billions on content and marketing, but only the most high-profile shows get big ad budgets, while others seem to disappear into a void.
The Information's Beejoli Shah goes inside Netflix's marketing machine:
• "When Netflix debuted 'Stranger Things' in 2016, it was so optimistic ... that it poured $50 million into promoting the show, much of it on Facebook. Yet when it came to the reboot last year of classic sitcom 'One Day at a Time,' the marketing team didn't even create a Facebook page until the show's second season."
• "Netflix plans to boost its marketing spending more than 50% to $2 billion this year. But most of the money is going to promote shows seen as most likely to become hits ... And that is frustrating many television producers who complain their shows are getting ignored amid a glut of shows on the service."
• "'The most common complaint I hear from fellow Netflix showrunners is that they would make a great show, and no one would know that it was on,' said a creator whose show is currently being produced by Netflix."
---
Netflix in Bollywood
"Netflix Wants The Whole World To Binge Its First Indian TV Series" by BuzzFeed's Pranav Dixit: "'Sacred Games,' Netflix's newest original show and the company's first original series produced in India, debuted in 190 countries [and] has been dubbed into four international languages, including English ... 'We want to make Sacred Games a great, global success like Narcos,' Netflix CEO Reed Hastings told reporters during his first visit to India."
Bonus: If Disney lands Fox, and Fox lands Sky, it will give Disney access to 700 million new viewers in India.
---
Rules of the Game: What Amazon is watching
The Financial Accounting Standards Board is eyeing a rule change that would make companies treat production costs for television the same way they do for movies, potentially opening up a new avenue for profits.
The Details, via WSJ's Michael Rapoport:
• "If the change is ultimately enacted by the full FASB, TV producers could record profits more quickly than they do now."
• "In a market where TV producers are in an arms race, spending billions of dollars on original content, any additional lift to their profits could be important."
Sign up for PACIFIC: The new CNNMoney newsletter about the center of change and innovation
---
Sun Valley: Moonves-Redstone on tour
The Les Moonves vs. Shari Redstone saga will be on tour in Sun Valley this week, which could make for an awkward encounter given that Moonves' CBS and Redstone's National Amusements are suing one another:
• Redstone has been pushing for a CBS-Viacom merger, which Moonves opposes. His lawsuit aims to dilute Redstone's voting shares so she can't force the merger.
• Redstone's lawsuit accused Moonves and the CBS board of "extraordinary, unjustified and unlawful actions."
• Resisting Redstone would make CBS available for other potential suitors, including tech giants like Amazon.
Other potentially awkward encounters:
• Bob Iger and Brian Roberts, obviously. As we've noted before, the two execs have a deep animus toward one another that goes far beyond business rivalries.
---
Off The Dribble: LeBron goes Hollywood
While we were on vacation, LeBron James signed a $154 million four-year contract with the Los Angeles Lakers, hastening his off-court transition to Hollywood star/producer:
• SpringHill Entertainment, run by James and Maverick Carter and housed on the Warner Bros. lot in Burbank, already has "House Party" and "Space Jam" reboots in the works, as well as a slate of TV projects and documentaries.
• Adam Mendelsohn, James' media advisor, tells me the two men started SpringHill "to create great television and films and tell the stories they believed in," noting that the company was running strong even before James made the move to L.A.
• Uninterrupted, LeBron's digital media venture based in Hollywood at Sunset & Gower, is ramping up production of its web series and podcasts with athletes.
Sound Smart: LeBron James is to Hollywood what Kevin Durant is to Silicon Valley: An NBA star capitalizing on the hometown industry.
What Bill Plaschke and the rest of the Southland cares about: "If LeBron James is indeed going to be The King of L.A., sometime in his potentially four seasons here, he must lead the Lakers to at least one championship."
Bonus: Scoop: LeBron is slated to appear on the cover of Vanity Fair's 2018 New Establishment issue coming out this fall, per a source familiar.
---
What Next: Something else that happened while we were on vacation ... Facebook is in talks with Ronaldo to acquire a 13-episode reality series about the Real Madrid star that would air on Facebook Watch. What's in it for Ronaldo: $10 million.
Get this in your inbox every morning: Sign up for PACIFIC: The new CNNMoney newsletter about the center of change and innovation