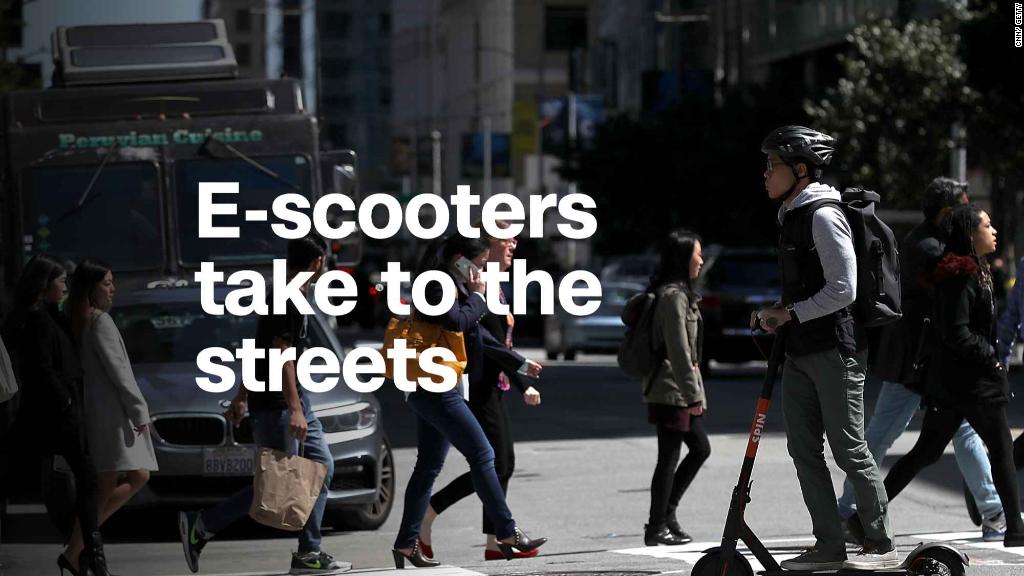 Uber is going to add the ability to find a scooter in its app, part of a $335 million round of funding for scooter startup Lime.
The partnership would include Uber branding on the scooters, which are now in 70 cities -- including Seattle and Los Angeles. It could give Lime a push in the newly competitive rent-a-scooter market, where it is going up against leader Bird Rides. The new deal, lead by Alphabet's venture capital company GV, values Lime at $1.1 billion. CNN previously reported that Bird Rides is valued at $2 billion.
It's the latest partnership in a fast moving race between Uber and Lyft to expand beyond cars into any possible form of transit people might take. That includes bikes, scooters, and possibly public transportation.
Related: Uber and Lyft want to be about so much more than cars
"Uber will work with us as a strategic partner in the electric scooter space to offer people a greater variety of transportation modes at their fingertips and make it increasingly easy to live without a car," Lime said in a blog post.
Earlier this month, Lyft announced it was acquiring US bike-sharing company Motivate for an undisclosed amount. Uber purchased electric bike company Jump for $100 million earlier this year. It recently launched a new division headed by Rachel Holt dedicated to branching out to non-car forms of transportation, which it calls "new modalities."
Related: The product is banned in some cities. The company is valued at $2 billion
"Our investment and partnership in Lime is another step towards our vision of becoming a one stop shop for all your transportation needs," Holt said in a statement. "Lime already has an expansive footprint, and we're excited to incorporate their scooters into the Uber app so consumers have another fast, affordable option to get around their city, especially to and from public transit."
The company isn't sharing details about how it will work or when the new features will be rolled out at this time, according to a spokesperson.