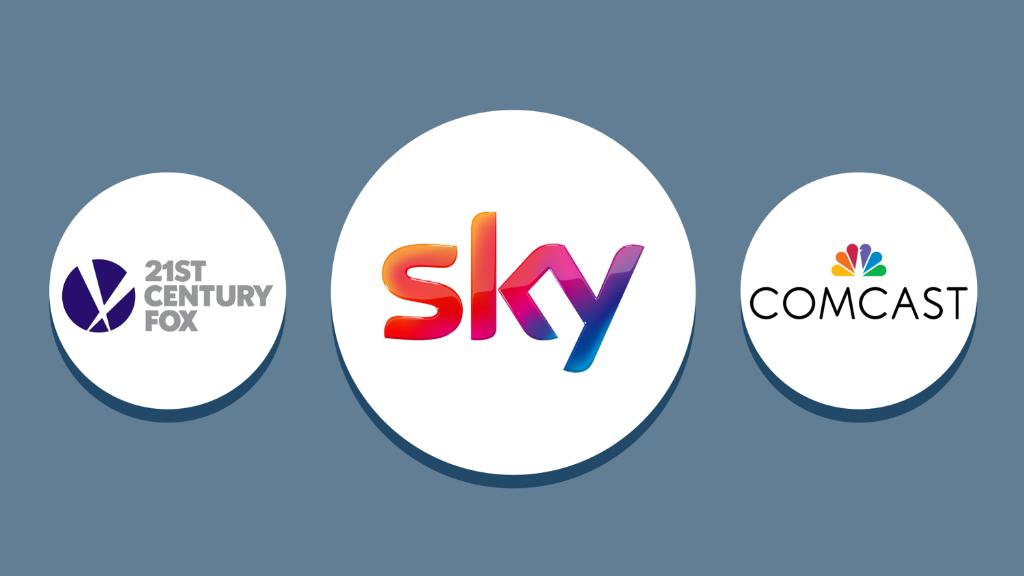 The future of Sky may be clearer by the end of this week.
Three pivotal events are expected this week that will help determine which American company will be the ultimate owner of the UK broadcaster — 21st Century Fox or Comcast.
Sky is an attractive asset to US media companies that are looking to expand their operations to Europe and to compete with upstarts like Netflix and Amazon. It's a leader in pay-TV service in the UK and regional markets including Germany and Italy. It also sells broadband and mobile phone services.
Disney, which made a bid last December to take over 21st Century Fox, including the latter's 39% stake in Sky, also sees the British broadcaster's appeal. CEO Bob Iger, in a Bloomberg TV interview last year, called Sky a "real crown jewel."
This week, 21st Century Fox may issue a new bid for the remaining 61% of Sky it does not already own, according to the Financial Times. That bid could be around $33 billion, the FT reported, a significant jump from the company's original $25 billion offer back in December 2016.
Related: What Comcast, Disney and Fox all see in Sky
Fox's pursuit of Sky has already been through an arduous 18-month long approval process from British media regulators -- and that process isn't quite over.
Fox is still awaiting the final, official approval from the British Secretary of Digital, Media, Culture and Sport on their deal, which is also expected this week.
Last month, culture secretary Matt Hancock said the deal can proceed if Fox sells Sky News to an appropriate third party. Regulators have been concerned that Fox's ownership of Sky News would give Rupert Murdoch and his family too much influence over UK media.
That third party would be Disney, which is in the midst of a separate $71 billion bid to take over a large chunk of 21st Century Fox. Disney has agreed to take over the remaining 61% of Sky upon completion of its Fox purchase. As part of the British regulatory approval process, Disney has also agreed to keep Sky News in operation for another 15 years, increase funding of Sky News to at least $133 million and to issue a "formal commitment" preserving Sky News' editorial independence.
Since last month, Hancock has been reviewing any final submissions regarding the deal. Hancock was named Secretary for Health and Social Care in a cabinet reshuffle on Monday. Jeremy Wright, who is taking Hancock's place as culture secretary, announced on Tuesday that he will issue his final decision on Thursday, July 12.
Then there's Comcast. Though the parent company of NBCUniversal formalized its $31 billion offer for Sky in April, it has until the end of this week to lay out the terms of its offer to Sky's shareholders per UK regulatory rules. Comcast has already received the green light from Hancock and the European Commission to purchase Sky. 21st Century Fox will have 28 days to counter Comcast's offer.
But with Fox's reported $33 million bid coming soon, Comcast may have to up its own bid once again.
Of course, Comcast is separately pursuing the 21st Century Fox assets that Disney is also after. Comcast has yet to counter-bid Disney's latest $71 billion offer from last month, but several reports have said that Comcast seems intent on continuing the bidding war.