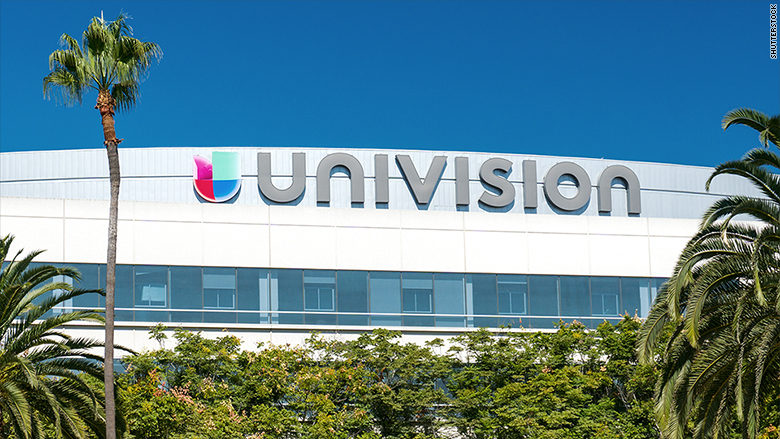 Univision is making a U-turn in its digital media strategy.
The Spanish language media company said Tuesday that it is looking to sell most of the online properties that it has acquired in the past few years.
This includes the family of websites formerly known as Gawker Media -- including brands like Gizmodo and Jezebel -- and the satirical publication The Onion.
Previous management had grand aspirations for the portfolio of websites. But Univision is now going through a drastic overhaul, partly due to challenges in its broadcast television business and broader struggles to satisfy its private equity owners.
So the sites are going on the block. Univision said Tuesday that it has enlisted Morgan Stanley to "explore the sale" of the digital assets.
In an internal memo, Univision's new CEO, Vince Sadusky, said "there is no doubt in my mind" that the websites "can thrive even more as part of a company whose focus aligns better with theirs."
"Likewise, it is important for Univision to exit a business which does not enhance our core mission, and instead refocus on our strengths," Sadusky wrote.
That core mission is about Spanish-language TV and radio programming. The company will still retain some websites after the sale.
It was just two and a half years ago when Univision bought The Onion and its sibling websites, signaling a new effort to reach English language consumers. The deal was struck in January 2016. Later that year, Univision won the Gawker Media assets, which were rebranded as Gizmodo Media Group, through a bankruptcy auction.
The portfolio of brands, from Deadspin to Splinter, AV Club to Lifehacker, are well known parts of the digital ecosystem. But they have faced some of the same uphill battles as other digital media businesses. More than 40 staffers at GMG reportedly took buyouts last month as part of budget cuts ordered by Univision.
They've faced some unique pressures from within Univision. A team of GMG journalists documented the company's missteps in methodical detail in a recent investigation.
The journalists said the story was about "how corporate raiding, complacency, excess, and incompetence" was "gutting a media company that matters to tens of millions of people."