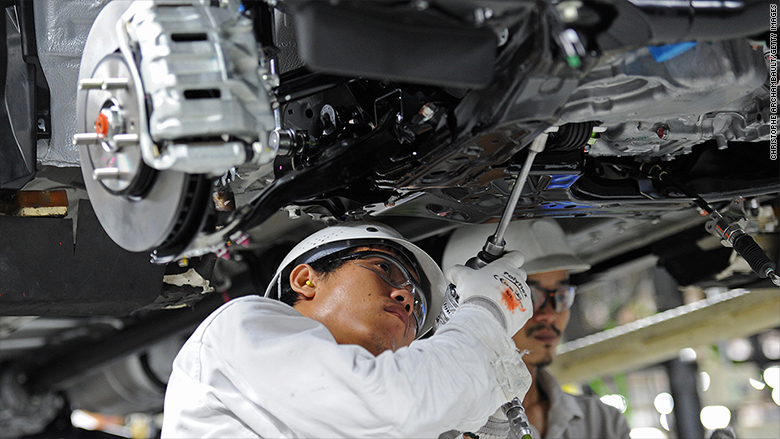 If you bought a vehicle in Southeast Asia or Australia -- especially a pickup -- there's a good chance it was built in Thailand.
Thailand has been a stronghold for automobile manufacturing for decades. It nicknamed itself "the Detroit of Asia," and the moniker stuck, with good reason. It's currently the 12th most industrious auto manufacturer in the world, and the largest in Southeast Asia.
Japanese makers like Toyota and Mitsubishi have had operations in Thailand since the 1960s. GM, Ford, Mercedes and BMW all followed. A GM spokesperson said that its plant is a major manufacturing hub for the Asia-Pacific region and Africa, and its vehicles are exported to 15 markets, including Australia and New Zealand.
How did Thailand become an automaking giant?
For three decades, Thailand has imposed an 80% import tariff on cars and 60% on motorcycles, to keep manufacturing within the country. The government offers land ownership rights for foreign investors and smooth visa and permit processes for foreign auto advisers.
Meanwhile, Thailand's government introduced various tax incentives favorable to foreign investors. Companies relocating to Thailand are exempt from corporate income tax for eight years. In some areas of the country, such as automaking hub Rayong, where GM and Ford are based, Thailand reduced corporate tax rates by up to 50%.
Thailand is also well located geographically with convenient ports and airports, allowing exporting ease. Unlike in Indonesia and other competing markets, most auto parts are made and sourced internally -- with around 1,500 suppliers in Thailand today -- so there's little need to import them. And a free trade agreement with the nine other countries of the Association of Southeast Asian Nations is another bonus: Automakers in Thailand pay zero or highly reduced tariffs for exporting autos within the region.
Labor is cheaper than in developed nations and China, though not as cheap as in surrounding Southeast Asian nations. But the fact that the labor force has amassed skill and experience is critical.
"This has helped to retain investment in the face of competition from markets such as Vietnam or Indonesia that offer lowered labor costs," said Maxfield Brown, manager of the Business Intelligence Unit at Dezan Shira & Associates.
Related: Europe could hit Harleys, bourbon and Levi's over Trump tariffs
Exploding growth
In 2002, the Thai Automotive Institute announced a six-year plan to transform Thailand into "the Detroit of Asia." Between 2000 and 2017, Thailand's auto production grew by 383%.
Although exports account for almost 60% of Thai production, the domestic market is showing signs of growth, in part because of the Thai rising middle class. Only 18% of households did not own a vehicle in 2013, according to numbers from the Nielsen Global Survey of Automotive Demand.
Southeast Asia's middle class will more than double to 400 million by 2020, as predicted by the Organization for Economic Cooperation and Development. That spells huge opportunity for automakers in Thailand.
Related: India's booming auto industry
Thailand excels at making commercial vehicles -- specifically, the one-ton pickup truck, such as the Chevrolet Colorado and the Ford Ranger. Thailand is the world's second-biggest market for pickups, after the United States. Much of the country is rural, and pickups serve as economical vehicles for large families, with children often sitting in the open-air back.
GM only makes two vehicles in Thailand: the Colorado and the Chevy Trailblazer SUV. It said that pickups represent 42% of the market share in Thailand.
"Since 2000, GM has invested more than $2 billion in the manufacturing facilities in Rayong," a GM spokesman said. "We continue to invest in Thailand through our dealers, products and services."
Thailand produced 1.2 million commercial vehicles compared to 818,000 cars in 2017. Conversely, growing producer Indonesia made just 234,000 commercial vehicles but 982,000 cars. Still, in the first five months of 2018, overall car sales in Thailand grew by 18%. A spokesperson for Mercedes-Benz, which makes only passenger cars in Thailand, said the company had its biggest year ever in 2017, with 14,000 units sold.
What's on the horizon?
To help ensure that wheels keep turning in the future, the government wants to attract eco-friendly and electric car production to Thailand, as part of its ambitious new $45 billion project approved in February, known as the Eastern Economic Corridor.
It comprises numerous trade and development initiatives to further boost its industrial epicenter in Rayong and surrounding provinces. Thailand will continue to provide tax breaks and fast-track visas to investors, as well as the ability to rent land for up to 99 years.
The Federal Thailand Investment Board predicts the country will produce 3 million autos in 2020, which would propel it into 8th place in global production.
But political uncertainty has unsettled investors, notes Josh Kurlantzick, senior fellow for Southeast Asia at the Council on Foreign Relations. Coups in 2006 and 2014 rattled automakers.
"Years of political strife has undercut its appeal," Kurlantzick said.
Competition from neighboring nations is also growing, though Thailand's outlook remains bright.
"Indonesia's domestic automotive market has seen steady growth in recent years but still lags behind Thailand in both volume and supply chain sophistication," Brown said.