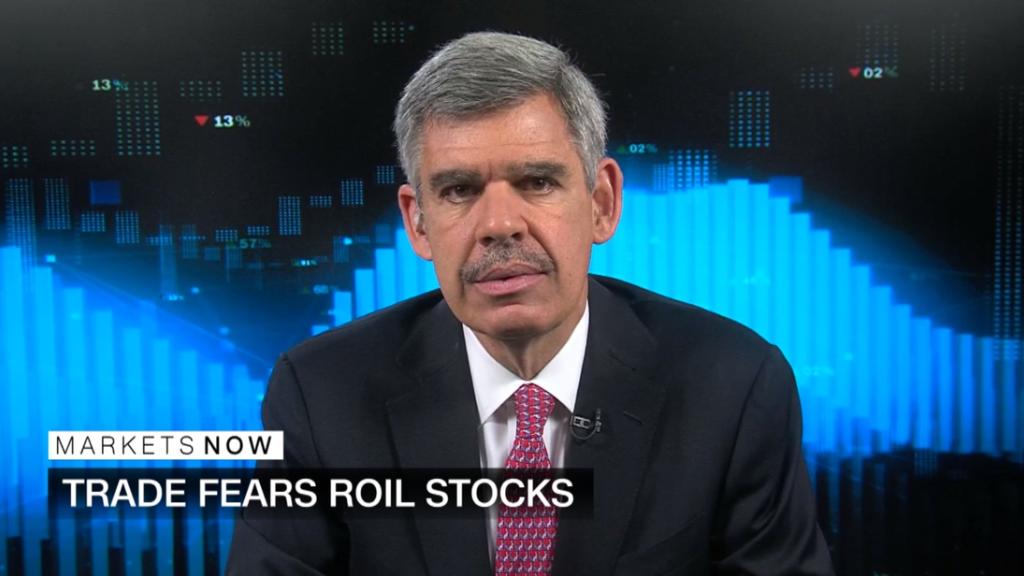 The markets are no longer swinging wildly in response to escalations in the trade war -- but there's still a lot of risk in stocks, Allianz Chief Economic Adviser Mohamed El-Erian says.
On Tuesday evening, the Trump administration announced that it is preparing another round of tariffs on Chinese goods worth $200 billion. On Wednesday, the Dow slumped just 170 points — less than 1%.
That's because Wall Street is betting that the tariffs are just part of a broader strategy, explained Mohamed El-Erian.
The market is behaving as though the "tit-for-tat tariff process is not an end in itself," El-Erian told CNNMoney editor-at-large Richard Quest on "Markets Now" on Wednesday. "It's a means to negotiations."
Allianz's chief economic adviser warned that the administration's aggressive approach isn't easily won.
"There's a risk of a policy mistake. There's a risk of an accident," he said. "And that risk goes up every time we have an escalation."
Related: Trump readies new tariffs on China
Ultimately, El-Erian believes the United States could benefit.
"The US will be less damaged than other countries in a full-blown trade war," he said. It may even be better off than before the trade battle, he said.
"Is that enough to get other countries to focus and negotiate?" El-Erian asked. "If it is, the US may end up actually in a better place."
El-Erian said that companies reporting earnings may report an increase in production costs because of tariffs. But we're unlikely to hear that the trade actions have lowered demand, he said.
The investing expert added that Trump's abrasive approach to disruption is akin to disruption in the tech industry.
"What we're seeing is someone who goes out of their way to shake up the establishment."
Related: Watch 'Markets Now' here every Wednesday at 12:45 p.m. ET
CNNMoney's "Markets Now" streams live from the New York Stock Exchange every Wednesday at 12:45 p.m. ET. Hosted by Quest, the 15-minute program features incisive commentary from experts.
Recent guests include BlackRock's R (BLK)ick Rieder, Stifel Chief Economist Lindsey Piegza and bitcoin bull Mike Novogratz.
You can watch "Markets Now" at CNNMoney.com/MarketsNow from your desk or on your phone or tablet. If you can't catch the show live, check out highlights online and through the Markets Now newsletter, delivered to your inbox every afternoon.