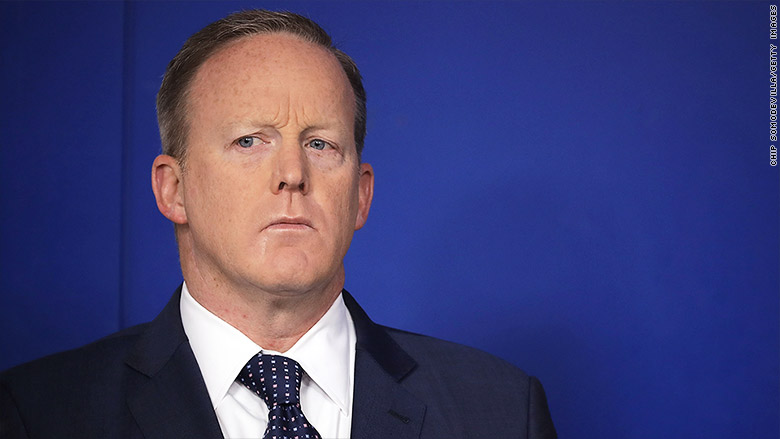 Sean Spicer's book is hitting shelves later this month, and those who want to attend the opening launch party should be prepared to shell out some money.
Organizers are selling tickets for the former White House press secretary's July 24 launch event, with prices starting at $30 and going up to as much as $1,000.
The event is being held on the Wharf, a glitzy new development in Washington, DC, at Pearl Street Warehouse. It is being hosted in part by Joyce and Bruce Gates, co-owners of the venue.
In addition to food and drinks, the event will feature a question and answer session with Fox News contributor Katie Pavlich, during which, according to the event's online description, Spicer will talk about "becoming an author, his days in the White House, and lessons learned."
Prospective attendees are being directed to a website where they are presented with four ticket options: "Press Corp" for $30 which includes admission and a copy of Spicer's book, "The Briefing: Politics, the Press and the President"; "Assistant Press Secretary" for $250 which includes two tickets and signed books; "Deputy Press Secretary" for $500 which includes two tickets, admission to a VIP reception, and signed books; and "Press Secretary (Host Committee)" for $1,000 which includes being part of the host committee, four tickets, personalized books, and admission to the VIP reception.
Spicer told CNN on Wednesday that the admission fees, which he said were being charged by the organizers, not him, were aimed at defraying the costs of hosting the party at a large venue. He said he is not making any profit off the tickets and added that organizers had modeled it after similar events.
"We are extremely grateful for the tremendous support we have received surrounding the launch of my book and are thankful for the generosity of the hosts for providing an amazing venue that is able support what will definitely be a great event," Spicer said.
A second book launch party is being held for Spicer on July 26 at Trump International Hotel in Washington, DC. That party -- hosted by Donald Trump Jr., Lara Trump, Rebecca Spicer, and others -- has no cost associated with it for attendees. Invitations for that party were sent by organizers to select individuals.
A third book launch party is slated for July 28 in his home state of Rhode Island, according to Spicer's website.
In addition to the three book launch parties, Spicer is holding a number of signings and related speaking events across the country to mark the launch of his book.