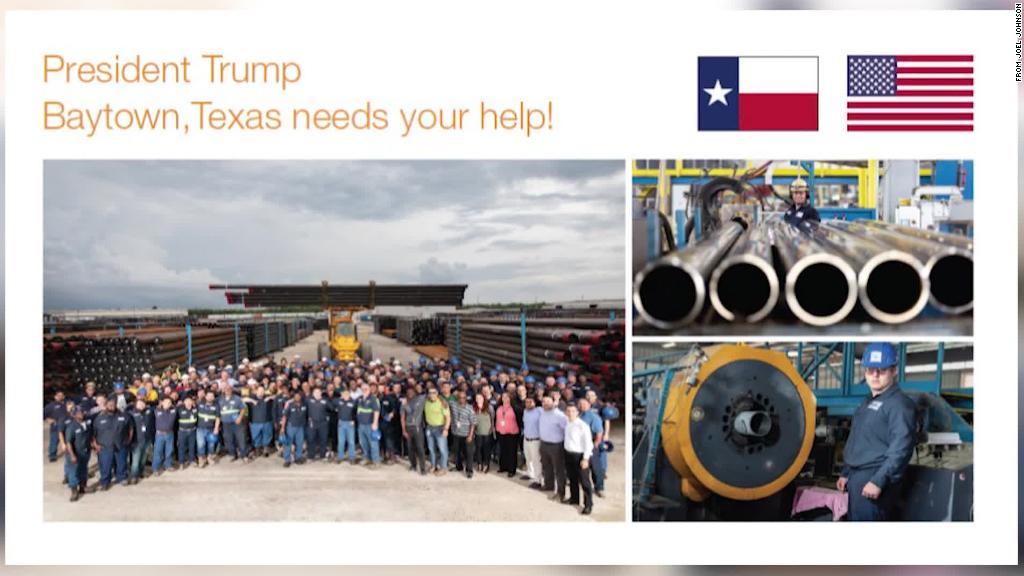 The emerging trade war between the United States and China poses a problem for America's flourishing oil patch.
US oil exports have more than quadrupled since Congress repealed a 40-year ban in late 2015. The stunning growth has helped lift US oil output to record highs and inspired the development of huge export facilities.
That export boom is now in danger. China is America's second-biggest crude oil customer, and Beijing has threatened to retaliate against President Donald Trump's trade crackdown by imposing tariffs on US crude oil.
Tariffs from China could stifle US oil exports, hurt domestic prices and slow activity throughout the energy ecosystem.
"President Trump has a point about China's trade abuses, but tariffs are a dangerous game that can easily get out of hand," said Dan Eberhart, CEO of oilfield services company Canary LLC.
Eberhart said penalties from China would be bad for Canary and other oil companies that rely on increased drilling activity to grow.
"The escalating tit-for-tat between Washington and Beijing is set to hit the energy sector," said Eberhart, whose company employs 400 people.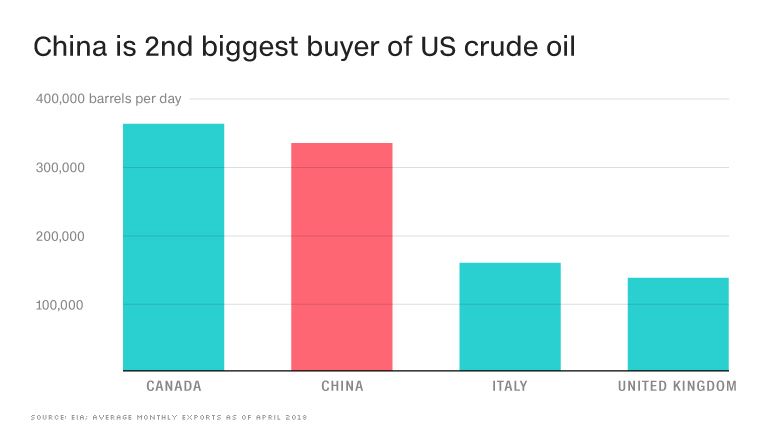 Related: The US is running out of Chinese exports to tax
The trade standoff has become more heated in recent days. On Friday, Trump formally imposed tariffs on $34 billion of Chinese goods, prompting a quick retaliation from China. The administration then moved ahead on Tuesday with plans for tariffs on another $200 billion of Chinese goods.
Beijing has vowed not to back down, but it could soon run out of American products to penalize. China only imported $130 billion of goods from the United States last year.
"They're going to have to tax everything that comes from the US, including crude oil," said Abudi Zein, CEO of research firm ClipperData.
China may be America's best oil customer
The United States shipped just over 2 million barrels of crude oil per day overseas last week, according to government statistics released on Wednesday. That's up from about 500,000 barrels per day in late 2015.
Canada is listed as the top destination for US oil, importing about 359,000 barrels per day.
However, Zein said the government statistics are a bit distorted because they include "re-exports" — Canadian crude that briefly crosses into the United States on pipelines before re-entering Canada.
Excluding Canada, China has imported more than twice as much US oil as any other country in the world this year, according to the government.
Analysts said China may decide to retaliate against the United States by purchasing oil from other countries instead. That could include Iran, which is desperate to find buyers because of tough sanctions from Washington.
"Tariff or no tariff, China might use oil as a weapon to pressure the US -- by simply not buying it," Zein said.
Related: The oil market's shock absorbers are nearly done
Shale producers jump into exports
That would be a disturbing outcome for the American companies that had been banking on exports.
For instance, shale oil giant Pioneer Natural Resources (PXD) ramped up its crude exports to about 90,000 barrels per day during the first quarter. The goal is to push exports to as much as 150,000 barrels per day by the end of the year.
Eventually, "virtually all of our oil" will either get exported or moved to refineries along the Gulf Coast, Pioneer CEO Timothy Dove said recently at a conference.
The benefit to exporting the oil is that it can be sold at international prices, which are about $4 a barrel higher than US prices.
The lure of loftier prices led Continental Resources (CLR), a major player in North Dakota's Bakken oil field, to turn to China. Continental, run by Trump supporter Harold Hamm, announced last fall its first-ever sale of Bakken oil for delivery overseas.
Shipping companies, which have struggled in recent years, have also benefited from the need for massive tankers to carry crude oil.
Ports race to meet foreign demand
Ports along the US Gulf Coast have made costly upgrades to be able to handle those giant ships.
After a mini makeover, the Louisiana Offshore Oil Port announced in February it completed the first US loading of a supertanker filled with crude. It's the only deep-water port in the United States that can handle supertankers.
Other ports are racing to catch up. Last month, the Port of Corpus Christi, Texas, approved a $217 million bond package that will be used to pay for building terminals and upgrading railways and shipping channels to handle soaring energy exports.\
Pipelines are also being built to carry oil pumped in the Bakken and the Permian Basin of West Texas to the Gulf Coast, where it can be shipped overseas.
The industry hopes that, even if China imposes tariffs on US oil, the exports can get diverted elsewhere.
US oil is so desirable that South Korea or other countries in Asia will probably buy it, though perhaps at a lower price, according to Brian Youngberg, senior energy analyst at Edward Jones.
"The risk is they can't find an alternative buyer," Youngberg said, "and the oil sits on the Gulf Coast."