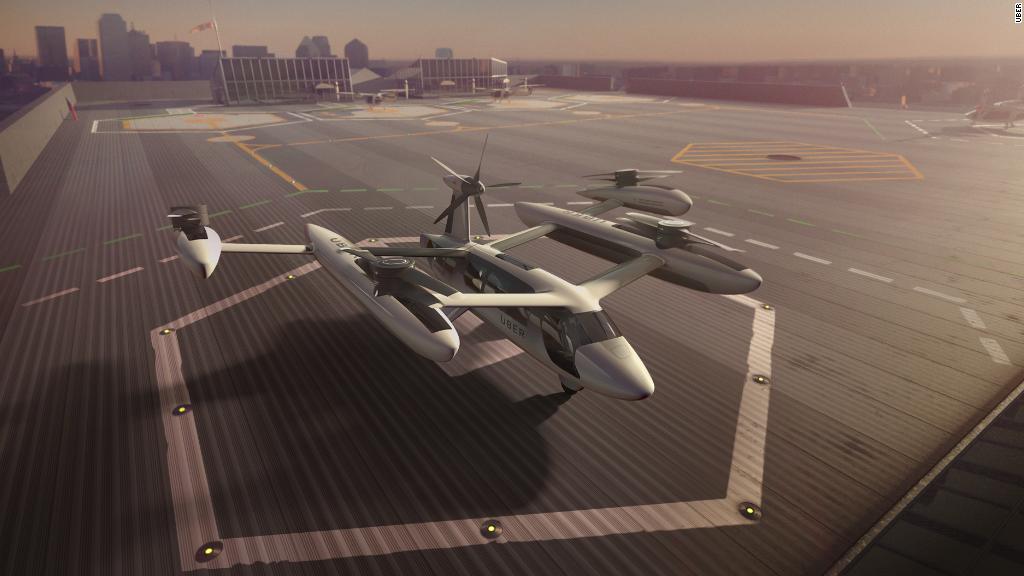 In an effort to improve the safety and efficiency of its autonomous vehicle program, Uber is firing 100 people who spent their days behind the wheel of those robo-cars, ready to take over in an emergency.
Getting rid of all those people -- Uber calls them vehicle operators -- might seem like a bad way of making its self-driving cars safer, but the company says it is replacing them with 55 "mission specialists" who will have more technical training.
The move is the latest in a series of steps by Uber to increase safety and reassure regulators and the public after a collision that killed a pedestrian in March.
"Hopefully they will have learned that safety really needs to be a much bigger emphasis," said Sam Abuelsamid, a senior mobility research analyst at Navigant Research.
The roughly 100 vehicle operators learned about the changes, first reported by Quartz, on Wednesday. An Uber spokesperson told CNNMoney that it has encouraged them to apply for the new positions, and some already have done so. The company wants to fill the new jobs as quickly as possible.
Mission specialists will be trained for operations both on the road and on the track, and they will provide feedback to developers. That should help make the program more efficient, because vehicle operators worked only on public roads.
Related: The life of an Uber test driver
Uber plans to relaunch its self-driving operations in Pittsburgh in August.
"Our team remains committed to building safe self-driving technology, and we look forward to returning to public roads in the coming months," an Uber spokesperson said this week.
That timeline may be optimistic. "I would expect its probably going to be at least a couple more months, if not longer, to resume operations," Abuelsamid said. He noted that the driver screening process at some competing companies can take between four to six weeks to approve.
Uber suspended testing after one of its cars hit and killed Elaine Herzberg, 49, as she walked her bicycle across a road in Tempe, Arizona. Investigators suspect the vehicle operator, Rafaela Vasquez, was streaming a reality TV show on her smartphone at the time of the crash, according to an analysis by local police.
Although a report by the National Transportation Safety Board revealed Uber had turned off the vehicle's automatic emergency braking, which explains why the Volvo SUV did not attempt to brake, police said the crash would have been "entirely avoidable" had Vasquez intervened.
The accident drew widespread scrutiny of Uber's program, leading the company to stop all testing in Arizona and lay off 300 employees. The company said it would focus on its autonomous vehicle efforts in San Francisco and Pittsburgh.
Related: Uber saved its London business. Europe may be tougher to crack
Uber has taken several steps to improve safety. It hired former National Transportation Safety Board chairman Christopher Hart as an adviser, and conducted an internal safety review that led to 16 recommendations for improvements. They included reverting back to having two people in autonomous vehicles at a time instead of just one, the tech news website The Information reported last month.
Bryan Casey, a legal fellow at Stanford University's Center for Automotive Research, said Uber's decision to eliminate operators in favor of more specialized people appears to be an effort to "conform more closely to the safety best-practices being deployed by rivals."
"Uber 'gigified' safety. Unlike its competitors, who adopted more stringent safety operator protocols, Uber took a minimalist approach," Casey told CNNMoney. "In the post-Kalanick era, however, the company is making concerted efforts to ditch this outlook."
Under the leadership of founder and former CEO Travis Kalanick, Uber often butted heads with regulators and municipal leaders. His replacement, Dara Khosrowshahi, who was named CEO in late August 2017, has taken a more tactful approach. Casey said replacing operators with more a more specialized role appears to be another move by Khosrowshahi to revamp policies of the past.