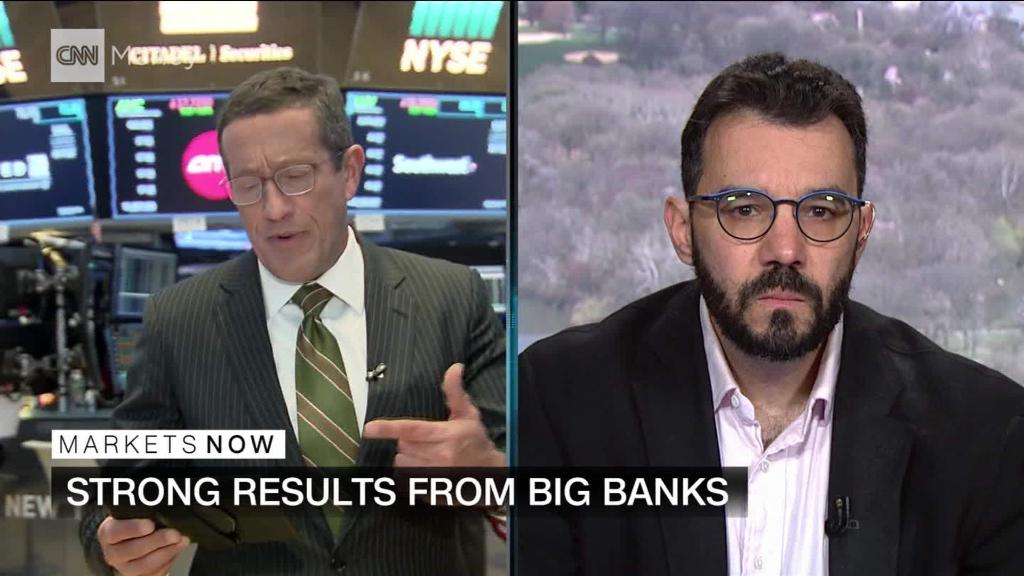 JPMorgan Chase continues to benefit from a US economy that's still humming along.
The giant bank reported a profit of $8.3 billion for the second quarter Friday, an increase of 18% from a year ago and not far off from JPMorgan's record quarterly profit of $8.7 billion in the first quarter.
American banks have gotten a boost from this year's tax cuts.
JPMorgan CEO Jamie Dimon said in a statement that "the healthy US consumer" helped drive big gains in its credit card and money management businesses. Deposits grew at a solid clip as well.
Dimon also said that JPMorgan posted record fees in its global investment banking unit in the first half of the year, thanks to a boom in trading revenue, mergers and IPOs.
"We see good global economic growth, particularly in the US, where consumer and business sentiment is high," Dimon said.
Dimon continued to defend Corporate America's use of tax savings to increase dividends and buy back more stock, moves that some have criticized as helping wealthier investors but not average consumers on Main Street.
Dimon told reporters last month that people who bashed buybacks were "basically ignorant."
Related: Tax cut triggers $437 billion explosion of stock buybacks
In a response to a question about those remarks from CNNMoney during a conference call with reporters Friday, Dimon said it was normal for companies to "recycle capital" and put it to better use. He said that eventually will benefit the broader economy. Dimon pointed out that wages are going up and the unemployment rate is going down.
During the conference call with reporters, chief financial officer Marianne Lake added that the bank is still optimistic despite uncertainty surrounding tariffs and increased trade tensions between the United States and China, Europe, Canada and other big global economies. Lake said there has been "no meaningful impact on demand" so far for corporate loans.
But Dimon added that there can be "unpredictable outcomes" when there are multiple skirmishes on the trade front. He said he was hopeful that the trade issues will ultimately be resolved through negotiations.
A trade war isn't the only potential problem for banks. Analysts asked Dimon and Lake several questions about rising interest rates during another conference call later Friday.
There have been some concerns that even though the Federal Reserve is raising short-term rates, longer-term rates have barely budged lately. This so-called flattening of the yield curve could be the harbinger of an economic slowdown.
But Dimon didn't seem too think this would be a big problem. He even predicted that long-term bond yields, particularly the 10-year Treasury, would eventually start to creep higher again -- and that's another sign of a solid economy.
"Rates can go up in a healthy environment," Dimon told analysts. "It's not always true that the 10-year going up is bad."
The lingering uncertainty may be worrying investors a bit however. Even though the bank's profit surpassed analysts' expectations, JPMorgan's (JPM) stock was down slightly Friday.
JPMorgan is just one of several big banks to report results Friday. Citigroup (C) and Pittsburgh regional banking giant PNC (PNC) also posted profits that topped forecasts. But scandal-plagued Wells Fargo (WFC) reported earnings that missed Wall Street's targets.