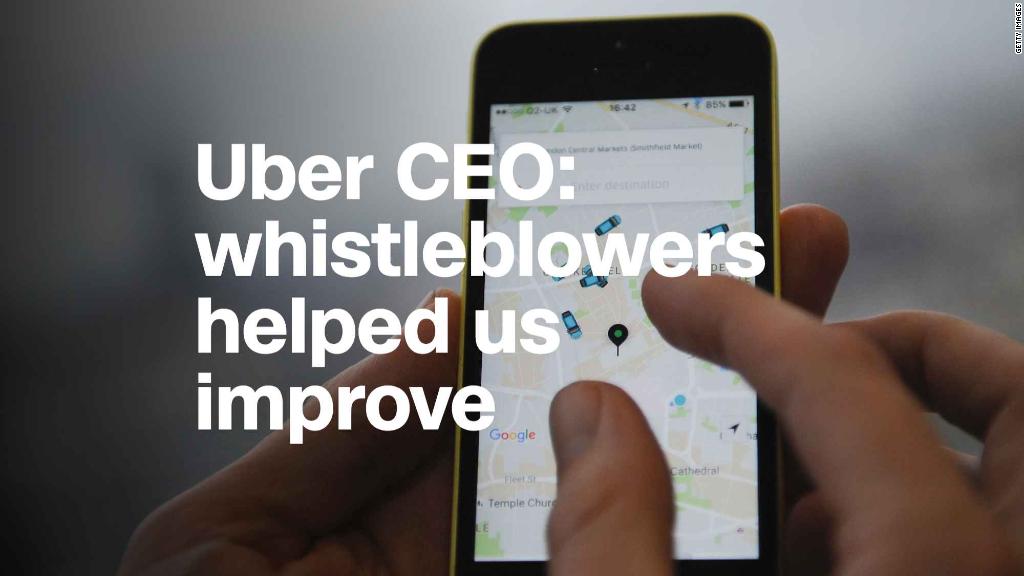 When Dara Khosrowshahi became the CEO of Uber, he was seen as the leader who could fix the brand's image.
Gone would be the scandals, PR crises and office bro culture that plagued the company under founder Travis Kalanick.
About ten months after Khosrowshahi, the former Expedia chief executive, took over, Uber is still drawing controversy.
The New York Times reported Friday that Uber COO Barney Harford, who was brought on under Khosrowshahi in December, made what colleagues said were comments insensitive to women and minorities. Sources within the company told the Times it was part of a pattern of behavior.
In a memo to coworkers shared with CNNMoney, Harford described the Times report as "painful" and said he was "embarrassed." He pledged to work with a coach who could challenge his "blind spots."
Related: Uber now monitors its drivers for criminal offenses in real time
Khosrowshahi, the CEO, described the ordeal as another growing pain for Uber.
"Cultures are not built or rebuilt overnight," he sad in a statement to the press. "We'll make mistakes along the way, but one thing is certain: we will improve, substantially."
That news came just days after Uber's head of human resources, Liane Hornsey, resigned following an internal investigation into how she handled claims of racial discrimination within the company.
An anonymous group of employees, all of them people of color, alleged that Hornsey — who was hired under former CEO Kalanick — had made "derogatory comments" about executives at Uber, according to Reuters.
"This is a company that just can't afford to keep messing up in this arena. I think the company should be really worried," said Kara Alaimo, an assistant professor of public relations at Hofstra University and a reputation management expert.
"With every incident like this, it becomes harder for Uber to rehabilitate its image," she said.
Related: Uber takes another step to increase the safety of its self-driving cars
Bryan Reber, crisis communication expert at the University of Georgia, said he thinks Khosrowshahi has done a lot of things right. He pointed to the hiring of Uber's first-ever chief compliance officer and ethics officer as one example. And he said he thinks Khosrowshahi can still polish Uber's image.
Uber has also said it's made strides to ensure pay equity across gender and racial lines under Khosrowshahi's leadership.
But the decision to stand by Harford suggests Khosrowshahi has a "loyalty blind spot," Reber said. Khosrowshahi and Harford have had a decade-long business relationship going back to Khosrowshahi's days at Expedia.
"I think everything has to be dealt with pretty seriously and quickly," Reber said, especially following the HR executive's recent departure.
Alaimo, the Hofstra assistant professor, agreed, saying Uber is "long overdue" for a "zero tolerance" policy. Anything else could perpetuate the image of a company that's forgiving of discrimination, and that could be heavily damaging to Uber's business.
"What we've seen in the past year or so is that consumers have become more activists," Alaimo said, in which people readily organize boycotts against companies around social issues they care about.