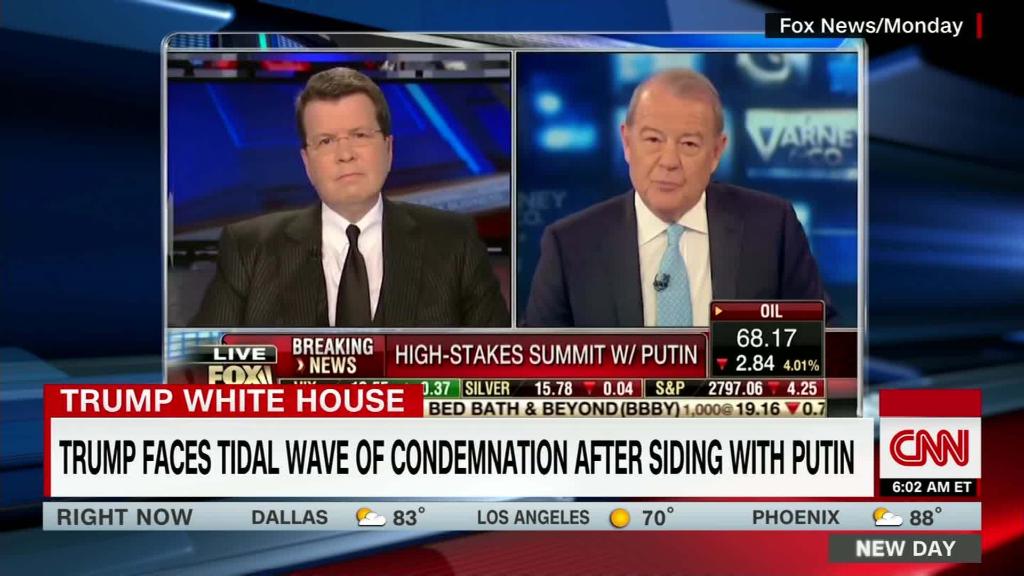 We will probably never really know what happened at Donald Trump and Vladimir Putin's private meeting.
But we do know what happened when the two men held a joint press conference on Monday. Journalists bluntly conveyed shock at what they had just witnessed.
That shock and concern continued to dominate the coverage a full 24 hours later. The White House stayed mostly silent and by midday on Tuesday, there was still no afternoon press briefing on the daily schedule.
Even some of the president's biggest boosters on Fox News conceded that Trump had made a big mistake in Helsinki.
"I will say this to the President," "Fox & Friends" co-host Brian Kilmeade said Tuesday morning. "When Newt Gingrich, when General Jack Keane, when Matt Schlapp say the President fell short and made our intelligence apparatus look bad, I think it's time to pay attention."
Kilmeade claimed it was "easily correctable."
That's debatable. The tone of Monday and Tuesday's news coverage suggested that there will be long memories of Monday's press conference.
"The world witnessed a betrayal the likes of which we've never seen," CNN's Chris Cuomo said on Monday in the Finnish capital. The US president "sided with its enemy today," Cuomo said.
Immediately after Monday's press conference, Anderson Cooper called it "disgraceful." John King said it should be called "the surrender summit."
Washington Post media columnist Margaret Sullivan said journalists were placed in the "uncomfortable position of calling a spade a spade, with none of the usual recourse to false equivalence or 'both sides with equal weight' coverage."
Tuesday's papers carried headlines like "Trump touts Putin's 'powerful' denial" (Washington Post) and "Allies get assailed, Russia gets respect" (USA Today).
Opinion journalists went further than ever, with some accusing Trump of treason.
Thomas L. Friedman of The New York Times wrote that "there is overwhelming evidence that our president" is engaged in "treasonous behavior."
"OPEN TREASON" was the headline on the cover of Tuesday's New York Daily News.
The Washington Post editorial board said "Trump just colluded with Russia. Openly."
On the left, hosts like Rachel Maddow talked of the possibility that Trump has been compromised by Russia.
Maddow, the network's most popular host, said it's time for Americans to get ready to face the "worst case scenario," that Trump is in office to "serve the interests of another country rather than our own."
She asked: "What's the corrective to that? How do you remedy that?"
Maddow said she recognized "it sounds nuts to say it even now, even tonight" but "there is a reason there is a big national freakout happening right now over what the president just did in public."
Signs of that "big national freakout" were numerous.
A full day after the press conference, The New York Times website was still leading with a banner headline -- reserved for the most cataclysmic stories -- that read "Trump, at Putin's Side, Questions U.S. Intelligence on 2016 Election."
What was noticeably absent: Defenses of Trump's decisions. Trump tweeted on Tuesday morning that "the Fake News is going Crazy" in its reactions to the Putin meeting.
But his point of view was drowned out by the bipartisan and widespread criticism -- reminding some of the country's response to his Charlottesville comments last August, during which Trump's remark that "many sides" were to blame for the violence at a white supremacist protest drew bipartisan rebuke.
Still, it was possible to find some signs of support from the pro-Trump media. As Oliver Darcy noted in the "Reliable Sources" newsletter on Monday night, "Sean Hannity, Tucker Carlson, and Lou Dobbs all went to bat for the president."
Hannity complained about the "unhinged" media on Monday night and downplayed Russia's ongoing attacks by saying that "every major country in the world engages in election interference."
Then he shared his post-summit sit-down with Trump, which played more like a chat between two friends than a real interview.
A second sit-down between Trump and another friendly Fox host -- Carlson -- is scheduled to air on Tuesday night.
Then the president is scheduled to tape an interview with "CBS Evening News" anchor Jeff Glor on Wednesday.
The Wednesday taping was announced over the weekend. A CBS spokeswoman said Tuesday that it is still expected to take place.