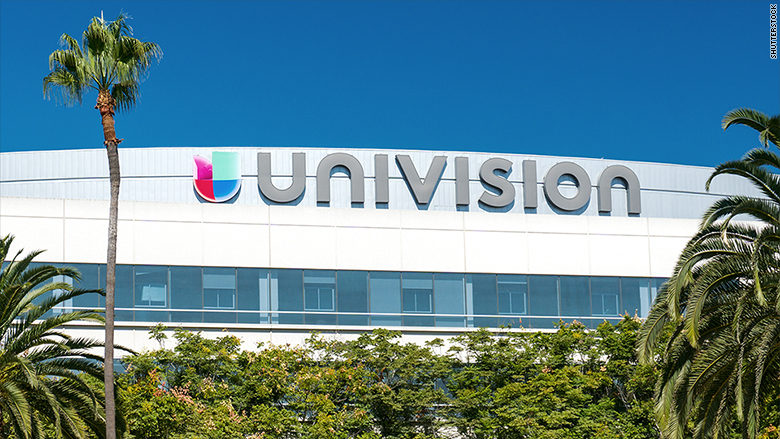 Univision's chief content officer is leaving his post to start his own production company, the Spanish language broadcaster announced on Tuesday.
Isaac Lee became known for his role in shepherding Univision's move into digital and English content. He was often quoted extolling the importance of Hispanic media and the Latino vote ahead of the 2016 election. When Univision anchor Jorge Ramos tangled with then-candidate Donald Trump, Lee defended Ramos, equating the journalist's actions to speaking out against the Nazis during World War II.
Lee joined Univision in 2010 as the president of news and created the millenial-focused network Fusion before being named chief content officer in 2017.
"I want to thank Isaac for leading Univision's content team with integrity and courage and helping elevate and position Univision in mainstream American media," Haim Saban, the chairman of Univision's board, said in a statement. "He understood the relevance that Univision has for Hispanic America and served the audience well. Isaac has vision and knows how to execute. I wish him well and expect more exciting things from him in the future."
Univision is in the midst of a difficult stretch. The network announced in May that Vincent Sadusky will be its next chief executive officer, taking over from Randy Falco, who announced in March that he plans to retire by the end of the year. Falco's announcement came as a surprise because the Univision board had just renewed his contract through 2020 a few months earlier.
At around the same time Falco announced his planned retirement, Univision also said it was calling off a long-planned public offering and conducting a review after disappointing financial performance, the Wall Street Journal reported at the time, leading to staff cuts. More recently, the Journal reported that Univision is also seeking to sell Fusion Media Group, which includes the websites Gizmodo and LifeHacker.
"The company is being dressed up for sale," a source close to Lee and Univision said. "It has 7 billion in debt. Private equity want to exit. No appetite from markets for an IPO. Telemundo is catching up to them. They don't have sufficient scale at a time when all traditional media is bulking up."
The next few months at Univision will be "gloomy" the source added.
Univision said Lee's new production company will work to develop "the same diverse relevant, independent content that will appeal to diverse audiences globally."
"I want to thank my extraordinarily talented and hard-working colleagues at Univision, as well as Haim and the entire Board, for all the support I have received in my nearly eight years at UCI," Lee said in a statement.